Watch the full event
With so many global challenges emerging, the United States seems like a circus performer keeping a bunch of plates spinning, former Central Intelligence Agency director and US Army General David Petraeus said Friday. And some of those plates are the most "challenging" that the country has seen "since the end of World War II," he added.
At an Atlantic Council Front Page event, Petraeus discussed the threats facing the United States in the modern-day security environment, drawing from Conflict: The Evolution of Warfare from 1945 to Ukraine, his new book co-authored with historian Andrew Roberts.
Of the plates Washington is spinning, the West's relationship with China is the biggest—or, even, "bigger than all the others in the [circus] tent put together," according to Petraeus, a member of the Atlantic Council board of directors. Deterrence in the Indo-Pacific is "the most important mission not just for the US," he explained, "but really for the US and all of our allies and partners around the world. . . Were deterrence to break down into conflict there, the results would be catastrophic."
But smaller plates also contribute to this "period of the greatest number of challenges and the greatest complexity of challenges," Petraeus added, pointing to Russia's aggression, the Israel-Hamas war, Islamist extremist groups, Iran, cyber threats, and climate change, among others.
Below are highlights from the conversation, moderated by PBS NewsHour's Ali Rogin, which touched upon how conflict and deterrence have changed—and what those changes mean for Russia's war in Ukraine and the Israel-Hamas war.
The right—and the wrong—type of leadership
Petraeus, in reflecting on conflicts since 1945, said that the success of "strategic leadership" is of "critical importance." That means top-level officials, such as presidents and prime ministers, but also senior battlefield commanders.
He said that between his tours in Iraq as a three- and four-star general, he mapped out four tasks that these leaders must "perform superbly" to prevail: get "the big ideas" right, communicate them effectively, oversee their implementation, and, later, have a process to refine them.
Petraeus said that Russia's war in Ukraine is a study in leadership contrasts. Ukrainian President Volodymyr Zelenskyy, he argued, is a "truly brilliant strategic leader as a wartime leader," who "got the big ideas right" by opting to stay and defend Kyiv "until the end"—and by employing his "Churchillian" communication skills.
In contrast, Petraeus said that Russian President Vladimir Putin is the "exact opposite" because he "got the big ideas wrong. . . underestimated the Ukrainians, [and] overestimated his forces," in addition to employing a "terrible campaign design"—although Petraeus warned that the Russian military "has been a learning organization" and that it has now established a "formidable" force in the south.
So, what is the big idea?
On Israel, Petraeus said that "the biggest of the big ideas" is clear "right now": The destruction of Hamas. He said that, despite facing "a difficult context," Israelis have "made impressive gains so far." And, given that they have to "clear every building, every room," he explained, "this really should be thought of as more of a counterinsurgency campaign than a conventional military campaign."
"[Israel has] been able to get many. . . civilians out of the way," Petraeus said, but he added that Israel should set its sights on securing hospitals in Gaza, supporting medical treatment there, and taking wounded Hamas fighters to secure medical facilities. He reflected on how, during the second battle of Fallujah, Iraq, in 2004, US special forces secured Fallujah General Hospital early. "You need to be thinking at the outset about hearts and minds," he cautioned. "Make it what 'right' looks like."
But "there need to be additional big ideas," he warned, explaining that those big ideas should include ensuring that "life for the Palestinian people. . . will be vastly improved after Hamas is no longer part of it," "ensuring that Hamas cannot reconstitute," and seeking a "return to the two-state solution."
The challenges of deterrence
The last decade shows that "what happens in one part of the world reverberates in other parts," Petraeus said. If senior officials say they have a red line, but don't act when that red line is crossed, it impacts "deterrence and perceptions" in other regions. For example, the United States "had alternatives" to withdrawing from Afghanistan, Petraeus said, and "the decision. . . sent a message to Moscow; it also sent a message to Beijing."
Petraeus argued that nonmilitary tools such as diplomacy and economic and trade measures are a "crucial" part of deterrence abroad. Military-to-military communications, he added, can help prevent tensions from erupting into conflict.
He pointed to the US-China relationship, saying there wasn't enough communication between Washington and Beijing when a Chinese spy balloon floated over the United States in February. "We need to get. . . guardrails on this relationship," he said. "Yes, it is a severe competition. . . but we have to make very sure that that does not erupt into conflict."
"What we need there is a comprehensive, integrated whole of governments—with an 's' on the end—approach to China, and by the 's' on the end, [I mean] that it's our allies and partners together," Petraeus said.
---
Katherine Walla is an associate director of editorial at the Atlantic Council.
Watch the full event
Further reading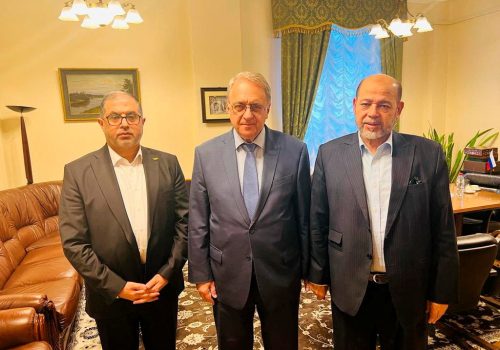 Fri, Oct 27, 2023
MENASource By Mark N. Katz
The eruption of conflict between Israel and Hamas, which creates the potential for an even broader conflict poses dangers for Moscow, too.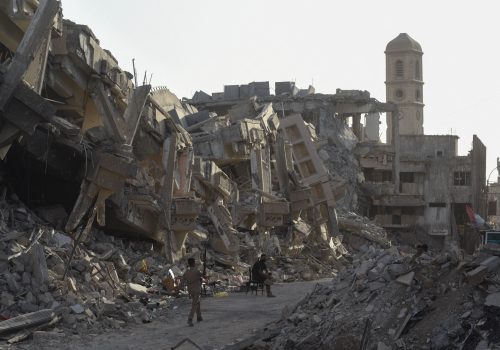 Wed, Nov 15, 2023
MENASource By Arwa Damon
If there is something to be drawn from those lessons, it is that what Israel is doing right now will secure anything but peace and stability.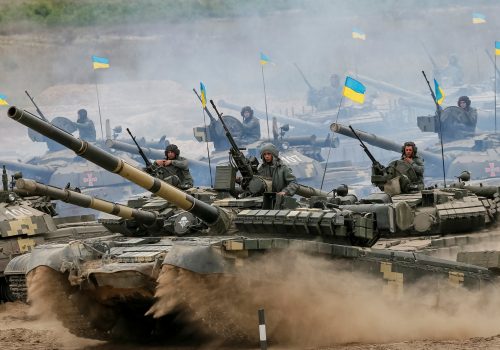 Tue, Oct 3, 2023
New Atlanticist By Andrew A. Michta
The overarching lesson from the unfolding war in Ukraine is simply the scale of what's required to fight a modern state-on-state war.