Don't call it a Quint, but South Korea does have a future with the Quad 
South Korea is in the wrong place at the right time when it comes to the Quadrilateral Security Dialogue, or Quad, which just held its latest meeting on the margins of the Group of Seven (G7) summit in Japan. Originally the brainchild of the late Japanese Prime Minister Shinzo Abe, the Quad already comprises three allies—the United States, Japan, and Australia—together with one self-professed nonaligned country, India.
Even without the Quad, the three constituent allies cooperate intensively on issues across the board. India is a good friend of the United States and appears to be moving in the right direction from Washington's perspective. Cooperation with India on Maritime Domain Awareness in the Indian Ocean is going well, and the Quad may be proving useful in drawing India's attention more to the Pacific side of the equation, where New Delhi's interest was previously more parochial (focusing on the Indian diaspora in Fiji, for example). On the other hand, India prefers to hedge and therefore also plays in both the BRICS forum (Brazil, Russia, India, China, and South Africa) and the Shanghai Cooperation Organization—both of which include China and Russia.
The Quad's primary utility is in regularizing and enhancing India's cooperation with its Quad partners, both for the intrinsic merit and as a counterweight to China's expanding power and influence in the Indo-Pacific. In short, the Quad moves only as fast as India can move. South Korea's presence as a formal, full-fledged member, turning the Quad into a Quint, might actually dilute the Quad's effectiveness in this fundamental purpose. Therefore, it is unsurprising that none of the present Quad members are clamoring for South Korea to join their ranks, despite some interest evinced by Seoul. India, no doubt already feeling a bit outnumbered in this group of allies, is particularly reluctant to include South Korea, as New Delhi does not want the Quad to appear entirely security-focused or more overtly anti-China than it already is.
There is, however, space for South Korea to participate in the Quad, if not as a full-fledged member, then in some of the subsidiary programs that form the meat and bones of the Quad. Maritime Domain Awareness and health-related activities spring immediately to mind. South Korea is highly proficient at coast guard-related activities and Maritime Domain Awareness, which it already undertakes in the South China Sea. Along with the United States and Japan, South Korea provides ships to Vietnam and the Philippines to counter illegal fishing in their respective Exclusive Economic Zones. South Korea also has tremendous capabilities with regard to health resilience. For example, South Korea has an excellent track record sending teams to West Africa to respond to Ebola outbreaks, and South Korean industry is well placed to break down personal protective equipment supply bottlenecks. South Korea could also participate in Quad working groups on climate change and emerging technologies.
If the Quad is the "wrong place, right time" for South Korea to apply its considerable resources and capabilities to become a more active player in regional security cooperation, there are ample "right places"—opportunities in the minilateral structures, both formal and informal, that the United States and its allies are in the process of constructing as interleaved segments of a latticework aimed at maintaining international order and security in the Pacific. South Korea already possesses the world's tenth largest economy, a powerful military and defense industry, cutting-edge technology, and a strong interest in playing a larger regional role. South Korea's potential in this regard is already being demonstrated in other venues; for instance, the South Koreans are in Hiroshima in force for the G7 as active participants in numerous side meetings. Even more broadly, they are spending more time in Brussels seeking ways to cooperate with NATO, as was evidenced most vividly by South Korean President Yoon Suk Yeol's participation in NATO's 2022 Madrid Summit.
Another fruitful venue for South Korean regional participation would be the Partners in the Blue Pacific (PBP), a nascent initiative aimed at "more effective and efficient cooperation in support of Pacific Island priorities." Members include Australia, Japan, New Zealand, the United Kingdom, and the United States. The PBP came about partly because of the Solomon Islands' security agreement with China last year. This shocked the United States and its allies and convinced them of the need to compete more effectively by engaging proactively with Pacific Island countries, including on development and climate change. South Korea would be a natural fit to assist in this effort.
Given the ongoing rapprochement between South Korea and Japan, a more formalized and institutionalized trilateral security consultative mechanism to include the United States could be contemplated. Consideration could also be given to including Australia in the mix, to round out a parallel Quad. This might alleviate the optics of the United States playing referee between Japan and South Korea, and it might be a more sustainable configuration should administration changes in any of the three capitals threaten to shut down this important channel of cooperation.
Nor should consideration be limited to existing fora. For example, Canadian Prime Minister Justin Trudeau has floated the idea of a quadripartite framework along the lines of the Quad to include Canada, Japan, South Korea, and the United States. While it is not clear that this particular proposal is gaining traction, it is illustrative of the fact that South Korea's emergence as a major regional player is being widely recognized. Setting aside the fact that the Quad might be a reach for South Korea at this point, Washington should put heads together with Seoul to brainstorm the "right place"—or places—for South Korea to play a stronger regional role in support of their mutual interests.
---
Thomas Cynkin is a nonresident senior fellow in the Indo-Pacific Security Initiative at the Atlantic Council's Scowcroft Center for Strategy and Security and the practice lead, Japan and Northeast Asia, of the Transnational Strategy Group, a global consulting firm operating at the nexus of policy and business.
Further reading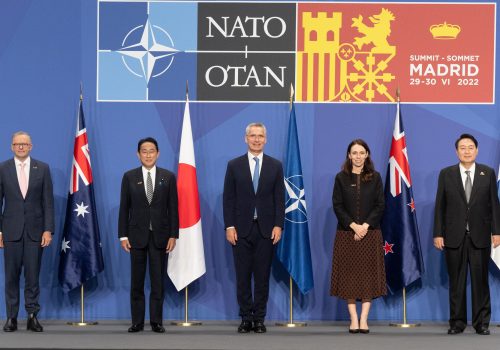 Mon, Feb 27, 2023
Issue Brief By Ash Jain
As the world approaches a new era of strategic competition with revisionist autocracies, the existing transatlantic political, economic, and security entities need to be further expanded to build a trilateral Atlantic-Pacific community.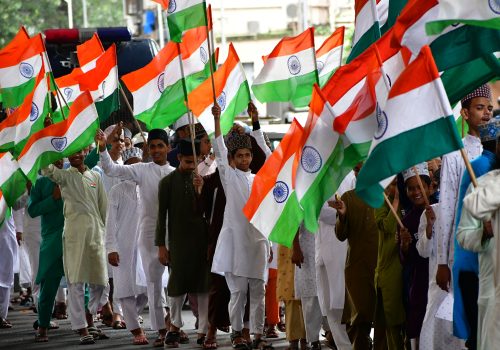 Tue, May 2, 2023
New Atlanticist By Irfan Nooruddin
A failure to harness the energies of the world's largest population will not just be a tremendous missed opportunity. It will also be a millstone weighing down India's future.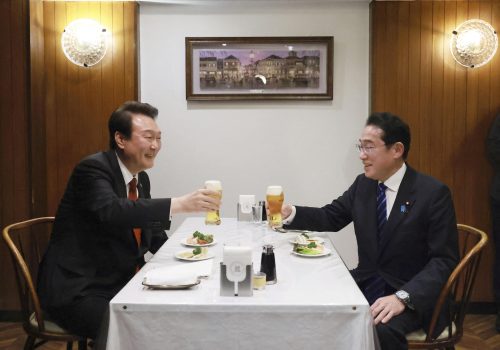 Mon, Mar 27, 2023
New Atlanticist By Thomas Cynkin
The more that Japan shows its relationship with Korea is a two-way street, the more sustainable it will be in the face of Korean public opinion.