BRUSSELS—The territorial base of the Islamic State of Iraq and al-Sham (ISIS) may have collapsed in May 2019, but its cash-generating activities have not—and none less so than its illicit trade in looted antiquities.
Global trafficking of fake and stolen antiquities is a growing threat within the global trade, which is worth forty-five billion dollars a year, and twenty billion in Europe alone. "There is a wholesale pillaging of the World's cultural heritage goods to finance bullets and guns—and it is growing," says Assistant District Attorney of New York County Matthew Bogdanos, a former US Marine who led efforts in Iraq to recover items stolen from the country's national museum in Baghdad.
Tess Davis, executive director of the Washington DC-based Antiquities Coalition agreed, pointing to its wider implications. "The illicit trade of antiquities is increasing as an insurgent and terrorist financing tool. Congress has warned that the sector's lack of transparency is posing a threat to the security of the US itself."
Bogdanos, Davis, other officials and antiquities experts aired their views during a hearing on the topic at the European Parliament in Brussels on September 5.
Unfortunately, the situation is unlikely to improve without far tighter regulation of the antiquities market, better training for police and border authorities, and stronger exchange of information between antiquities dealers and law enforcement agencies (LEAs).
Indeed, the international trade in antiquities, whether legitimate or otherwise, is frequently described as the largest unregulated market in the world, according to Davis.
"One reason is that it is too often perceived as the purview of the wealthy, and thus affects no one beyond them. But this is very far from the truth," she told the hearing. "If you take the sector's huge amounts of money involved, lack of transparency, culture of secrecy, geographic reach, and absence of regulation you have a perfect storm for money laundering, fraud, tax evasion and, of course, terrorist financing."
ISIS's artistic lifeline
Theft of art to finance criminal or political ends is nothing new. Antiquities have been looted for centuries as a fruit of conquest, colonialism, or cultural revenge, with countless players predating ISIS' arrival on the scene in 2014. However, the latter has been particularly methodical in its approach to wringing money from the artworks it traffics internationally.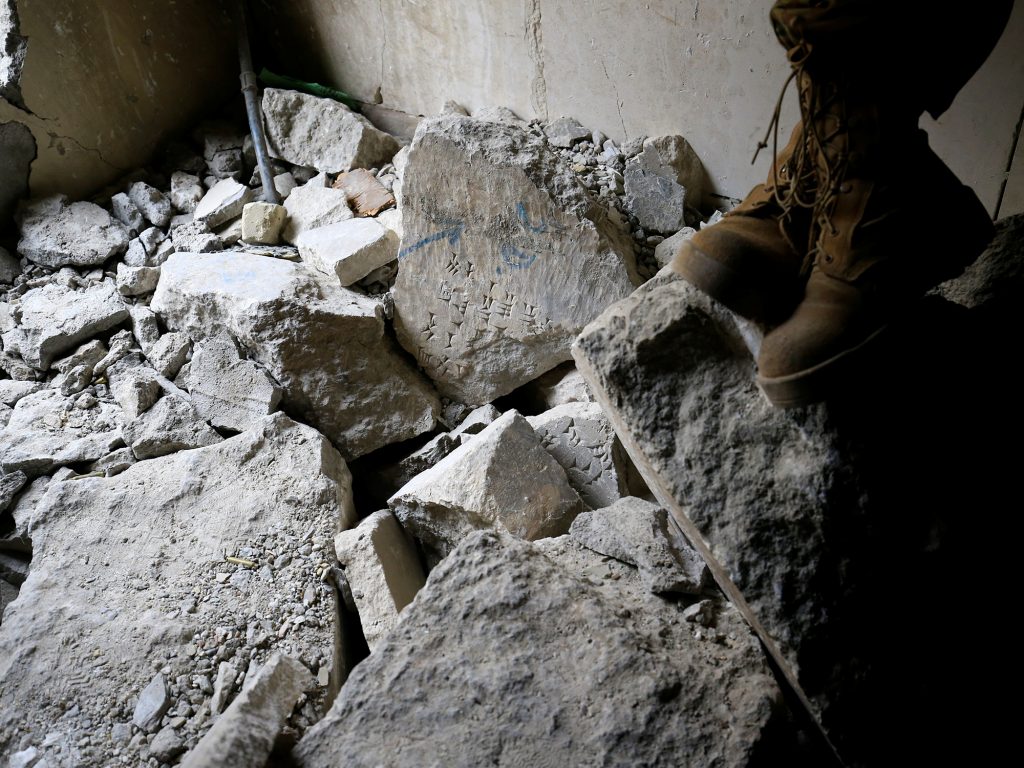 Even if their physical caliphate has collapsed, [ISIS] is able to invest [surreptitiously] in the legal economy, which gives them the tools to continue their fight.
During its occupation of northern Iraq and Syria, for example, ISIS issued "firmans" or official permits to loot certain areas for antiquities, collecting one-fifth of any sales revenue as its cut. Moreover, the group's continuing exploitation of the sector "is so profitable that it has its own division, alongside one for oil, within [ISIS'] structure," said Bogdanos.
Giles de Kerchove, the EU's Counter-Terrorism Coordinator, seconded Bogdanos's observation. "The antiquity division of the Islamic State has just moved to their financial unit," he told the hearing. "Even if their physical caliphate has collapsed, [ISIS] is able to invest [surreptitiously] in the legal economy, which gives them the tools to continue their fight."
The challenge of fighting back
Fighting antiquities trafficking faces big obstacles: understaffing, a lack of expertise, and inadequate training of LEA personnel. "Here you see a number of operating gaps," said Florian Krejsa, who works within the Transnational Threats Department of the Vienna-based Organization for Security and Cooperation in Europe. "Police and other LEA officials are not trained as archeologists. And they generally don't have the in-house forensic or digital tools to determine whether the things they apprehend or discover are fake, stolen, or of dubious provenance."
The level of expertise depends on the country, however. Long the target of looters, Egypt has deployed teams of police and archeologists to inspect and protect its numerous ancient sites for nearly a century. Similarly, Italy has more than three hundred cultural officers working within its police forces. In contrast, France has just twenty, and other EU countries have only one, according to EU officials.
"In the first three months of this year alone, Interpol got more requests [from national LEAs] for support to fight antiquities trafficking than in all of 2018," said de Kerchove. "These agencies need help."
Understaffing is but one part of the challenge, though. Even the legitimate world of art dealing lacks transparency and proper data gathering. For example, there is a growing trend among art dealers to find the most favorable places to do business, and many have moved transactions to the internet via third-party platforms. Some galleries and auctioneers have already decamped from Manhattan to Canada, Europe, or Dubai as a result of New York's tighter local surveillance.
Just as problematic is the matter of bookkeeping, or rather the lack of it, in many art markets. "In some EU countries galleries must maintain a register on the provenance of the art they deal with, together with data about the buyer and seller, but not in others. As a result, the burden of proof varies across them, meaning traceability remains very poor," said de Kerchove.
Europe is beginning to respond
However, the tide may be turning slowly against the traffickers. The EU's latest amended money laundering law takes effect in 2020. It will impose new rules of transparency on galleries and auction houses regarding their transactions, and it will impose sanctions if the operators do not comply. The EU is also urging all its member states to further populate Interpol's databases on stolen goods and illegal antiquities to boost cross-border prosecutions. Finally, de Kerchove is pushing for rules requiring each art dealer to maintain a register of its art works.
At the same time, the Antiquities Coalition and other groups are urging the United Nations to move in the same direction by updating laws that protect cultural patrimony, most which predate the Internet. Perhaps most surprising of all, they want financial regulation of major art galleries and auction houses.
As Lewis pointed out during the hearing: "Auction houses lend very significant amounts of money to pre-finance art purchases. All other lending parties such as banks, car dealers, department stores, jewelers, and others are subject to financial regulations and consumer protection laws. But art houses are not."
The EU has laws to combat money laundering and terrorist financing. And it has deployed strategies to counter trafficking of human beings, drugs, and wildlife, but none to counter the illegal antiquities trade. It is time to plug that gap with a systemic approach, which, among other things, would clamp down on art galleries and auction houses to ensure the legitimacy of the artworks they handle.
An EU-wide strategy would also require that Europe's LEAs devote more resources to prosecution and not just confiscation of illicit antiquities. More high-profile convictions would quickly turn Europe's art galleries, auction houses, and private collectors away from antiquities of dubious provenance, thus helping shut down this source of lucre for ISIS.
Brooks Tigner reports on EU and NATO foreign, defense, and security policy from Brussels, where he has separated reality from rhetoric for the past twenty-five years.
In-text photo credit: A destroyed artifact is seen at a museum, where Islamic State militants filmed themselves destroying priceless statues and sculptures in 2015, during a battle against the militants in Mosul, Iraq, March 11, 2017. (REUTERS/Thaier Al-Sudani)
Editor's note: This post has been corrected to clarify that the global antiquities trade is worth forty-five billion dollars a year. A previous version had incorrectly implied that the figure was for the illegal trafficking trade.
Read more: