Experts react: Blinken makes the rounds in Beijing. Will there be a US-China thaw?
Was it an early summer thaw or just hot air? US Secretary of State Antony Blinken met with Chinese leader Xi Jinping on Monday, four months after Blinken's trip to Beijing was scuttled by the revelation of a Chinese spy balloon hovering over the United States. The two-day visit was the first trip to China by a US secretary of state since 2018, and it comes as tensions between the world's two biggest economies seem to be reaching new heights. What does this trip mean to both countries? What should the rest of the world take away from this superpower tête-à-tête? Our experts are here to cut through the talking points.
Click to jump to an expert analysis:
Markus Garlauskas: Measure Blinken's success by the world's reaction, not Beijing's intransigence
John K. Culver: Blinken's visit shows how China will be a 2024 campaign issue in the US
Matthew Kroenig: The relationship will continue to be defined by its more confrontational elements
Dexter Tiff Roberts: Xi had his own reasons to meet with Blinken
Emma Verges: Any US-China thaw is unlikely to extend to Taiwan
Thomas Cynkin: China is interested in stabilizing ties, but the US is the demandeur
Parker Novak: The developing world will welcome Blinken's visit to Beijing
---
Measure Blinken's success by the world's reaction, not Beijing's intransigence
Before Blinken even departed for Beijing, Washington was setting the bar low for his meetings, with a top US diplomat warning not to expect any breakthroughs. There was little reason to expect, for example, that Beijing would accept one of Blinken's top asks—resumption of bilateral military-to-military communications between the People's Republic of China (PRC) and the United States. Beijing has regularly rebuffed this request, in line with its longstanding policy of skepticism of military-to-military hotlines, including frequently suspending them or refusing to answer them in the very moments of crisis for which they are designed.
After his meetings, Blinken publicly emphasized that he had made this ask repeatedly, which was emblematic of the pattern of the entire visit. Blinken made his case to Beijing's officials on various issues, they remained unmoved, and then Blinken made his case again on these issues, this time to the global media. In the end, perhaps Xi and his officials were actually not the most important audience for this and other messages from Blinken.
Though a breakthrough on military-to-military communications or other important issues would have been ideal, building support for Washington's position on the global stage would still represent a worthwhile outcome for Blinken's visit. Establishing more clearly that the United States is seeking to responsibly manage disagreements with the PRC and to prevent a military conflict could help blunt criticism that Washington is recklessly fueling tensions. Similarly, Blinken made the point at the post-meeting press conference that a Taiwan crisis would have global implications. This was likely aimed at convincing US allies and partners that deterring and restraining PRC aggression against Taiwan is in their interest as well. Ultimately, even if Beijing's position remains unchanged, if Blinken's efforts resonate in friendly capitals, then it could still be considered a great success.
—Markus Garlauskas is the director of the Indo-Pacific Security Initiative of the Scowcroft Center for Strategy and Security and a former senior US government official with experience as an intelligence officer and strategist.
Blinken's visit shows how China will be a 2024 campaign issue in the US
The most notable aspect of Blinken's visit to Beijing is that it happened at all after being postponed in early February as a Chinese reconnaissance balloon drifted across a large portion of the United States. The Biden administration, reflecting the domestic competition for politicians to out-hardline one another on China policy, set low public expectations for the visit. So the result mildly exceeded the minimum threshold—he was hosted by his counterpart, Chinese Foreign Minister Qin Gang; held meetings with Qin's boss, Director of the Communist Party Foreign Affairs Commission Wang Yi; and was granted an audience with Xi.
Substantively, Blinken's "successful" visit and mutual pledges that the senior officials from both countries will continue talking sets the stage—but doesn't guarantee—that US President Joe Biden could meet Xi in San Francisco during the Asia-Pacific Economic Cooperation Leaders' Summit in November. No Chinese president has failed to attend the annual summit since the first in 1993 (the 2020 and 2021 summits were virtual due to the global pandemic). In the meantime, the door is open for cabinet-level visits, perhaps including US Treasury Secretary Janet Yellen, US Commerce Secretary Gina Raimondo, or US Trade Representative Katherine Tai. Direct senior military engagement appears to remain off the table.
The other notable aspect of Blinken's visit was the level of anti-China rhetoric unleashed in the United States over the mere prospect that it would occur. Various US media, citing unnamed sources, revealed a Chinese intelligence facility in Cuba, although apparently it dates back years. The secretary's cautious visit underscores that China will be a campaign issue in the 2024 presidential race, and while US allies may welcome signs that Washington and Beijing are trying to build a floor under what remains of the relationship, there is little upside politically for progress.
—John K. Culver is a nonresident senior fellow with the Atlantic Council's Global China Hub and former US national intelligence officer for East Asia.
The relationship will continue to be defined by its more confrontational elements
Blinken's visit to Beijing shows that the Biden administration wants to pursue a balanced strategy toward China. On one hand, there is a need to compete and protect US interests from a wide range of threats posed by China. On the other hand, Washington wants to pursue an engagement track to maintain clear channels of communication, to prevent competition from veering into conflict, and to cooperate on shared global challenges.
Blinken's visit revealed that maintaining an effective engagement track will remain challenging. The trip did not achieve breakthroughs on any of the major desired deliverables, such as the establishment of a military-to-military hotline. And the readout of the meetings suggest that the two sides mostly exchanged rehearsed talking points on contentious issues, such as Taiwan.
This visit and planned follow-up trips from other Biden administration officials in the coming weeks still serve a useful purpose, but they will not be able to meaningfully shift the trajectory of the US-China relationship, which will continue to be defined by its more confrontational elements.
—Matthew Kroenig is vice president and senior director of the Atlantic Council's Scowcroft Center for Strategy and Security and the Council's Director of Studies.
Xi had his own reasons to meet with Blinken
As a backdrop to the US secretary of state's visit to China, including Xi's decision to sit down with Blinken on Monday, it's important to consider the role played by the dismal state of the Chinese economy. And it is in serious bad straits, with the poor showing by retail sales and industrial production in May providing more evidence. Already, the People's Bank of China has cut interest rates and Beijing is preparing big stimulus spending. At the same time, it needs job-providing, tax-paying, innovation- and technology-producing private and foreign investors to keep investing, even as the recent crackdown on some foreign firms has spooked them. 
Since at least March, Beijing's official message has been that China is open to the world and that includes American companies. Just before giving an audience to Blinken, China's president and party general secretary had already met with Microsoft co-founder Bill Gates, where he touted the importance of the friendship between the US and Chinese peoples. If Xi had stiffed Blinken (Xi met with earlier US secretaries of state) that would have sent the opposite message about China's openness—including to business. As I anticipated before the visit, by meeting with Blinken, Beijing got to look benevolent and still have Washington in the supplicant seat.
Talking is the first step and key to avoid ugly mishaps flaring into outright conflict, as might have happened if the Chinese fighter jet that recently buzzed a US spy plane had instead collided with it. But even as some high-level contacts have now been reestablished, Beijing rebuffed Blinken on setting up a military crisis hotline. And senior discussions between the two sides, of course, doesn't equal resolving the many deep disagreements, including over the future of Taiwan, semiconductor chips, and human rights. Nor does it erase the deep suspicion each country's leadership feels towards the other.
—Dexter Tiff Roberts is a nonresident senior fellow with the Indo-Pacific Security Initiative and Global China Hub.
Any US-China thaw is unlikely to extend to Taiwan
During Blinken's trip to China, his talks with Xi, Wang, and Qin highlighted sensitivities about external interference in perceived internal affairs. This becomes all the more complicated in the context of Taiwan, which Beijing views as a domestic matter implicating not only Chinese geopolitics but also nationalism. The United States, on the other hand, understands it to be of international concern, particularly in the name of promoting a free and open world and upholding an international rules-based order.
As Beijing wishes to showcase its handling of the matter, it seems timely that Blinken's visit coincided with the Fifteenth Straits Forum, which kicked off in Xiamen the day prior to Blinken's arrival in Beijing. Xi even sent a congratulatory letter to the forum. Meanwhile, in talks with Blinken, Qin identified the Taiwan issue as "the most pronounced risk in the China-US relationship." It comes as no surprise that Beijing worries about US interference in Taiwan.
Blinken's visit to Beijing laid the groundwork for the thawing of US-China relations, in a return to the consensus that Biden and Xi reached in Bali on maintaining open lines of communication. While communication cannot get rid of fundamental disagreements on certain issues, it can help overcome misperceptions which otherwise threaten to antagonize and lead to divisive actions. Perhaps these talks might inform a recalibration of greater engagement within the scope of a US-China strategy.
—Emma Verges is a program assistant with the Indo-Pacific Security Initiative.
China is interested in stabilizing ties, but the US is the demandeur
Blinken's China visit ostensibly helped restore a more amicable tenor in bilateral communications, if not actual stability, to the Sino-US relationship. Before the visit, China's foreign minister had a tense exchange with Blinken by telephone, in which the lead Chinese diplomat pinned the blame for the dismal state of bilateral relations squarely on the United States. This may have been a way for him to get the tough talk on the record before the actual visit, in order to clear the way for more workmanlike discussions in Beijing. A promising first sign was when Qin met Blinken outside their meeting hall, rather than follow the usual practice of waiting for him inside—a key gesture in a political system that imbues such gestures with deep symbolism. Blinken also met with Qin's superior in the Chinese leadership, the director of the Chinese Communist Party Central Foreign Affairs Office, for a similar workmanlike exchange along familiar lines.
The Chinese are masters at dangling the possibility of senior leadership meetings as incentives for "good behavior" during bilateral discussions, and this was no exception, as Blinken's meeting with Xi was only confirmed about an hour or so before it took place. Overall, the symbolism was clear: China is interested in stabilizing ties with the United States, but the United States is the demandeur. In similar form, while Blinken pressed repeatedly for restoring military-to-military contacts, the Chinese resisted on the convenient grounds that Defense Minister Li Shangfu has been sanctioned by the United States (in 2018, for Russia's arms sales to China). The United States repeatedly raising the issue has no doubt convinced Beijing that it can hold out for a concession, or at least a significant warming in bilateral relations, before acceding to the US request.
Blinken's visit may have helped "stabilize" the relationship, but what's more important right now is how Washington is negotiating with itself on how hard to push China in advancing US national interests. An outbound investment executive order has been on hold for months, a possible ban or limit on TikTok remains up in the air, and the Commerce Department continues to allow some export licenses issued to US suppliers for sales to blacklisted Huawei. The wisdom of these and other measures should be considered on their own merits. It is laudable for Washington to work on improving communication with Beijing; after all, Washington and Moscow managed to maintain channels through the height of the Cold War. That said, it is important that the desire to improve ties not lead Washington to trade something for nothing, or to be deterred from taking basic steps to protect US national interests vis-à-vis China.
—Thomas Cynkin is a nonresident senior fellow in the Indo-Pacific Security Initiative and the practice lead, Japan and Northeast Asia, of the Transnational Strategy Group.
The developing world will welcome Blinken's visit to Beijing
Broadly speaking, developing countries are averse to picking sides in the accelerating geopolitical competition between the United States and China. They don't see the choice in front of them as a binary one, and they want to avoid becoming pieces on the proverbial geopolitical chessboard that are pushed around by larger powers. Instead, they seek to maintain positive relationships with the two behemoths—a balancing act, for sure, but a manageable one from their point of view.
Collectively, these countries have trillions of dollars in development needs, and no single source can meet the necessary scale. Their leaders know that they stand to benefit as the world's two most powerful nations lavish them with attention and resources, each aiming to gain an upper hand over the other in their global contest for influence. Indonesia, for example, has welcomed support from several countries as it tries to grow its economy and create jobs for the 1.7 million young people entering its workforce every year.
In recent months, the direction of US-China relations has caused alarm bells to ring across the developing world. Increasing tension around Taiwan, for example, is raising concerns in Southeast Asian capitals that their region is being put on a path toward armed conflict that could spell economic doom for them. It's why, at the Shangri-La Dialogue earlier this month, a parade of Southeast Asian officials called for communication and diplomacy between the United States and China.
With this perspective in mind, the developing world will welcome Blinken's visit to China. Leaders in developing countries will see it as a credible effort to sensibly manage a relationship that impacts the entire globe and welcome any respite in tension it provides, even if only temporary. It won't escape their attention that China refused restoration of military-to-military communications, despite the United States' repeated efforts to do so—bolstering the case that, between the two, the United States is the more responsible actor.
—Parker Novak is a nonresident fellow with the Global China Hub and Indo-Pacific Security Initiative.
Further reading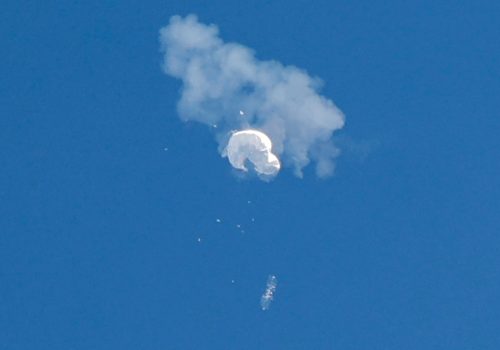 Wed, Feb 22, 2023
New Atlanticist By John K. Culver
The communication breakdown between the United States and China could prove disastrous if a crisis arises that's bigger than a balloon—which is why they need to start talking now.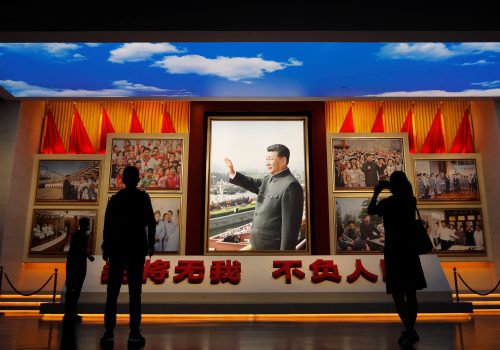 Fri, Oct 7, 2022
Issue Brief By Michael Schuman
It has been widely believed for some time, both inside and outside of China, that current Communist Party General Secretary Xi Jinping will break with modern precedent and extend his reign into a third, five-year term. Xi, who also serves as the country's president, has been working toward this outcome for years.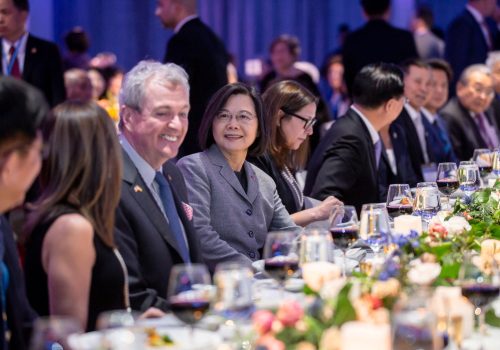 Mon, Apr 3, 2023
New Atlanticist By Markus Garlauskas
As Taiwan President Tsai Ing-wen stops in the United States, Beijing is trying to paint reasonable, routine, and restrained actions as risky, worrisome, and escalatory.