Wanted: Vladimir Vladimirovich Putin. On Friday, the International Criminal Court (ICC) issued an arrest warrant for the Russian president and for Russian Commissioner for Children's Rights Maria Lvova-Belova. The two are accused of abducting Ukrainian children and transporting them to Russia. Ukrainian officials and human-rights groups swiftly praised the ICC, with Ukrainian President Volodymyr Zelenskyy calling the court's move an "historic decision, from which historical responsibility will begin." Russian officials, meanwhile, deemed the decision "outrageous and unacceptable"—and reminded the court that Russia is not party to the Rome Statute that governs the ICC. That begs the question: Since this is just the beginning, what comes next? And will Putin ever really see the inside of a jail cell? We appealed to our experts for their takes on the warrants.
Click to jump to an expert reaction:
Thomas S. Warrick: A moment of moral clarity
Elise Baker: Next, prosecute Russia's attacks on hospitals
John Herbst: This case will have geopolitical implications from the Global South to Washington
Nushin Sarkarati: The US Department of Defense must send evidence to the ICC
Celeste Kmiotek: Time for the United States to reconsider its stance on the ICC
Gissou Nia: Behind the warrants is evidence, a global campaign, and perhaps a strategy
Haydee Dijkstal: These warrants are a step toward justice and accountability, not just symbolism
Shelby Magid: A step forward in dismantling Lvova-Belova's network
Rayhan Asat: This case is a message to human-rights violators around the world—including China
Kristina Hook: Any Russians committing crimes in Ukraine should consider themselves formally on notice
A moment of moral clarity
No one should expect Putin to be behind bars anytime soon, but that's not the point of today's ICC arrest warrant. No indictments have been issued yet, and the warrant is one of several provisional measures that the ICC is taking to develop its case for the prosecution of Russian officials for war crimes in Ukraine. The case against Putin is still in its preliminary stages, and today's war-crimes charges are likely the first steps towards further charges of genocide and crimes against humanity.
However, the law is unambiguous, and the facts are increasingly undeniable. For example, Article II, paragraph (e) of the Convention on the Prevention and Punishment of the Crime of Genocide, to which both Russia and Ukraine are parties, says that genocide includes "[f]orcibly transferring children of the group to another group" when done "with intent to destroy, in whole or in part, a national, ethnical, racial or religious group, as such." Russia has openly transferred Ukrainian children to Russian custody. Putin's own statements going back to 2014, and the statements of other Russian officials and voices under Putin's control, are available as evidence of the intent to erase Ukrainian identity.
Ukraine has invited the ICC to investigate crimes committed on Ukrainian territory. But Russia is not a party to the ICC treaty, so no one expects Putin to be turned over for trial right away. Still, former Serbian President Slobodan Milosevic thought that he wouldn't be turned over for trial when he was indicted by a different international tribunal, yet he died behind bars in The Hague.
Today's arrest warrant will limit Putin's diplomatic options, and it will make it harder for anyone to dismiss Russia's aggression against Ukraine as a "territorial dispute." The real point of today's ICC arrest warrant is to bring the world to a moment of moral clarity that what Putin is ordering in Ukraine violates the law and moral values of civilized nations around the world.
—Thomas S. Warrick is a senior fellow at the Scowcroft Center for Strategy and Security's Forward Defense practice at the Atlantic Council. From 1997-2001, he was the deputy in the US State Department Office of War Crimes Issues.
Next, prosecute Russia's attacks on hospitals
The ICC's arrest warrant for Putin is a notable step in meting out justice for the atrocities he has led in Ukraine. However, this arrest warrant covers only a sliver of Russian crimes in Ukraine. The ICC and national justice actors in Ukraine and around the world must build cases reflecting the full range of any and all war crimes and crimes against humanity Russia can be charged with committing in Ukraine.
Chief among the crimes that should be prioritized are targeted attacks on medical facilities and personnel. In the first ten months of the war, Russian forces launched 707 attacks on Ukraine's health care system, bombing and shelling hospitals and ambulances, killing and injuring medical workers, and threatening and imprisoning other health workers. Targeted attacks on medical facilities and personnel are war crimes. When carried out in a widespread or systematic manner, they amount to crimes against humanity.
Ukraine is not the first place Russia has perpetrated these crimes. After carrying out similar attacks in Chechnya in 2000 and in Georgia in 2008, Russian forces attacked ten medical facilities in Syria in the first month of its military intervention there, joining the Syrian government's systematic assault on the country's health care system that has killed 945 medical personnel and destroyed hundreds of medical facilities.
The continuation of attacks on medical facilities and personnel erodes international law and poses a global threat. Syrian and now Ukrainian health workers are suffering the deadly consequences of global inaction in the face of these crimes. International justice actors must prosecute attacks on health care as war crimes and crimes against humanity to reinforce these lifesaving laws and help prevent the spread of these attacks to yet another conflict.
—Elise Baker is a staff lawyer with the Atlantic Council's Strategic Litigation Project and previously documented attacks on Syria's health care system with Physicians for Human Rights.
This case will have geopolitical implications from the Global South to Washington
The ICC indictment of Putin and Lvova-Belova for the alleged war crime of abducting children from Ukraine is a stunning development with wide implications. First, it is a huge black eye for the Kremlin as Putin gets ready to receive Chinese leader Xi Jinping in Moscow next week. This makes it harder for China to push its "peace plan" that could work to keep Moscow's control over occupied Ukrainian territory. What would such control mean for Ukraine's children? After all, Russia has not hidden this war crime.
This development will also have some impact in the Global South, where the Kremlin has had some success arguing that years of NATO enlargement are somehow responsible for Moscow's aggression in Ukraine. What does kidnapping Ukrainian children have to do with protecting Moscow's borders from the West? This point could be particularly useful in those parts of Europe that talk about a "Zeitenwende," yet cannot muster the will to send Ukraine the means to stop Moscow's aggression and war crimes there. It likewise raises uncomfortable questions for US politicians and "realists" who think that this war is simply a territorial dispute. Why is Moscow removing the younger inhabitants of the disputed territory to Russia? Is this Putin's perverse version of family values?
Most importantly, it will have impact in Russia. For months, the Russian media has been talking about Western investigations of Russian war crimes. It will work like rust on the Putin regime as weaker-kneed Russian officials wonder what this means for them. It's another bad day for the Russian war machine.
—John Herbst is the senior director of the Eurasia Center and former US ambassador to Ukraine.
The US Department of Defense must send evidence to the ICC
The ICC's issuance of arrest warrants today for Putin and Lvova-Belova puts greater urgency on the impasse between the Pentagon and the US State Department over the United States' support of the ICC's investigation on Ukraine. On March 8, the New York Times reported that the Pentagon is blocking the Biden administration from sharing evidence with the ICC about Russian atrocities in Ukraine. The information is reportedly related to Russian officials' deliberate targeting of civilian infrastructure, as well as the abduction of Ukrainian children from occupied territory—the very crime that Putin is accused of by the ICC.
While, generally, the American Servicemembers' Protection Act (ASPA) limits the United States' ability to cooperate with the ICC, the Consolidated Appropriations Act of 2023 included amendments to ASPA that allowed for the United States to assist with "investigations and prosecutions of foreign nationals related to the Situation in Ukraine."
If the reports are accurate, the Department of Defense's refusal to provide evidence to the ICC that is directly related to the crimes under investigation undermines the United States' continued support of Ukraine and the United States' commitment to holding perpetrators of Russia's crimes in Ukraine accountable. Today's arrest warrants show the importance of supporting the ICC's investigation into the situation in Ukraine, as the ICC is presently the only court willing and able to indict a sitting head of state—something US courts would not be able to do on their own.
—Nushin Sarkarati is the deputy director of the Atlantic Council's Strategic Litigation Program.
Time for the United States to reconsider its stance on the ICC
While there are plenty of significant accountability efforts moving forward for Ukraine, the legal and symbolic importance of today's warrants cannot be overlooked. Putin is the head of state of a permanent United Nations Security Council member (otherwise known as a P5 country) and is scheduled to host another P5 president, Chinese leader Xi Jinping, next week. While the proposed Special Tribunal on the Crime of Aggression would likely also be able to issue a warrant for Putin's arrest, no current standing court holds that power. Targeted sanctions already prevent Putin from traveling to many countries, but he now cannot travel to any of the 123 States Parties to the Rome Statute without risking arrest. This includes two other P5 members: the United Kingdom and France.
Today's warrants highlight the power the ICC holds: the ability to stand up to leaders who perpetrate atrocities. Even before Putin stands trial, it has a practical effect, demonstrating the importance of accountability efforts within this conflict.
The United States has echoed the need for such accountability by strengthening its war crimes law so that it can domestically prosecute perpetrators who are not entitled to immunity, establishing Task Force KleptoCapture to target regime assets, and signing a memorandum of understanding with the Ukrainian prosecutor general to pursue accountability. But the United States is still not a party to the only court able to take action on Putin and other senior officials. Today's news presents an opportunity for the United States to reconsider its stance and put meaningful action behind its rhetoric.
—Celeste Kmiotek is a staff lawyer for the Strategic Litigation Project at the Atlantic Council.
Behind the warrants is evidence, a global campaign, and perhaps a strategy
With the issuance of arrest warrants against Putin and Lvova-Belova for alleged war crimes in Ukraine, the ICC's Office of the Prosecutor has shown it is going straight to the top. Putin and Lvova-Belova stand accused of the war crimes of unlawful deportation and the transfer of children from occupied areas of Ukraine to Russia. Russia is alleged to have committed a wide range of crimes in Ukraine, including the bombing of civilian infrastructure; the systematic and widespread use of torture, including shocking detainees with electricity and hanging them from the ceiling; indiscriminate and disproportionate attacks on civilians, including massacres in which hundreds of civilians were killed at once; and brutal sexual assaults as a weapon of war. Thus, it is notable that the ICC prosecutor has chosen to focus on crimes against children as an opening salvo for what will likely be the first of many arrest warrants to follow.
This is in part likely a function of the evidence—the Russian state has been very overt in acknowledging its child transfers and Lvova-Belova herself has even admitted to "adopting" a Ukrainian child—and in part a result of the growing global priority placed on protecting children's rights in conflict. However, it may also reflect savvy strategy on the prosecutor's part. Many members of the court from Latin America, Africa, and Asia feel disconnected from the West's denunciation of Putin and call for the preservation of the international rules-based order when that order has been violated on so many occasions in their own regions, often aided by the direct actions or complicity of the West. By focusing its first arrest warrants on war crimes against children, the ICC made sure the bare and brutal truth of Putin's war cannot be denied, even among those who bristle at Western hypocrisy. The allegations may also reflect an intention to later add charges of genocide, under Article 6(e) of the Rome Statute, since it will be a long road from the issuance of these arrest warrants to any confirmation of charges hearing in The Hague.
—Gissou Nia is the director of the Atlantic Council's Strategic Litigation Project.
A step forward in dismantling Lvova-Belova's network
The announcement today from the ICC that arrest warrants have been issued for Putin and Lvova-Belova is significant legally and politically. Legally, the ICC is moving forward the pursuit of justice for one of the most heinous war crimes the Russian regime is committing. Politically and diplomatically, this can hopefully serve to increase pressure on Putin to cease the unlawful transfer and deportation of children, encourage others to cooperate with international organizations to share information about children who are now in Russia and Russian-occupied territories, and ultimately return Ukrainian children to Ukraine.
While this is only one of the many heinous crimes Putin and the Russian officials and forces are committing, it is a critical issue that needs more attention, which this ICC arrest warrant can help bring. Putin and Lvova-Belova are central to the systemic forced deportation of thousands of Ukrainian children to Russia and Russian-occupied areas of Ukraine. Lvova-Belova, in serving as the commissioner for children's rights, is a vital part of the Russian criminal enterprise of forcibly transferring and deporting Ukrainian children to a network of dozens of camps that serve a range of purposes including "re-education." In addition to being allegedly guilty of running this policy and network, she also personally "adopted" a boy evacuated from Mariupol.
Ukrainian children in a variety of categories—including orphans, children with severe mental and physical disabilities who were in state-run homes, children of prisoners of war, and others—have been forcibly relocated by Russian forces since the beginning of the full-scale invasion last February. The true figures are unknown and are likely much higher, but as of now at least sixteen thousand children are reported as forcibly transferred, and only 308 have been returned. This is a clear violation of human rights and international law, and the ICC has taken a huge step forward in addressing this.
—Shelby Magid is the deputy director of the Atlantic Council's Eurasia Center.
These warrants are a step toward justice and accountability, not just symbolism
Today's announcement by the ICC of the issuance of arrest warrants against Putin and Lvova-Belova signifies an important step toward justice and accountability for Ukrainian victims and a historic step by the court.
Importantly, the charges represent a focus by the Office of the Prosecutor on those who are consistently most vulnerable to harm during conflict—children—who were specifically targeted within this conflict. While the charges are narrowly focused on the war crime of unlawfully deporting and transferring children from Ukraine into Russia, the court has clarified that these charges represent a first step, and investigations by the prosecutor continue as to the many other alleged crimes. Notably, the deportation and/or transfer of children constitutes one of the underlying acts required to demonstrate the crime of genocide under the Rome Statute, and attention should be paid as to whether these initial charges might support a future allegation by the Office of the Prosecutor as to Russia's intent to destroy, in whole or in part, Ukraine as a group.
While some commentators have questioned whether the arrest warrants should be viewed as primarily symbolic given that Russia is not a member state to the court, the significance of the arrest warrants go beyond mere symbolism to represent steps towards justice and accountability. The arrest warrants and charges are based on the investigations of the prosecutor and evidence collected, and the findings of the Pre-Trial Chamber that the evidence submitted in support of the arrest warrant application provided reasonable grounds to believe that Putin and Lvova-Belova bore individual criminal responsibility. The court said that its announcement of the arrest warrants also aims to deter further crimes through public awareness, even as the arrest warrant documents remain confidential.
In addition, the historic step of issuing an arrest warrant, for the first time, against a national leader of a permanent member of the UN Security Council, and calling on all ICC member states to arrest and transfer the accused to the court, is notable and could be viewed as a representation of the prosecutor's commitment to accountability.
—Haydee Dijkstal is a nonresident senior fellow at the Strategic Litigation Project and a UK barrister representing victims before the ICC, including victims in the Ukraine Situation.
This case is a message to human-rights violators around the world—including China
It's too premature to say whether Putin will be tried, but the ICC's decision to issue an arrest warrant against him sends a strong message to human-rights violators and war criminals everywhere. This groundbreaking decision shows that no matter how powerful the architects of atrocity are within their own national borders, the ICC will work to bring them to justice. As we react to this decision, I urge observers to remember victims of heinous crimes no matter where they are, including those who have suffered crimes against humanity and genocide.
While Putin faces potential prosecution for his crime of forcibly deporting Ukrainian children, Chinese officials have been implicated in the same offense in Xinjiang. Parliaments and governments across the world have officially determined that the Chinese government's actions and policies constitute genocide. In August, the United Nations' Office of the High Commissioner for Human Rights also concluded that China may have committed crimes against humanity. As we celebrate the ICC's decision, we must remember the landmark case two Uyghur groups have brought before it, asking for the court to investigate China's crimes. Today, more than a half-million Uyghur children have been forcibly separated from their parents in state orphanage camps. Chinese officials should take note of the court's decision that no government, however powerful they may be, can commit atrocities with impunity. When they do, senior officials will bear personal responsibility.
—Rayhan Asat is a nonresident senior fellow at the Strategic Litigation Project and an international human-rights lawyer.
Any Russians committing crimes in Ukraine should consider themselves formally on notice
The ICC's arrest warrant for Putin is a seismic moment for international law and judicial accountability. The Russian president now joins an exceedingly short list of world leaders formally charged with war crimes. In legal terms, reasonable grounds exist to believe that Putin himself bears individual criminal responsibility for the unlawful deportation and transfer of Ukraine's children.
To international human-rights watchers, the ICC's historic announcement also indicates an increased scope of prosecution. The ICC does not (currently) have jurisdiction over the crime of aggression in Ukraine, a charge focused on prosecuting a nation's most senior leaders, which explains why different options for a special tribunal are being explored. Today's warrant confirms that the ICC could not only pursue lower-level offenders but also Putin himself for additional charges.
The arrest warrant for Lvova-Belova, Russia's so-named commissioner for children's rights, is no less significant. By naming her along with Putin, the ICC is signaling that other officials and functionaries also bear criminal responsibility for the Russian Federation's crimes against Ukrainian civilians. The ICC's decision to publicly announce these arrest warrants is likely intended to have a deterring effect against Russian perpetrators committing atrocity crimes in Ukraine. Russian warfighters, cabinet members, security services involved in deporting Ukrainian children, and bureaucrats involved in their illegal adoption into Russian homes should consider themselves formally on notice.
The West and broader international community should now support international law by sanctioning a wider range of actors involved in Russian atrocity crimes, making it clear to these actors and their families that international opportunities for vacation, work, and education are closed for any involved in war crimes against Ukrainians.
Finally, today's ICC arrest warrants highlight Russia's premeditated and extreme cruelty through the mass trafficking of children, most of whom still languish away from their homes and loved ones in Russia. These particular war crimes are also direct violations of the United Nations Convention on the Prevention and Punishment of Genocide, which prohibits "forcibly transferring children of the [victim] group to another group." No nation or institution has ever fundamentally contested this legal definition or its mandate. Thus, the full gravity of Russian atrocities in Ukraine will continue to move through the legal system.
—Kristina Hook is assistant professor of conflict management at Kennesaw State University's School of Conflict Management, Peacebuilding, and Development and a former US Fulbright scholar to Ukraine.
---
Further reading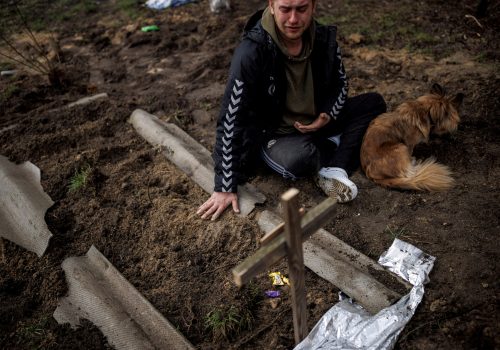 Fri, Dec 23, 2022
New Atlanticist By Gissou Nia
Now, the US can prosecute war crimes whenever the alleged perpetrator is on US soil, regardless of the perpetrator's nationality or where the crime was committed.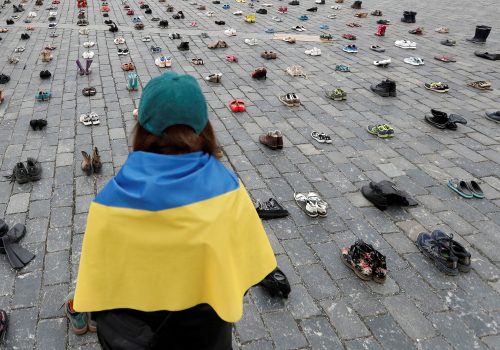 Fri, Feb 24, 2023
New Atlanticist By Celeste Kmiotek, Lisandra Novo
There is an unprecedented number of investigations and accountability efforts under way in response to Russia's invasion. It's a sign of success—but it also shows how victims of international crimes have unequal access to justice.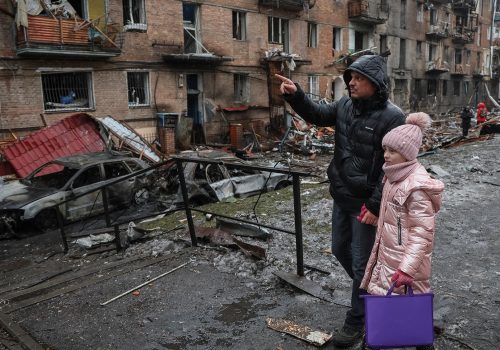 Tue, Dec 6, 2022
New Atlanticist By Celeste Kmiotek
A special tribunal on Russian aggression would raise questions around jurisdiction, legal details, and the role of the US. Here's how they can be addressed.