On June 6, the PGA Tour and LIV Golf announced their plans to merge. This surprise revelation set off a wave of anger from US politicians, professional golfers who had turned down lucrative offers from LIV Golf to play in their tournaments, and others who view the PGA Tour's new association with the Saudi Arabia Public Investment Fund (PIF), which owns LIV Golf, as unpatriotic and antithetical to democratic values.
The criticism stems from the kingdom's connection to the 9/11 attacks, its track record on human rights, and the high-profile killing of US-based journalist Jamal Khashoggi in 2018, very likely at the direction of Saudi Crown Prince Mohammed bin Salman. Some critics have started to search for potential regulatory tools to block the deal. Merger review, both in the United States and Europe, seems the most likely path. However, there are competing views on whether courts would be persuaded by anti-trust arguments given how highly concentrated professional golf already is and how most US professional sports leagues operate as de facto monopolies.
Several members of Congress, including Senator Ron Wyden (D-OR), Senator Mitt Romney (R-UT), and Congresswoman Maxine Waters (D-CA), have issued public calls for the Committee on Foreign Investment in the United States (CFIUS) to review the deal. CFIUS is an interagency committee that evaluates the national security implications of foreign acquisitions of US businesses. If CFIUS finds a national security risk, it can negotiate mitigation agreements with transaction parties to restructure deals in ways that sufficiently reduce those risks. It can also recommend that the US president prohibit the transaction. CFIUS has traditionally been restrained in its approach; only seven transactions have been prohibited through the CFIUS process since 1975, though a good deal more were voluntarily abandoned by parties after realizing that CFIUS found a national security risk that it did not deem mitigable.
So is CFIUS the answer to the prayers of those who wish to stop the PGA Tour/LIV Golf merger? Probably not. To understand why CFIUS is likely not able to stop this deal, even if US lawmakers may view the deal as distasteful, it's necessary to understand CFIUS's jurisdiction—which it likely has over this deal—and the investment prohibition authorities that CFIUS provides the US president.
1. The committee is wary of overextending its authority
First, CFIUS has jurisdiction over any foreign acquisition of a controlling stake in a US business, regardless of the US business activity. It also has the ability to review non-controlling transactions that confer special rights—such as access to non-public technical information or board observer status—if foreign entities invest in critical technology, critical infrastructure, or sensitive personal data of US businesses. The cross-sectoral nature of CFIUS jurisdiction contrasts with the investment screening authorities of many other advanced economies, which often only allow review of transactions in specified sectors, such as critical infrastructure or defense materials.
Thus, as long as the merger deal—which apparently exists only conceptually at the moment—directly or indirectly confers a controlling stake of PGA Tour to PIF, CFIUS will be able to review the transaction. CFIUS likely would also be able to review even a non-controlling stake if the PGA Tour meets the definition of a sensitive personal data business. CFIUS operates mostly through a voluntary notification process, but it can also pull a concerning transaction into its orbit through a "non-notified" review.
Just because CFIUS has jurisdiction to review does not mean that it will block the transaction. CFIUS is designed to be a tool of last resort and to only intervene when national security is threatened. To act, the committee would have to find a risk arising from the transaction that threatened to impair US national security. While national security is not defined in the statute, the committee process is designed to be fact-based, deliberative, and restrained. Highly attenuated risk scenarios are unlikely to persuade the committee to recommend action.
Moreover, the committee is conscientious not to overextend its authority in order to retain process legitimacy, as it operates largely through the voluntary cooperation of transacting parties. It is careful to stay within its statutory authority to prevent legal risks that could narrow its ability to act in the future. And, as the United States is actively encouraging partners and allies to enact and strengthen their own investment screening mechanisms, it does not want to give the impression that broad use of such power is legitimate, for fear that doing so could lead to other countries harming US businesses operating abroad.
2. Data collection risks can be mitigated
The CFIUS process revolves around determining whether a transaction creates a national security risk, and if so, whether that risk can be adequately mitigated through a legal agreement with the parties. CFIUS evaluates the vulnerabilities to national security that a US business generates and the likelihood that the foreign entity will exploit those vulnerabilities or make it easier for a third party to do so.
One potential security vulnerability is the PGA Tour's collection of fans' data on its fans through ticket sales and its smartphone app. Since the 2018 legislative update to CFIUS, the committee has been increasingly concerned about how acquiring a US business could aid a threat actor in the collection, use, and sharing of sensitive personal data. Data collected on smartphone apps can be particularly concerning if the app allows for real-time geolocation of individuals and if the app's data collection does not adequately protect vulnerable populations. However, these concerns can easily be mitigated by preventing PIF or its agents from having access to such data. It is highly unlikely that the business rationale for the merger depends on PIF or LIV Golf being able to access these data, so it is likely a mitigation term to which the parties would agree.
3. Real estate concerns can be mitigated, too
Another issue is the roughly thirty golf courses the PGA Tour owns and operates through its Tournament Players Club (TPC) network. Some of these golf courses are located close to sensitive US government sites such as military bases. CFIUS views such "co-location" as risky because it can create opportunities for surveillance. In 2012, for example, US President Barack Obama prohibited a Chinese investment in an Oregon wind farm over concerns that Beijing could use access to wind turbines to surveil a particularly sensitive military site close by. Again, however, the deal could easily be structured in a way in which PIF did not have access rights to these courses or the ability to choose venders to operate or maintain these locations.
4. Soft power is a soft argument
Some have argued that CFIUS should consider the "soft power" implications of golf tour ownership from which the Saudis could benefit. However, it is unlikely that CFIUS will be willing to make strong claims about national security risks on this basis. Nor should it. Soft power by its nature is diffuse. This means that the consequence of soft power on US national security is difficult to clearly express. A poorly articulated consequence reduces the ability of the committee to act. After all, the committee must find a "risk to national security arising from the transaction" to mitigate or recommend a presidential prohibition. Vague claims to "sportswashing" and generally burnishing a regime's brand do not meet this threshold. If CFIUS could block transactions on bad vibes alone, then it could pretty much block anything. And that would undermine the argument that CFIUS is a fact-based, non-partisan committee that narrowly and soberly assesses national security risk. This would have substantial negative consequence for the legitimacy of the process in the eyes of business, the public, and allies and partners.
In sum, there are many reasons to be angered by, or at least uncomfortable with, the PGA Tour/LIV Golf merger. Anti-trust may represent a legitimate hurdle to its execution. But CFIUS is not a trump card to prohibit every problematic foreign transaction, and it certainly is not an appropriate tool for blocking this particular merger given what we know about it. Rule of law means the law is not just a tool but also a constraint. And here, the rule of law will likely bind the United States against using CFIUS to block a transaction some lawmakers are wary of but does not rise to the level of a clear national security risk. 
---
Sarah Bauerle Danzman is a nonresident senior fellow with the GeoEconomics Center's Economic Statecraft Initiative. She is also an associate professor of international studies at Indiana University Bloomington where she specializes in the political economy of international investment and finance.
Further reading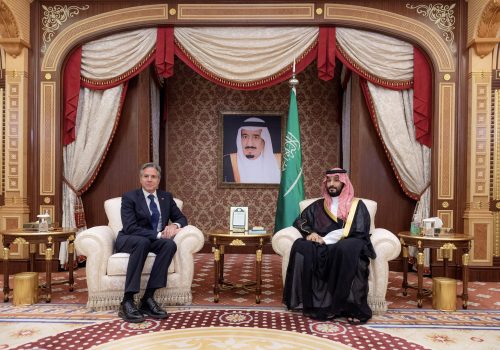 Wed, Jun 7, 2023
New Atlanticist By Jonathan Panikoff
Riyadh's foreign priorities today are little more than a shadow of its plans at home. US officials should factor this reality into their plans to stabilize relations with the kingdom.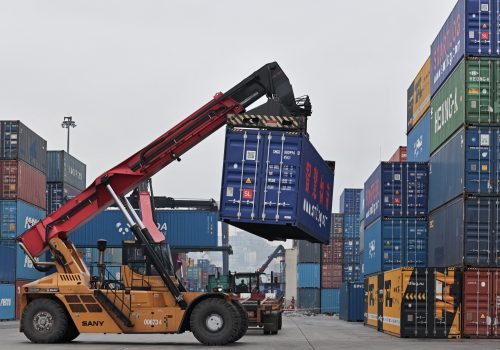 Tue, May 30, 2023
New Atlanticist By Josh Lipsky, Niels Graham
A number of countries have increased their trade with Russia since its full-scale invasion of Ukraine in early 2022, including non-aligned countries and even some EU members.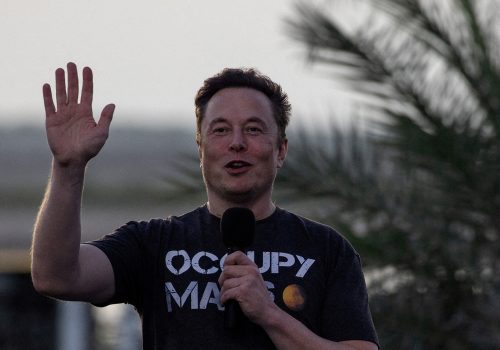 Thu, Oct 27, 2022
New Atlanticist By Jonathan Panikoff
Elon Musk's purchase of Twitter shows how the United States views CFIUS, and related government tools, as the new pointy end of the spear when it comes to protecting US national security.