Democracy is under assault, and the problem is particularly acute in Latin America, which has suffered a greater democratic decline than any other region over the past twenty years. Even in relatively stable democracies such as Colombia, flaws within the system can be exacerbated by external shocks such as natural disasters or economic crises—and exploited by would-be autocrats.
Strengthening democratic institutions is critical to reversing the trend of democratic decline across the region. While these democracies struggle, international partners can help. That's because the assistance these partners are already sending has an impact on each country's democratic health. All aid either hinders or helps democratic development, and donors should be intentional about aligning all forms of assistance to make sure that the assistance supports countries' democratic development. Thus, the United States and other democracies that send aid to Latin America and the Caribbean have a vital role to play in the region's future. They must make a renewed push for assistance to the region.
Recently updated indexes and projects that summarize countless social, institutional, and political metrics across countries—including the World Justice Project's Rule of Law Index, the Human Rights Watch's World Report 2023, and the Economist Intelligence Unit's Democracy Index 2022—convey a clear message. The International Institute for Democracy and Electoral Assistance's Kevin Casas-Zamora sums it up best in the organization's 2022 Global State of Democracy Report: "Democracy is under both literal and figurative assault around the world."
As this week's Summit for Democracy—which the United States is co-hosting with Costa Rica, the Netherlands, South Korea, and Zambia— gets underway, these reports highlight in increasingly urgent terms the regression of democratic governance around the world, including in most of Latin America.
For example, Colombia held three broadly free and fair electoral processes last year, and the rule of law is relatively strong. Many in Bogotá and other big cities have access to judicial, health, law-enforcement, and other state institutions. However, elsewhere in the country, the situation is different: Rural municipalities do not have the resources to provide the same level of education or health care as capital cities, and basic infrastructure is lacking. Public safety is even weaker. With its unequal application of democratic norms and protections, Colombia has been labeled a "flawed democracy" by the Economist Intelligence Unit. It's not alone: Two-thirds of countries in the region (including Brazil and Mexico) qualify as flawed democracies or "hybrid regimes." Only three are full democracies and the remaining four of the countries scored are fully authoritarian.
Across Latin America, weak institutions perpetuate corruption, inequality, poverty, and insecurity, and they standardize illicit economies. This provides a breeding ground for populist leaders on both the left and right to turn the situation to their advantage by exacerbating political polarization and popular distrust of the government. Weak rule of law is a constant trait of fragile democracies or hybrid regimes. Populist El Salvadoran President Nayib Bukele, for example, suspended civil liberties and arrested thousands of suspected gangsters with no due process. In the presence of weak institutions, criminals and corrupt officials can buy their way out of accountability. Gangs can shake down business owners with impunity. A lack of leadership and inclusion, including political parties' own undemocratic behavior, is also a constant regionwide.
The factors contributing to the region's democratic decline are well-known. What is less acknowledged is how these democratic deficits undermine the quality of life for millions of citizens and how they hinder government responses to new challenges and crises. From COVID-19 to Russia's full-scale invasion of Ukraine, shocks have already tested the region's governments, and they were found wanting. Three threats in particular have the potential to further destabilize Latin America's democratic progress:
Climate change and natural disasters have already started to upend economic and social conditions. Much of southern South America has suffered from record heat waves this year, fueling record forest fires in parts of Chile. A heavy rainy season has exacerbated a major Dengue fever outbreak in eastern Bolivia and caused devastating floods in Brazil. Meanwhile, the Paraná River—a major transportation artery and irrigation source—has fallen to such a low level that shipping has struggled; and Uruguay declared a national emergency in October last year due to crop failures caused by drought. Poor environmental governance both contributes to these phenomena and hinders mitigation and adaptation efforts. Governments' inabilities to respond effectively contribute to poverty, dislocation, and migration across the region. To strengthen their democracies, governments must be able to channel citizen demands more nimbly and mobilize resources to mitigate these environmental or climate shocks .
Latin America and the Caribbean struggle with food insecurity and price shocks. Energy prices and inflation add to severe cost-of-living pressures for many across the region. A new report from the Pan American Health Organization shows that over 22 percent of the Latin American and Caribbean population cannot afford a healthy diet, with rates reaching over 50 percent in the Caribbean. Many governments provide subsidies for certain foodstuffs, fuel, and other critical imports, but high inflation and soaring debt payments will challenge governments' abilities to keep this up. This can rapidly lead to popular unrest: For example, in 2019, a simple public transportation fare hike triggered massive protests in Chile. A similar increase in gas prices in Panama resulted in over a week of protests over fuel, food, and medicine, and Suriname saw protests this month after the government announced it would cut electricity and fuel subsidies.
Most regional governments throughout Latin America and the Caribbean are also under extreme financial stress, which limits their abilities to respond to new crises. The resource boom—fueled by Chinese growth and consumption—that propelled massive social spending and slashed poverty around the region ended years ago. As budgets were tightening, COVID-19 struck the region harder than most others and forced governments to expand deficit spending as economies closed for months at a time. Several states ended the pandemic with bulging debts and lower credit ratings, meaning that they now have less flexibility when it comes to confronting the next shock. And while Latin America's economy grew nearly 4 percent in 2022, that growth is projected to slow in 2023 as the US Federal Reserve continues to hike interest rates and the value of the dollar continues to rise, with damaging spillover effects for regional economies.
The most effective way to prepare for and mitigate against these external shocks is by strengthening democratic institutions—ensuring greater transparency, democratic participation, and government responsiveness. The United States and other democracies that help the region in dealing with these external shocks have a vital role to play in helping Latin America reverse the trend of democratic decline and prepare for coming challenges that could exacerbate democratic decay. This role extends to the diplomatic, development, and private sectors, which should support partners with best practices and resources that incentivize transparency, civic participation, free trade, and countering the influence of malign foreign actors such as China, Iran, and Russia. As US Agency for International Development Administrator Samantha Power recently wrote, "everywhere they provide assistance, democratic countries must be guided by and seek to promote democratic principles—including human rights, norms that counter corruption, and environmental and social safeguards."
Voters have delivered major course corrections in Brazil, Colombia, and elsewhere in the past year, with newly installed leaders vowing to tackle inequality. But beyond these democratic processes, there's more that governments will need to do to fully shore up vulnerable institutions. Investing in initiatives that strengthen civil society, political party systems, and open government will help give citizens a stake in the system, improve the function of institutions, and reduce the space for incursion by would-be autocrats.
Power has rightly called for a development strategy that "addresses the economic grievances that populists have so effectively exploited, that defangs so-called digital authoritarianism, and that reorients traditional democracy assistance to grapple with modern challenges." As the United States and its partners convene for the Summit for Democracy, creating a vision for strengthening democracy in all US assistance to Latin America should figure among the Biden administration's highest priorities.  
---
Antonio Garrastazu is the senior director for Latin America and the Caribbean at the International Republican Institute.
Casey Cagley is a resident program director at the International Republican Institute.
Further reading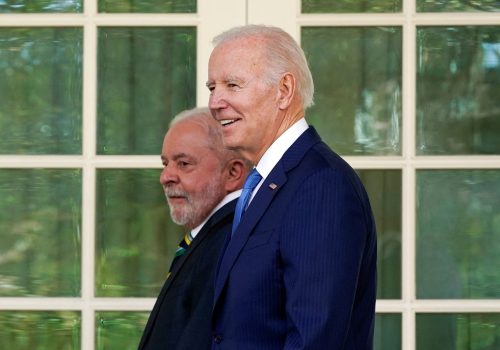 Fri, Feb 10, 2023
New Atlanticist By Caroline Arkalji
From democracy to the environment to UN Security Council reform, here are the big takeaways from Lula's big day in Washington.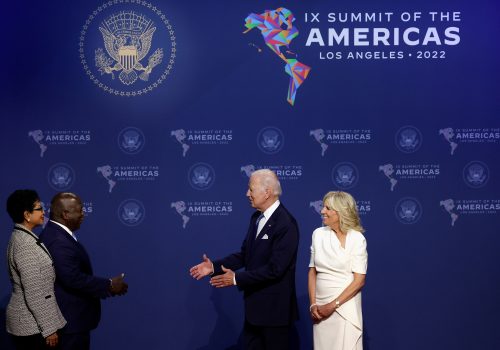 Tue, Jan 24, 2023
New Atlanticist By Wazim Mowla
Last year, the United States was in listening mode; but this year, the United States must make it a priority to support the Caribbean—or someone else will.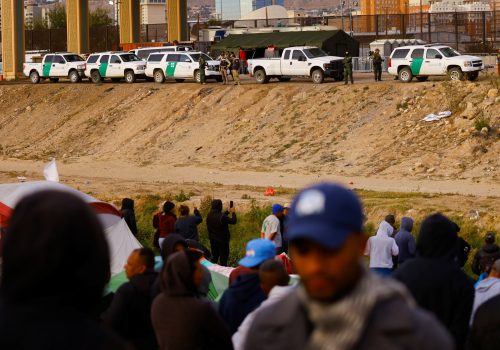 Thu, Jan 5, 2023
New Atlanticist By Atlantic Council experts
We asked our experts what's behind the policy shifts from the White House and what happens next.