US President Joe Biden welcomed Brazilian President Luiz Inácio Lula da Silva to the White House on Friday by noting that "both of our democracies have been tested of late." As the two nations rekindled relations with Lula's trip to Washington a little more than a month after he returned to the presidency, the January 8 riots in Brazil and their similarities to the US insurrection on January 6, 2021, topped the agenda. But the symbolism and the substance of this visit go beyond democracy. Here are four takeaways from Lula's big day in Washington:
1. Lula pitches a global sustainability fund
Lula proposed the creation of a new global fund for sustainability, which would designate funds from developed nations to sustainable efforts across the world. There seems to be a willingness from the United States' side to contribute to the existing Amazon Fund, joining Norway and Germany, on efforts to protect the Amazon rainforest.
Brazil is home to the largest portion of the Amazon and is an indispensable partner for the United States on climate and sustainability. As Biden prioritizes sustainable infrastructure and equitable clean energy domestically and more ambitious climate goals abroad, Brazil is an important ally in the hemisphere. Of Brazil's available energy resources, around 80 percent are from renewables, and, as an agricultural powerhouse, it has the potential to be an even greater asset in solving the global food crisis. The US-Brazilian cooperation on climate and the environment is expected to deepen as the United States Special Envoy for Climate John Kerry plans to visit Brazil soon.
2. UN Security Council reforms are on the table
Lula has proposed to be a peace broker in Ukraine by pushing the rhetoric around the conflict to be about finding peace rather than continuing the war. He told reporters after the meeting that he and Biden discussed "the need to create a group of countries that are not involved directly or indirectly in the war with Russia in order to find a way to make peace."
In this context, Lula also advocated for the need to reform the United Nations Security Council to become more representative of current geopolitical dynamics—a long-standing demand of the Brazilian president—to which Biden seemed to agree, Lula said.
3. Lula embraces progressive stardom
Lula met with prominent progressives on Friday morning before heading to the White House. With Senator Bernie Sanders (I-VT), Lula discussed ways to increase international cooperation to protect the Amazon rainforest and preserve the environment for future generations. The Brazilian president also met with Reps. Alexandria Ocasio-Cortez (D-NY), Pramila Jayapal (D-WA), and Ro Khanna (D-CA). They discussed shared commitments to environmental, social, and economic justice—and US-Brazil cooperation to fight authoritarianism and strengthen relations between the two countries' legislators. The meetings represent an important effort to extend cooperation beyond the executive level, but in order to be effective and long-lasting, this kind of outreach must be bipartisan.
4. The presidents have a small window for cooperation
Lula's Washington visit opens a new chapter as he seeks to position Brazil as a critical player regionally and internationally. Next month, he will travel to China, and he is also planning a trip to Angola, Mozambique, and South Africa.
But both Lula and Biden face challenges at home, as expectations rise for Lula to deliver on key campaign promises and Biden prepares for the 2024 elections. The window of opportunity for furthering cooperation is slim, but the stage is set for both countries to capitalize on new momentum. Particularly on the environment, Friday's visit was a promising start.
---
Caroline Arkalji is a Young Global Professional with the Atlantic Council's Adrienne Arsht Latin America Center.
Further reading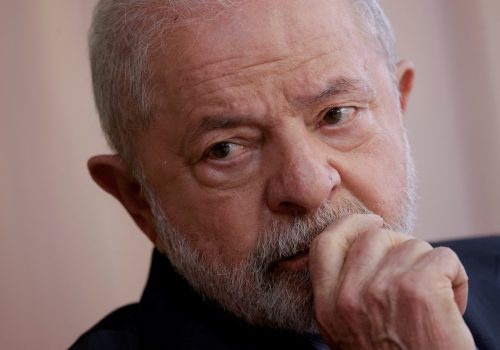 Thu, Feb 9, 2023
New Atlanticist By Valentina Sader
When they meet at the White House, the US and Brazilian presidents should also address the changing geopolitical landscape, climate change, and trade.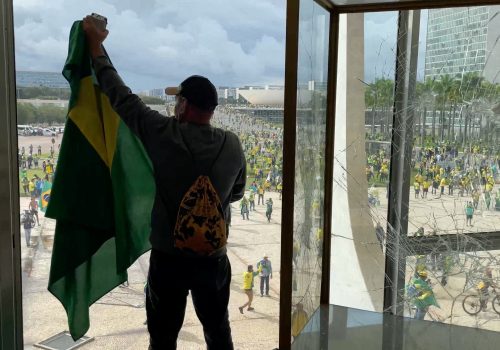 Wed, Jan 18, 2023
New Atlanticist By Gissou Nia, Thomas S. Warrick
While the Biden administration needs to demonstrate moral leadership, acting too hastily could fuel the flames of Brazil's polarized politics and damage democracy in the long term.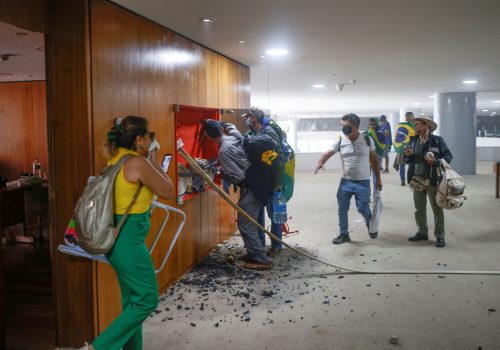 Mon, Jan 9, 2023
New Atlanticist By Atlantic Council experts
As the tear gas clears, substantial questions remain about the state of Brazil's democracy and institutions—and what the United States can do in response to the riot.