How four cities are building resilience to extreme heat
The world broke the record for the hottest day ever this week—twice. On July 3, the average global temperature hit 17.01°C (62.62°F), exceeding the August 2016 record of 16.92°C (62.46°F). Then, on July 4, it rose to 17.18°C (62.92°F).
Already, cities around the world are facing intense heat waves. Several European and Southeast Asian countries broke records for their hottest temperatures. The southern United States has been hit by a long-lasting heat dome; parts of India have sweltered under 47°C (116°F) heat; and areas of North Africa reached temperatures of 50°C (122°F) this year.
The worse news? This summer will likely get even hotter.
As the urgency of this issue becomes impossible to ignore, many local governments are taking action to build heat resilience. At the Atlantic Council's Adrienne Arsht-Rockefeller Foundation Resilience Center (Arsht-Rock), we work closely with cities around the world to protect the people most exposed to the dangerous impacts of climate-driven extreme heat. Here are four examples.
Seville: Naming heat waves is changing the way people understand extreme heat
Seville, Spain, has been leading the charge on naming extreme heat events. So far, Seville has experienced two named heat waves: Zoe in July 2022 and Yago in June 2023.
Seville has named heat waves through a naming and categorization system called proMETEO. This system, piloted by Arsht-Rock in collaboration with the University of Seville and Seville City Council, monitors the weather forecast and categorizes heat waves into three tiers ranging from least (Category One) to most severe (Category Three).
Seville is in its second year of naming and categorizing heat waves. In addition to better protecting Seville's residents, this project is creating important social dialogue on the harmful impacts of extreme heat, and it is serving as a model for other cities to pilot similar initiatives.
Miami: The world's first Chief Heat Officer is tackling heat head-on
Miami, where temperatures routinely hit the high 90s, was the first city in the world to appoint a Chief Heat Officer (CHO). CHOs are officials supported by Arsht-Rock's Extreme Heat Resilience Alliance who are responsible for unifying their city governments' responses to extreme heat.
Miami's CHO, Jane Gilbert, has more than thirty years of experience working in climate resilience. She has worked closely with Miami-Dade County Mayor Daniella Levine Cava to launch the Miami-Dade County Extreme Heat Action Plan, which outlines nineteen key actions to protect people from extreme heat, including cooling schools and expanding access to shade and water.
In her role as CHO, Gilbert has implemented extensive heat season campaigns to raise awareness on the dangers of extreme heat. She also manages mobile Community Resilience Pods, which empower people to prepare for climate stressors through educational storytelling.
Freetown: Outdoor market shade covers are providing relief for more than 2,300 women
In Sierra Leone's capital, extreme heat is devastating for outdoor and informal workers, who spend long hours laboring in extreme temperatures. Many of these workers are women and girls, who face disproportionate health and social impacts from extreme heat.
Arsht-Rock has been working with Eugenia Kargbo, Freetown's CHO, and a network of partners to address this. Through the Freetown Market Shade Cover project, Arsht-Rock installed shade covers over three outdoor markets, expanding the daily window for safe and comfortable shopping in hot conditions.
The Market Shade Cover project has given more than 2,300 market women better working conditions and economic opportunities. By minimizing the health impacts, food spoilage, and financial losses resulting from extreme heat, this intervention has benefitted entire communities dependent on the market women.
Santiago: New partnerships are protecting the most heat-vulnerable workers
Even though Chile's capital has a cool and temperate climate, Santiago has been scorched by extreme temperatures in recent years. Local authorities are taking a wide range of approaches to build heat resilience, from advocating for workers' protection policies to providing air-conditioned ambulances to more than twenty-five communities.
Santiago's CHO, Cristina Huidobro Tornvall, partnered with the Chilean Security Association (ACHS), an entity representing more than one million Chilean workers, to promote heat safety measures among outdoor workers. Together, they are educating employers on how to recognize and respond to the dangers of extreme heat.
The partnership's goal is for employers to institute practices to protect their workers and provide health coverage for workers injured on the job. To this end, ACHS is planning to monitor how often workers seek medical care for exposure to extreme heat, which will help inform worker protection policies.
Cities are a crucial part of the solution
Severe heat can arrive with little or no warning. However, there are several steps cities can take in advance to prepare for extreme heat events.
Cities can conduct baseline heat risk assessments to understand which communities and parts of the city are most vulnerable to extreme heat.
Cities can create heat action plans that identify strategies and responsible actors in advance of extreme heat events.
Cities can implement educational campaigns in advance of heat seasons to build public awareness of the dangers of extreme heat.
Arsht-Rock's Heat Action Platform brings together diverse case studies of these solutions with guidance on how to plan for, finance, and implement projects into one comprehensive platform. The platform is designed to be a step-by-step guide for those starting out their heat resilience planning, as well as a reference guide and implementation resource for cities already well into the heat-planning process.
Local leaders are positioned to take these ideas and run with them. Cities have an urgent responsibility to respond to climate change. Billions of people are already living with the impacts of extreme heat, and even more will become more vulnerable as the world continues to urbanize. We already have the solutions, knowledge, and resources needed to protect people from heat—now, we just have to take action.
---
Kashvi Ajitsaria is a project associate at the Adrienne Arsht-Rockefeller Foundation Resilience Center.
Further reading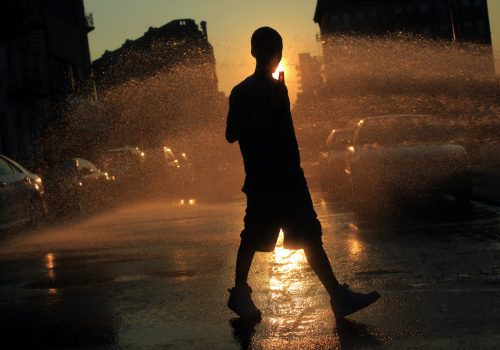 Tue, Aug 31, 2021
Report By Adrienne Arsht – Rockefeller Foundation Resilience Center
A new report produced by the Atlantic Council's Adrienne Arsht-Rockefeller Foundation Resilience Center with analysis conducted by Vivid Economics—quantifies the impacts of heat under current and future conditions.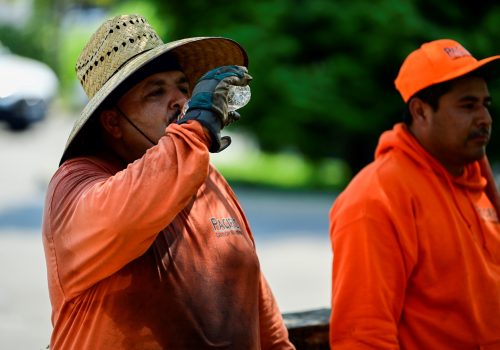 Tue, Aug 31, 2021
COP26 By Kathy Baughman McLeod
Most people know the knock-on effects of global warming by now: rising sea levels, mass extinction of plants and wildlife, worsening floods, fires, and hurricanes. But heat itself is too often overlooked as a destructive force in its own right.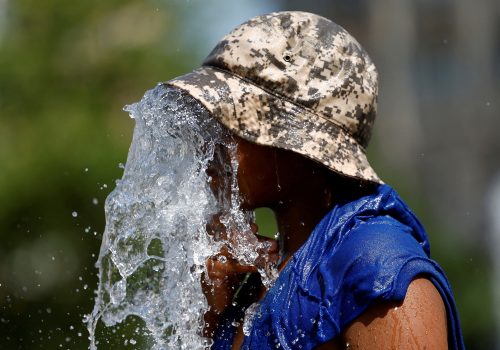 Thu, Jul 21, 2022
Fast Thinking By Atlantic Council
This is the reality of the changing climate—and it will only get worse from here. Our climate-resilience experts tell us how societies and individuals can adapt to this extreme heat.