As Russia's war against Ukraine rages on, US-Polish relations have returned to prime strategic importance on the global stage. But for the two transatlantic allies, it is no time for celebration or to look back to past achievements; the United States and Poland must focus on the urgent problems of now.
That was the takeaway for a group of leaders from the Atlantic Council who consulted with Poles, on the frontier of war, in a series of events on May 22-25 called "Warsaw Week"— timed to the first anniversary of the reestablishment of the Atlantic Council's Warsaw Office.
The strategic importance of US-Polish relations today recalls its importance at the end of the Cold War. In 1989, the United States backed the Solidarity movement in overthrowing communism in favor of democracy, the first Soviet-controlled country to do so. The George H. W. Bush administration provided critical economic support that helped Poland's early democratic governments transform the Polish economy, ushering in a generation of growing prosperity. In the early 1990s, Poles pushed the United States to open NATO's door, seeking to erase the legacy of the Iron Curtain. The Clinton administration listened and led. With Poland and its neighbors having attained NATO membership, and later having secured European Union (EU) membership, the goal of a united, free Europe seemed at hand—and governments on both sides of the Atlantic were willing and even eager to work with what seemed a new, less-imperial Russia.
But Russian leader Vladimir Putin had other ideas. Embittered by the fall of Soviet power, he has sought by pressure and war to restore the Russian Empire, an empire that included Ukraine, Belarus, the Baltic countries, Poland, Finland, Moldova, and the countries of the South Caucasus and Central Asia. He has deployed energy pressure, nuclear threats, disinformation, and other tools in the hopes of intimidating key Western powers to turn away from Ukraine and recognize Moscow's domination of it.
Explore the event
Thus, history has brought the United States and Poland together again, with an opportunity to shape transatlantic security. Here's where they should start, as outlined at Warsaw Week's public convenings and private meetings, including one between Polish President Andrzej Duda and the Atlantic Council's delegation:
Poland and the United States must keep Ukraine front and center. They succeeded at Warsaw Week, where the representatives from Poland across the political spectrum and the Atlantic Council were united in agreement that there should be no premature ceasefire that gives Russia de facto possession of Ukrainian land and people. Poles urged the United States to continue and intensify its provision of weapons to Ukraine (and the Americans at Warsaw Week agreed). Poles and Americans alike tried to look ahead to Ukraine's reconstruction and, hopefully, to its post-war transformation and integration with European and transatlantic institutions; they also discussed the future of European energy security and ways to accelerate the Three Seas Initiative to support infrastructure development in Europe's eastern tier countries.
Poles and Americans also explored ways to secure Ukraine after this phase of the war ends, including what the NATO Summit in Vilnius this summer (and the NATO Washington Summit in 2024) can do to prevent Ukraine from ending up in a gray zone of insecurity, knowing that gray zones can look to the Kremlin like green lights. After Warsaw Week, both Poland and the United States will need to move forward on these various efforts to support Ukraine.
The United States and Poland, with their allies and partners, will need to keep the transatlantic alliance united through what may be tough challenges ahead. Poland's dark assessments of Putin's Russia proved prescient. Some Western European governments, especially Germany, are now grappling with the consequences of Putin's use of military and energy aggression and have adopted less hopeful (and more realistic) assessments of their relations with Russia. The transatlantic alliance is closer to full agreement on how to contend with Putin's Russia than it has ever been. With the battle for Ukraine hanging in the balance, operationalizing this convergence of views is critical.
Poland and the United States will also need to champion the democratic values that are at the heart of their national traditions—and that form the foundation of their relations. At Warsaw Week, politics (hot and divisive in both countries) came up many times. There were questions about whether US neo-isolationist forces will weaken US support for Ukraine and even for NATO's defense of its own members against potential Russian aggression. There were also questions about Polish domestic politics, and more specifically about whether those politics would complicate work with Germany and even Ukraine, to the detriment of strategic goals and the benefit of Putin.
In both Poland and the United States, authoritarian temptation—a crouching demon—exists. Elections, approaching in both countries, can bring out anti-democratic temptations, such as repeats of the 2021 attempt in the United States to subvert the electoral process or exploitation of the recently enacted Polish law on Russian influence to go after the political opposition. As always in such moments, the United States and Poland must take inspiration from their best traditions, their better angels.
Warsaw Week was no ordinary week of talks and events. It was productive and forward-looking, filled with a sense of potential success for Ukraine and the free world. But it was also intense and serious, both fitting the times. Poles and Americans alike will have to follow through on the ways ahead that they charted at Warsaw Week.
---
Daniel Fried is the Weiser Family distinguished fellow at the Atlantic Council and former US ambassador to Poland.
Watch a playlist of the week's events
Further reading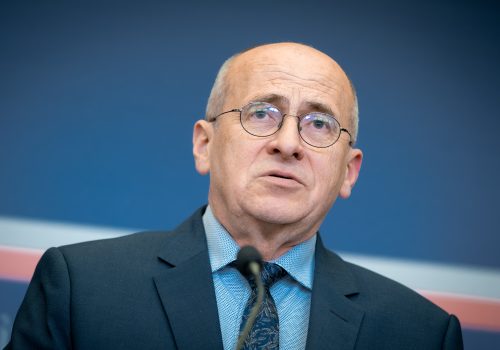 Fri, May 5, 2023
New Atlanticist By Daniel Fried, Aaron Korewa
A close read of Polish Foreign Minister Zbigniew Rau's comprehensive foreign policy statement reveals a country that stands on the side of freedom, even as it faces difficulties with European partners.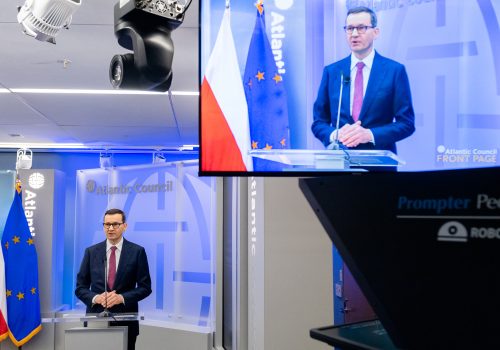 Fri, Apr 14, 2023
New Atlanticist By Katherine Walla
The prime minister explained that the US-Poland bond is key to strengthening the transatlantic community's deterrent power.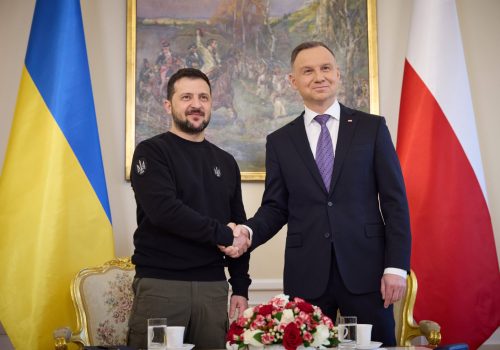 Wed, Apr 12, 2023
UkraineAlert By Taras Kuzio
Poland's leading role in the European response to Russia's Ukraine invasion is fueling talk of a eastward shift in Europe's geopolitical center of gravity with the Polish-Ukrainian alliance set to become increasingly influential.