Watch the full event
As Russia's war in Ukraine grinds on, "the collective West [wants] Ukraine to win—but not necessarily to the same extent," warned Polish Prime Minister Mateusz Morawiecki.
Speaking at an Atlantic Council Front Page event on Thursday, Morawiecki divided Ukraine's euro-Atlantic supporters into three groups: English-speaking countries, Central and Eastern European countries (minus Hungary), and the rest of Western Europe.
That third group, most prominently including Germany and France, made a "dramatic mistake," Morawiecki argued, by cooperating closely with Russia on energy matters and by assuming they would always be able to rely on cheap overseas labor and security provided essentially "for free" by the United States.
But those assumptions are "in jeopardy or nonexistent," Morawiecki explained, and now Western European countries have adopted positions toward Ukraine that are "not the same as the position of the United States or Poland." He later added that some, but not all, politicians in Western Europe "want a quick ceasefire… almost at any price." And it's not just politicians; the prime minister warned that he's seeing public support in Western Europe beginning to buckle to Russian President Vladimir Putin's benefit.
"Poland and the United States… are determined to support Ukraine," Morawiecki said, "but we need also all our allies to support Ukraine on equal footings and to be really wholeheartedly behind supporting Ukraine," especially by equipping Kyiv with the weapons it needs for its spring offensive.
Below are more highlights from the event, in which Morawiecki discussed Poland's relationship with the United States, China, and the rest of Europe.
The United States: Poland's "indispensable" partner
Poland is slated to spend about 4 percent of its gross domestic product on defense this year, doubling NATO's 2 percent benchmark. Warsaw bought or is currently buying new Abrams tanks, F-35 fighter jets, and high mobility artillery rocket systems from the United States. "Only by arming ourselves, [can we] strengthen our deterrent power," Morawiecki said. Thus, he added, Europe "needs the [US-Poland] bond."
In the wake of damaging leaks of US intelligence documents, Morawiecki said that he is "not going to think twice" about sharing secrets with the United States because Poland must remain "as close as possible with our allies."
That partnership extends far beyond matters of security. On energy, Poland is working with US companies on developing its nuclear-energy capabilities and on becoming "completely independent from Russian fossil fuels." And Warsaw is working with US companies on information technology, "cloud computing, artificial intelligence, [and] machine learning," Morawiecki said.
The United States has backed the Three Seas Initiative, a forum launched in 2015 (and supported by the Atlantic Council) to connect infrastructure, energy, and digital systems across twelve Central and Eastern European countries. "It is extremely important for longer-term prosperity and stability," Morawiecki said. "North-South interconnectivity is… very much needed, very important [for strengthening] the eastern NATO flank and eastern part of the European Union."
China's geopolitical costs for Europe
Morawiecki warned that Western European countries are making dangerous assumptions about economic ties to China. "They look to China, to be able to sell more EU products there, at a huge geopolitical cost," Morawiecki said. Some countries "are trying to make with China the same mistake that was made with Russia." The prime minister expressed concern that European "strategic autonomy" could at times mean shifting "towards China" and "severing ties with the United States."
Morawiecki added that as the West has focused "only on the economy," it has been led into a "trap," because now, after China and Russia have bought cheap Western technology, they can use that technology "against the free world." "Trading with tyrants has hidden costs," he said.
Any country concerned about Taiwan must wholeheartedly support Ukraine's fight, Morawiecki argued. "You need to support Ukraine if you want Taiwan to stay as it is… if Ukraine gets conquered, the next day, China can attack Taiwan," he said.
The prime minister expressed concerns about Chinese leader Xi Jinping's support to Putin, saying that he hopes Beijing won't "cross the red line" by delivering weapons to Russia. At the same time, Morawiecki said that Russia is being "short-sighted" and is "underestimating the challenges of the future with regard to China," he said.
Poland's play for regional power
Morawiecki noted that Poland's diplomatic relationship with Hungary has "changed a lot" recently because of Hungary's "position… towards Ukraine and Russia." Instead, Poland has pivoted to cooperating "very closely with Romania and the Baltics."
As Western Europe remains divided on big questions surrounding Russia and China, Morawiecki said, Central and Eastern Europe "can be a driving force in global competition and in defending our freedom," in Ukraine and beyond.
If allies really want peace returned to NATO's eastern flank, the prime minister argued, Ukraine's military victory is not enough: "We need a new Marshall Plan for Ukraine and the entire region."
With the NATO Summit taking place in Vilnius, Lithuania, in July, Morawiecki contended that "Ukraine has proven that they belong [with] the free world" because they "defend our values." He said that NATO should provide Ukraine with a "very clear path" to membership, including security guarantees. "The Vilnius Summit is the best place to do so," he said. "I'm still hopeful that this will happen, but it's not going to be easy."
---
Katherine Walla is an associate director of editorial at the Atlantic Council.
Watch the full event
Further reading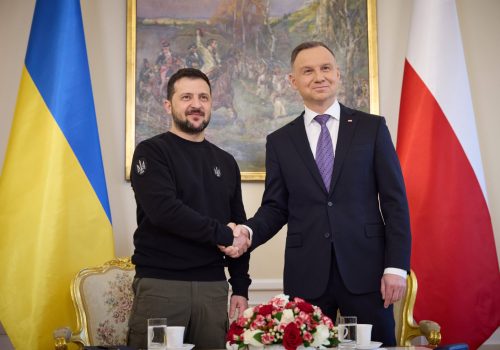 Wed, Apr 12, 2023
UkraineAlert By Taras Kuzio
Poland's leading role in the European response to Russia's Ukraine invasion is fueling talk of a eastward shift in Europe's geopolitical center of gravity with the Polish-Ukrainian alliance set to become increasingly influential.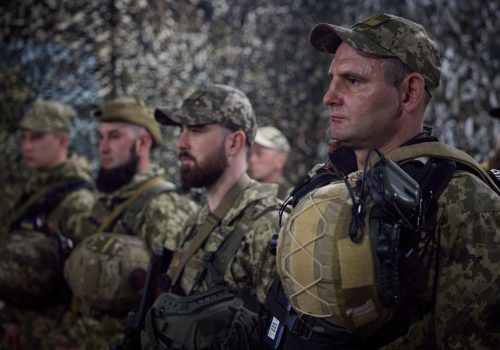 Mon, Apr 3, 2023
UkraineAlert By Andriy Zagorodnyuk
Efforts to pressure Ukraine into accepting a land-for-peace deal in order to end the war misunderstand Putin's imperial ambitions and will only encourage further Russian aggression, writes Andriy Zagorodnyuk.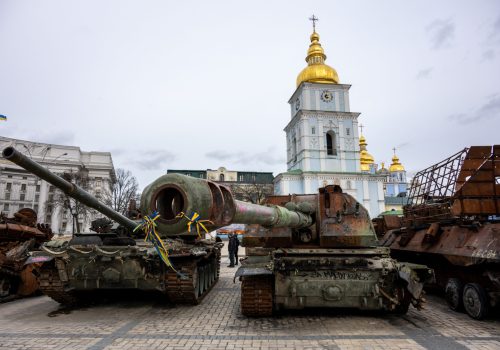 Tue, Mar 28, 2023
UkraineAlert By Victor Pinchuk
Genuine Ukrainian independence will only come with the country as a member of the European Union and NATO, writes Victor Pinchuk.