While the coalition of allies and partners supporting Ukraine has been highly effective in providing operational support, it has not had the same degree of effectiveness in undermining Russia's strategic goal of ending Ukraine's independence. Ultimately, ensuring that Ukraine maintains its sovereignty over the long term will require Ukraine's membership in NATO, as that would provide the country with the same critical security support that the Alliance currently provides for its members.
Though it is improbable that Ukraine would be admitted into NATO during the ongoing war with Russia, the Alliance should provide Ukraine with a membership action plan that makes clear that over the long term, Ukraine's sovereignty is of critical consequence to NATO, its members, and democracy in Europe. Recently, media reports have indicated that the United States (and some other allies) currently do not support such an approach; but, considering today's geopolitics and NATO's values, offering a membership action plan is the most effective and appropriate response to the challenge Russia presents.
The concept of a NATO membership action plan was set forth at the 1999 Washington Summit—following the accessions of the Czech Republic, Hungary, and Poland—in order to both make clear that there would be further accessions and guide the implementation of those accessions. NATO offers these plans—which include advice, assistance, and support to potential members—in order to help the countries reform to meet NATO's criteria. The key elements of a membership action plan have historically focused on the candidate country's military capabilities, economic circumstances, democratic status, and border stability.
Ukraine fulfills or is well along in each of these criteria except, of course, the last one. Most obviously, Ukraine has demonstrated outstanding military capabilities and, as a member of NATO, would be a strong security provider. Economically, Ukraine is generally aligned with the economies of NATO members and will become even more so as it works its way forward on such matters as limiting the influence of oligarchs, which is one of the requirements for accession to the European Union (for which Ukraine is a candidate country). Democratically, Ukraine is a free country, and while Kyiv must address remaining issues, including corruption and the selection of judges, it has been undertaking actions even while the war with Russia is ongoing.
Ukraine's borders are, however, far from stable—and, in current circumstances, NATO member countries are not willing to engage directly in the war to enforce those borders. Moreover, while there are good reasons to think that Ukraine can prevail so long as sufficient support is provided, war is an inherently uncertain enterprise. It is entirely possible that Ukraine will be able to regain both the Donbas region and Crimea, but even if it does, there is no certainty that Russia will respect that result. Moreover, it is also possible to conceive that fighting might cease with Ukraine having less than full control over the entirety of its national boundaries (which, it is worth noting, were guaranteed by Russia in the 1994 Budapest Memorandum on Security Assurances).
But if the fighting does cease, NATO would have many reasons not to allow the issue of Ukraine's unstable borders to become a bar to its accession. Rather, it is precisely because Ukraine would still be under threat that it should be allowed to join the Alliance. NATO's fundamental role is to protect the sovereignty of its members—democratic transatlantic nations—particularly when they are at risk. NATO was established in 1949 for precisely that reason in the face of the threat from the Soviet Union. When West Germany joined in 1955, it was one half of a divided country and was facing a formidable aggregate of Warsaw Pact forces located just across the border. The benefits to democracy of Germany joining the Alliance ultimately outweighed the risks of war, and those risks were reduced, not increased, by the prospect of collective defense.
The threats that Ukraine is facing are similar, and the rationale for Ukraine becoming a member of NATO is the same. As French President Emmanuel Macron stated, Russia's full-scale invasion "flouts the principles of the only international order possible, the only order that can guarantee peace; in other words, respect for national sovereignty and intangible borders." Most importantly, it is not just the borders of Ukraine that are at risk. Rather, as Finland's Prime Minister Sanna Marin has said, Ukrainians "are representing all of our values, European values, and they are fighting for us, all of us." Similarly, European Commission President Ursula von der Leyen has been clear: "You can count on us. We will continue to provide our full support. Now… and for the future."
The decision of the NATO countries not to enter the war in the current circumstances is understandable. But for the sake of future stability in Europe, the Alliance must show Russia that in the future, NATO will respond collectively to Russia's attempts to destroy Ukraine's independence. NATO's Strategic Concept makes clear the importance of "significantly [strengthening] deterrence and defence for all Allies" to deter Russian aggression. And as German Chancellor Olaf Scholz stated, the attack on Ukraine is "an absolutely unjustifiable attack on an independent country, on the peaceful order in Europe and the world." Deterring Russia in the future from further attacks on Ukraine is key to securing that peaceful order in Europe and the world. A membership action plan that eventually brings Ukraine into NATO will be a significant deterrent and a valuable factor in achieving that objective.
---
Franklin D. Kramer is a distinguished fellow and board member at the Atlantic Council, and a former US assistant secretary of defense for international security affairs.
Further reading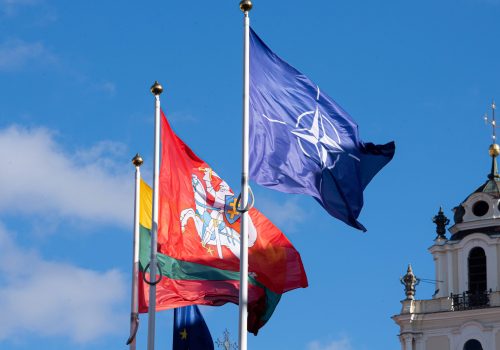 Tue, Apr 11, 2023
Issue Brief By Charles Barry and Christopher Skaluba
A successful NATO summit in July requires significant progress on a host of NATO's political and military priorities, especially those enumerated at Madrid.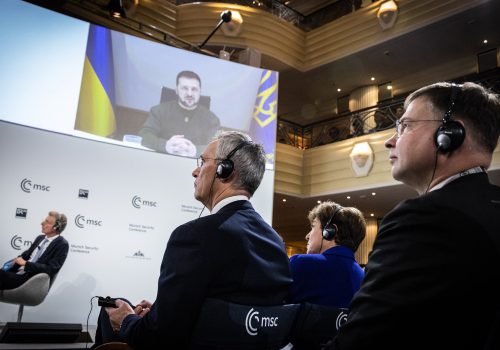 Fri, Feb 24, 2023
New Atlanticist By Atlantic Council experts
The war has undeniably re-invigorated NATO. But just how much has changed? Our experts weigh in on the state of the Alliance and where allies should go from here.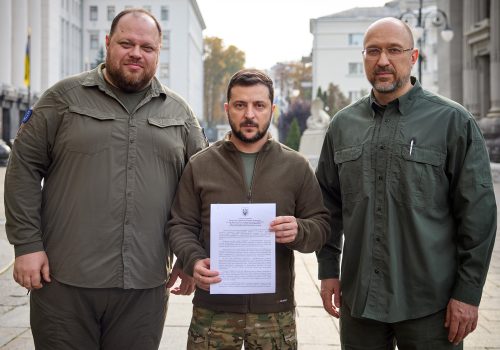 Fri, Sep 30, 2022
New Atlanticist By Atlantic Council experts
Experts from our Transatlantic Security Initiative break down NATO's response to the Ukrainian president's surprise move.