Policy memo: How to sharpen the digital pillar of the Three Seas Initiative
Central and Eastern Europe (CEE) is well poised to strengthen its economic prospects and competitiveness through digital transformation. The region has a well-educated workforce with strong skills in science, technology, engineering, and math (STEM). It also has a vibrant and growing business ecosystem with several emerging digital enterprises, access to both European and global markets, and an absence of legacy infrastructure systems, which offer opportunities for "leapfrogging" to new technologies. There are also strong geopolitical incentives for partners to support the region's development in the face of Russia's aggression and China's pursuit of political influence by economic means. At the same time, the region faces obstacles in the form of a persistent gap in digital skills, brain drain, limited access to financing, and slow progress in digitalizing manufacturing sectors on which CEE economies bear an enduring reliance.
The Three Seas Initiative—launched to foster greater infrastructure and connectivity across twelve CEE countries between the Baltic, Black, and Adriatic seas—offers a promising vehicle to drive digitalization and unlock more of the region's digital potential. So far, however, the Initiative's digital pillar remains underdeveloped in comparison to its two other pillars—energy and transportation. As of June 2022, the digital pillar accounted for 14 percent of all proposed Three Seas projects, with only four of those projects having identified any sources for funding.
Re-imagining the Three Seas digital pillar
The digital pillar requires a different approach than the other two pillars. The energy and transport pillars benefit from the visibility and tangibility of traditional infrastructure investments such as power grids and railways, and governments have traditionally operated in this space. "Hard" digital infrastructure—data centers, digital highways, and supercomputers, for instance—relies more heavily on the leadership of the private sector.
Digital infrastructure is also pervasive and crosses over into all other forms of infrastructure, especially as the growth and integration of technology such as artificial intelligence (AI) and machine learning is increasingly adapted into all sectors.
The success of the region's digitalization therefore will hinge on a more tailored approach, not just focusing on "hard" infrastructure projects but also the "soft" digital ecosystem. Policymakers should expand their thinking on digital transformation beyond a traditional interpretation of infrastructure and look into capacity-building initiatives that can boost digital skills, stimulate digital markets and innovation, and improve technological resilience.
Policymakers should treat the digital pillar as a platform for coordinating digitalization efforts rather than simply a fund for regional projects. Doing so can accelerate the region's transition to a more robust digital economy and bring the credibility needed to attract more investment in the Three Seas Initiative. To build on existing member state successes and ensure future progress, Three Seas leaders should adopt strategies in the following four categories:
1. Legitimize the structure and approach of the Three Seas digital pillar
The Three Seas Initiative and its digital pillar currently lack the credibility needed to attract sustained investments. Three Seas leaders need to refine how they conceive of the digital pillar to support projects at speed. In particular, they need to identify small wins to demonstrate the Initiative's promise for digital transformation and to adjust their approach to increase buy-in from a broader set of stakeholders. To do so, policymakers should consider the following:
Institutionalize regular convening of digital ministers. The Three Seas Initiative should convene member state ministers covering digital portfolios on a regular basis in the lead-up to Three Seas summits to promote sustained coordination and agenda-setting on the digital pillar. This would ensure that the government leads working on digitalization issues are feeding into the Three Seas process.
Establish specialized working groups. Similar to the approach of the US-EU Trade and Technology Council, working groups on areas like digital skills, cybersecurity, and AI could use subject-area experts to advance Three Seas lines of effort, conduct outreach to regional stakeholders, and sustain working-level coordination and progress in between the major political summits and meetings of Three Seas leaders. Working groups do not have to include representation from each country to move forward on their respective areas of focus; each working group should be comprised of interested member states for each topic.
Focus early investments toward:



Scalable projects: Leaders should task the respective ministries and agencies to identify successful domestic models for digital projects that can easily be scaled to cover multiple countries. This would be an effective starting point to use member country expertise and lessons from local implementation to minimize costs and inefficiencies in the delivery of outcomes.
Open-source projects: Identify and invest in open-source research and development projects that boost the likelihood of local knowledge spillovers, which can act as an economic multiplier and proliferate the benefits from digitalization.
Cutting-edge technologies: Promote the development of regional infrastructure and expertise in technologies such as 5G, AI, quantum computing, edge computing, and the Internet of Things. These technologies can boost the region's competitiveness on the global stage and help attract further foreign investments in the medium-to-long term.
Build a public repository of best practices for digitalization. Three Seas countries and regional businesses could share best practices and success stories from their own digitalization experiences on this information portal. To begin, this could focus on best practices from skills training and innovation initiatives as high-priority enablers of digital transformation.
Emphasize stakeholder engagement in the digital pillar. Digital transformation without engagement from the private sector, academia, and civil society is not possible. Three Seas leaders should coordinate and develop a digital agenda with these stakeholders involved in the summits and working groups proposed above. The host nation of each year's summit and Business Forum should convene regular stakeholder dialogues on the Three Seas digital agenda; this would establish a much-needed link between stakeholder groups and Three Seas Initiative planners and keep each host country accountable for making progress.
2. Deepen investment in digital skills
The region's digital skills gap will remain the primary inhibitor to digital transformation if left unresolved. To capitalize on the region's highly educated workforce and generate the talent needed to sustain the digital transformation, the Three Seas Initiative can:
Draft a memorandum for public education goals by 2030 focused on digital skills and literacy. Such criteria could be implemented at the national level by member states but coordinated at the Three Seas level to target STEM competencies and in-demand skills sought by firms in the region's digital marketplace. The scope of criteria can be considered across primary, secondary, and higher education. The memorandum should also include criteria for the inclusion and participation of women and young girls in STEM fields and computing and engineering specializations.
Invest in cross-border training initiatives. While CEE countries may have limited resources individually, they benefit from close geographies. Joint training programs—for example, student hackathons and teacher training programs—can leverage combined national resources and expertise to teach digital skills in a greater number of countries. Three Seas countries should each identify any specialized teams and expertise available domestically—in quantum computing, AI, cybersecurity, and other high-tech specializations—to contribute to cross-border training initiatives.
3. Enable the growth of digital markets
CEE countries have a promising and vibrant ecosystem of small- and medium-sized enterprises (SMEs) but lack capital, constraining market growth and potential jobs. In order to retain digital talent, Three Seas leaders need to take steps to foster the growth of local and regional digital markets and build an ecosystem conducive to innovation, start-ups, and scale-ups. The Three Seas Initiative can:
Establish a Three Seas Accelerator and Innovation Fund. Drawing inspiration from NATO's Defense Innovation Accelerator for the North Atlantic and Innovation Fund, replicating this approach at the Three Seas level could provide structure and guidance to support the development of digital SMEs from incubation to market. At the same time, it could attract the venture capital needed to enable the growth of promising digital start-ups. This would involve a venture fund separate from the Three Seas fund for infrastructure projects.
Digitalize existing manufacturing sectors. While it is unlikely the CEE economy will shift away from its manufacturing roots, the Three Seas can act as a coordinating platform to enable mutual progress in integrating more digital applications and processes—for example, additive manufacturing, Internet of Things tools, and AI-enabled analytics—into manufacturing sectors and best ensure the region can be competitive in the related industries moving forward. Training a workforce in the skills needed for digitalization in manufacturing and coordinating practices via the working groups or stakeholder forums mentioned above could facilitate this process.
4. Secure and protect the digital transformation
Cyberattacks in the region have spiked in recent years—especially those perpetrated by Russia since the start of its war in Ukraine—and remain at the forefront of CEE digital policy debates. Large-scale cybersecurity breaches could compromise the overall digitalization agenda if allowed to occur. Three Seas leaders must ensure they advance digitalization in a way that is safe, secure, and trustworthy:
Ensure minimum cybersecurity requirements are met for all Three Seas projects. As digital systems and infrastructure grow, so do the number of threat surfaces adversaries could attack. In addition to existing European Union rules, the Three Seas Initiative should examine whether further security qualifications should be established for the development of all Three Seas projects.
Invest in research and training labs for cybersecurity. These centers could advance the study and awareness of cyber and hybrid threats in the region while also training new cohorts of cybersecurity professionals—advancing the digital talent agenda for a critical skillset. Three Seas countries should develop these localized programs in close coordination with European Union and NATO centers of excellence on hybrid threats and cyber defense.
---
Jörn Fleck is the senior director of the Atlantic Council's Europe Center.
Akshat Dhankher is a former program assistant at the Atlantic Council's Europe Center.
James Batchik is an assistant director with the Atlantic Council's Europe Center.
This policy brief was informed in part by discussions at the 2023 Three Seas Initiative Ministerial Conference on Digital Transformation, hosted by the Atlantic Council's Europe Center and the Ministry of Research, Innovation, and Digitalization of Romania on May 22, 2023, in Bucharest, Romania.
Further reading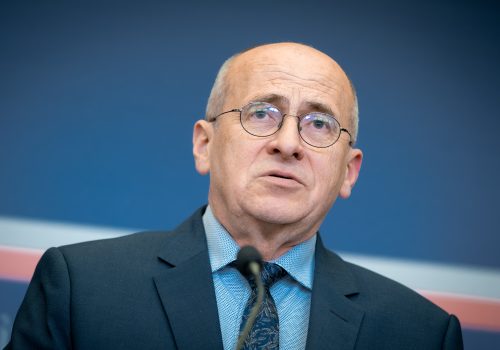 Fri, May 5, 2023
New Atlanticist By Daniel Fried, Aaron Korewa
A close read of Polish Foreign Minister Zbigniew Rau's comprehensive foreign policy statement reveals a country that stands on the side of freedom, even as it faces difficulties with European partners.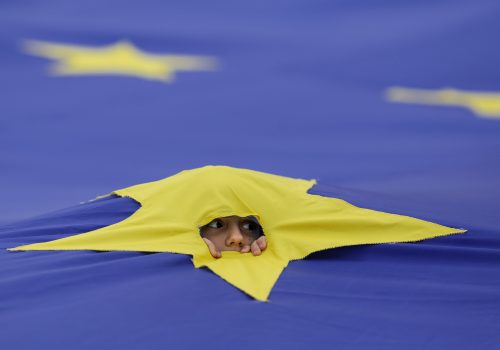 Fri, Jun 30, 2023
New Atlanticist By Atlantic Council experts
Ten years after Croatia joined the bloc—the last country to do so—Atlantic Council experts look at eleven countries that might join next.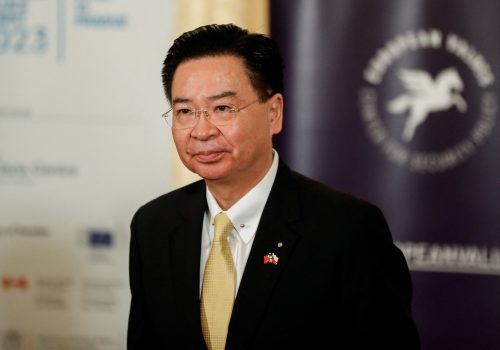 Tue, Jun 27, 2023
New Atlanticist By Petr Tůma
A new tone toward Taipei in Europe is being set by Czechia and other Central and Eastern European countries. Taiwan has come to the forefront of their attention mainly because of frustration with Beijing.