As Russia continues its assault on Ukraine, the Atlantic Council's Digital Forensic Research Lab (DFRLab) is keeping a close eye on Russia's movements across the military, cyber, and information domains. With more than seven years of experience monitoring the situation in Ukraine—as well as Russia's use of propaganda and disinformation to undermine the United States, NATO, and the European Union—the DFRLab's global team presents the latest installment of the Russian War Report.
Security
New barrage of missiles targets Ukraine as UK promises hundreds of 'kamikaze' drones
Russian missile from December found in Polish forest sparks 'cover-up' controversy
Another barrage of missiles targets Ukraine as UK promises hundreds of 'kamikaze' drones
On May 16, Russian media reported that the Russian army had strengthened its positions in the Bakhmut area. According to Russian reports, four battalions have deployed around Bakhmut to prevent Ukrainian advances. The Russian Ministry of Defense said that its forces are focused on repelling Ukrainian counterattacks. Ukraine's Deputy Defense Minister Hanna Maliar said on May 15 that Russian forces are deploying additional airborne forces to defend their flanks in Bakhmut. Russian forces appear to have made limited gains within Bakhmut.
Another wave of Russian attacks targeted Ukraine with missiles and drones. The General Staff of the Ukrainian Armed Forces reported that, in the early hours of May 16, Russia launched six Kh-47 Kinzhal missiles from six MiG-31K aircraft at Kyiv, in addition to nine Kalibr missiles and ten S-400 and Iskander-M missiles that targeted other areas. Ukraine said its air defenses shot down most of the missiles, including six Kinzhal missiles and nine drones, of which six were Iranian-made Shahed-131/136s drones. The Russian defense ministry claimed—and US officials later confirmed—that one of the Kinzhal missiles struck a Patriot missile defense system in Kyiv. A US official told CNN that the US-made Patriot system likely suffered damage but was not destroyed.
Elsewhere, the dam connected to the Russian-controlled Kakhovka hydroelectric power plant appears to be gushing water. A video taken on May 11 appears to show powerful streams of water flowing through the dam, which sits across the Dnipro River. The Ukrainian Center for Journalistic Investigations reported that the damage to the dam was caused by Russia. The report also cited Russian Telegram channels that claimed Russian positions were flooded and that a soldier had died as a result.
Meanwhile, allied military aid continues to flow into Ukraine, albeit at a slower pace. On May 15, the United Kingdom said it would send Ukraine hundreds of custom-built 'kamikaze' drones. According to The Telegraph, the drones will have a range of more than 200 kilometers, comparable to an artillery shell. Their delivery to Ukraine is expected in the coming months.
The German company Hensoldt said it will deliver six more TRML-4D radars compatible with the IRIS-T air defense system to Ukraine. These radars were introduced in 2018 and can detect and track up to 1,500 aerial targets at a distance of ten meters up to 250 kilometers, with an altitude reaching thirty kilometers. The radars can be used for detecting inconspicuous targets, such as hovering helicopters or low-flying cruise missiles. The combined value of the radar stations is €100 million ($108 million). Currently, Ukraine has only four TRML-4D radar systems.
In addition, Ukraine joined the NATO Cooperative Cyber Defense Centre of Excellence on May 16, with the Ukrainian flag raised near the center's headquarters, in Tallinn, Estonia. The center comprises thirty-one nations who exchange information, conduct research and specialist training, and undergo cyber military exercises.
—Ruslan Trad, resident fellow for security research, Sofia, Bulgaria
Russian missile from December found in Polish forest sparks 'cover-up' controversy
On May 10, Polish broadcaster RMF reported on preliminary findings from the Polish Air Force Institute of Technology, which found that, on December 16, 2022, a Russian KH-55 cruise missile landed in Polish territory. The missile was not discovered until April 27, 2023, when a woman came across the remains of an air-to-surface missile while riding a horse through a forest. The Russian rocket reportedly flew 300 kilometers into Polish airspace before landing in a forest in Zamość, near the northern city of Bydgoszcz, 265 kilometers northwest of Warsaw. The missile was reportedly launched from a Russian plane flying over Belarusian territory. On December 16, 2022, Russian forces fired at least seventy-six missiles toward Ukraine.
The delayed discovery of the missile has sparked discussions about whether the Polish government tried to cover up the incident. Ukraine reportedly informed Polish armed forces on December 16 that an object, which could be a missile, was approaching Polish air space. Polish radars also spotted an unspecified object but later lost track of it near Bydgoszcz. Polish Armed Forces Operational Command reportedly initiated an immediate search, but according to Polish media outlet Onet citing high-ranking unnamed sources, the Ministry of Defense decided to halt the search after attempts to find the object were unsuccessful. RMF reported that the armed forces did not notify the prosecutor's office about the airspace violation, meaning the investigation was not launched until months after the missile landed on Polish territory. Prime Minister Mateusz Morawiecki and President Andrzej Duda also claimed that they were not immediately notified about the incident and only learned of it in April 2023.
On May 11, Defense Minister Mariusz Blaszczak claimed that Operational Commander of the Polish Armed Forces Tomasz Piotrowski had "failed to carry out his duties by not informing me about the object that appeared in Polish airspace, nor informing the Government Centre for Security and other services associated with the procedures." Blaszczak also claimed that Piotrowski had "failed to launch a sufficient search for the object." However, Chief of General Staff of the Polish Armed Forces Rajmund Andrzejczak argued on May 11 that he immediately informed his superiors about the incident, in accordance with standard procedure. Poland's TVN24 reported that, on December 19, Blaszczak met with Piotrowski and Andrzejczak at a Christmas event for Polish soldiers.
Donald Tusk, leader of the main opposition Civic Platform party, demanded Blaszczak's resignation, accusing him of hiding "behind Polish generals."
—Givi Gigitashvili, research associate, Warsaw, Poland
Further reading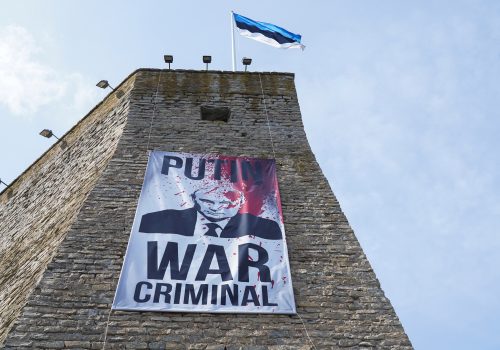 Fri, May 12, 2023
New Atlanticist By Digital Forensic Research Lab
Russian surveillance has increased on Ukraine's border. Meanwhile a museum in Estonia hung a large poster depicting Putin as a war criminal.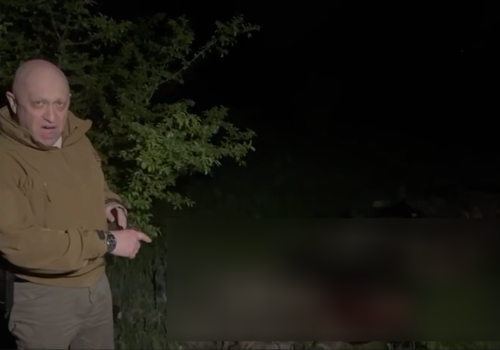 Fri, May 5, 2023
New Atlanticist By Digital Forensic Research Lab
Wagner Group leader Yevgeny Prigozhin threatened to withdraw forces from Bakhmut following conflict with Russian military leadership over resources.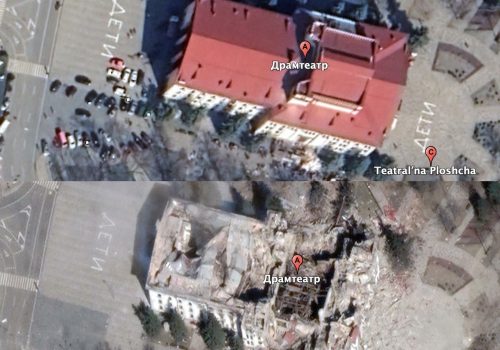 Fri, Apr 28, 2023
New Atlanticist By Digital Forensic Research Lab
New satellite imagery reveals the extent of the Russian bombing of Mariupol that occurred in late March 2022.