Large parts of Africa are currently facing record levels of hunger, and the trend is heading in a more worrying direction. West and Central Africa are seeing increasing food insecurity year after year, and tens of thousands of people across Burkina Faso, Mali, and Niger are expected to experience "catastrophic" hunger in the coming months.
The situation is, in part, being made worse by climate change, which is increasing temperatures and changing weather patterns, compounding the hardship already caused by droughts. According to the International Monetary Fund, a third of the world's droughts occur in Sub-Saharan Africa; meanwhile, according to the United Nations High Commissioner for Refugees, the Horn of Africa is experiencing the longest and most severe drought on record. These conditions are weakening food systems across Sub-Saharan Africa, an area in which agriculture, forestry, and fishing make up 17.2 percent of the gross domestic product—and substantially more in countries like Sierra Leone and Chad.
But there's more to this food insecurity trend than climate change; Russia's full-scale invasion of Ukraine has caused uncertainty in the global food market, disrupting the production and trade of key commodities. Russia and Ukraine are significant suppliers of oil, wheat, and maize, and disruptions to the supply chain, combined with local conflicts in some countries, have caused inflation to soar, with food prices increasing as much as 55.6 percent in the Horn of Africa.
Fighting these rising levels of food insecurity requires a whole-of-nation approach. But countries in these food-insecure regions aren't doing enough to harness the economic and agricultural potential of half their populations: women. For example, discriminatory laws that hamper women's access to land and financial services are still in place in some countries. In order to fight food insecurity in full force, these countries must ensure that women are equipped with the exact same resources as men: both land itself and the decision-making power to determine how to use that land in the most productive way possible. Policymakers in these food-insecure countries should take the following actions:
Equalize inheritance rights
Some countries in these food-insecure regions have made significant strides recently in passing reforms that impact women's lives in some respects—but they have faltered in passing meaningful reforms related to improving access to assets and entrepreneurship opportunities for women.
According to the Center for Global Development, agriculture accounts for 56 percent of employment in Sub-Saharan Africa, and women account for 57 percent of agricultural workers. The informal sector accounts for 50 to 80 percent of economic activity in Sub-Saharan Africa—activity that includes the sale of food. And like the agricultural sector, the informal sector is a major employer of women: In Africa, 89.7 percent of employed women work in the informal sector. Yet despite the roles that women play in these sectors, only 30 percent of women own land in Sub-Saharan Africa.
The discrepancy in land ownership extends in part from inheritance laws. In some of these food-insecure countries, inheritance plays the primary role in determining land ownership. Some inheritance laws across the region are—or were initially—patriarchal, favoring men in the division of property. There have been some signs of progress in protecting women's rights to inherit property; for example, in Uganda, lawmakers recently amended the Succession Act to ensure equal inheritance rights between men and women.
However, Uganda's Succession Act was the first inheritance reform implemented in Sub-Saharan Africa since Mali's in 2011, according to the World Bank, demonstrating the slow pace of progress. More countries must follow suit by implementing their own amendments or fresh, new laws on inheritance rights.
Support women's entrepreneurship
Owning land goes hand-in-hand with access to financial services. In countries across these food-insecure regions of Africa, farmers must have land titles in order to access the credit necessary to increase agricultural productivity by hiring workers, purchasing animals or farming equipment, and covering transportation and storage costs of their goods. Credit supports entrepreneurship, which promotes innovation and the accumulation of wealth—both of which are integral to fighting food insecurity in the region. However, just as women's rights to own land are hindered in some countries, their rights to enterprise are sometimes hindered as well.
According to the World Bank, 71 percent of countries in Sub-Saharan Africa do not have laws that prohibit financial institutions from discriminating based on gender, and women often face more stringent loan arrangements than men when they do access credit. Furthermore, according to the International Monetary Fund, in Sub-Saharan Africa, just 37 percent of women own bank accounts compared to 48 percent of men. If a woman must rely on a man to open a bank account, take out a loan, or register a business, she cannot fully exercise her rights as an entrepreneur to hire workers or freely determine the agricultural methods she uses with the hopes of increasing output.
All countries in these food-insecure regions of Africa should criminalize gender-based discrimination with regard to credit. Allowing women an equal opportunity to receive loans encourages entrepreneurship, leading to more production and competition in the agricultural market. Benin's Order No. 2349-5—which was implemented in 2022 and prohibits credit, banking, and decentralized financial systems from using discriminatory practices in granting access to credit—can serve as a model for other countries.
Putting the law into practice
Laws are only part of the solution. Guaranteeing equal access to land and credit requires systemic change. Localities and financial institutions need to make a concerted effort to ensure that women are aware of their rights and encourage them to embrace the opportunities to own land or become entrepreneurs.
Activists and government officials should work with local leaders to hold seminars for women, outlining their rights to own land and offering to process land titles. In the private sector, financial institutions can create campaigns specifically marketed towards women, publishing advertisements in print, social, and broadcast media that encourage women to apply for credit.
By taking concrete steps to ensure that women have equal access to land and entrepreneurship, countries can empower their full populations, bringing major benefits for the economy, agricultural productivity, and food security.
---
James Storen is the program assistant at the Atlantic Council's Freedom and Prosperity Center.
Further reading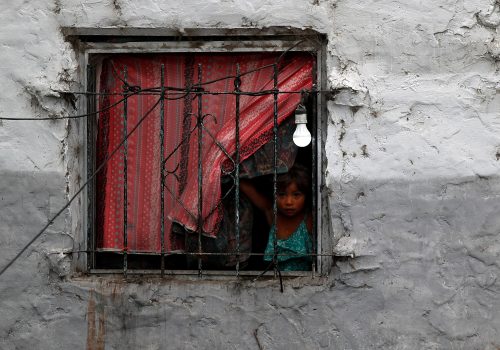 Wed, Mar 29, 2023
New Atlanticist By Atlantic Council experts
Narrowing the gender gap is pivotal for charting a more prosperous future for the region. Five experts on the region provide their ideas for doing so.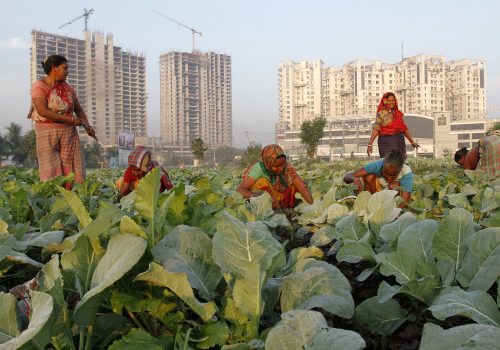 Wed, Mar 8, 2023
New Atlanticist By Nicole Goldin
This year's International Women's Day is taking place against a backdrop of an inflation surge that is disproportionately impacting women.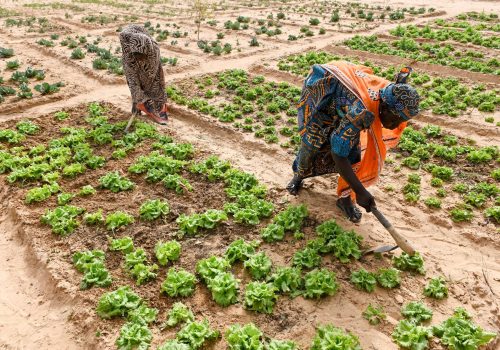 Fri, Oct 7, 2022
AfricaSource By Ouhoumoudou Mahamadou and Mamta Murthi
The World Bank's Wadata Talaka safety-net partnership program with Niger aims to empower women in the country and protect its human-capital gains in the face of overlapping shocks.