What Niger's coup means for West Africa's geopolitical contest
On Thursday, August 3, a day that marks Niger's independence from France in 1960, hundreds of Nigeriens gathered in Independence Square in Niamey to voice their support for the ongoing coup. Over the past week, Africans and their Western partners have seemed surprised by the events in Niger. Many in France are shocked, having not seen it coming. The country is evacuating its nationals just days after Catherine Colonna, the French minister of Europe and foreign affairs, said the evacuation wouldn't happen and denied that the coup had any "final" success. The violent attacks against the French embassy have pushed French leadership to change their plans.
In Africa too, the ongoing coup in Niger seems to trigger a harder reaction than the previous ones in Mali and Burkina Faso. After earlier sending Chadian President Mahamat Idriss Déby to Niger to lead mediation talks, the Economic Community of West African States (ECOWAS)—under Nigerian President Bola Tinubu's leadership—threatened to use force if the coup leaders don't reinstate Nigerien President Mohamed Bazoum by August 6 and announced new sanctions, harder than those used for other junta-led Sahelian countries. That is predicted to deal a blow to Niger, a country that depends on external aid. This unusual firm answer can be explained by several reasons:
First, there is a strong fear that the region may collapse now that the G5 Sahel—a regional group of countries promoting development and security—is led by four juntas. Among the five members, Burkina Faso, Niger, Mali, and Chad have recently experienced an undemocratic transition; Mauritania remains. Niger is the fifth country in West Africa to experience a coup d'état over the past three years.
Second, despite numerous African Union and ECOWAS sanctions over the past few years, the regional coup leaders seem to taunt the African organizations for whom this recent coup in Niger is an ultimate test of credibility.
Third, Nigeria—which chairs ECOWAS and shares a one-thousand-mile border with Niger—needs a win in this moment, as Tinubu just assumed presidential office a little over two months ago. 
The coup in Niger seems to have been triggered by a very light justification: Bazoum was reportedly going to remove the military head, which is far from the typical reasons—or excuses—given for coups, such as security or governance failures. Even while the country faced attacks coming from groups ranging from the local branch of the Islamic State of Iraq and al-Sham (ISIS) to Boko Haram, Bazoum was doing better than his neighbors (but obviously not enough) to remain in power—his ability to remain in power was surprising given the weakness of his security guard and his support base. The alarm signaling that weakness had been blaring even before Bazoum's inauguration, as a group attempted a coup just two days before the then president-elect's swearing-in ceremony in March 2021. One of the sources of that weakness may have been his attachment to his partnership with France, as his internal opponents vocally criticized his France-friendly policy.
A total withdrawal from Niger would be a disaster for France, which is why the coup has occupied the French attention.
For Paris, a lot is on the line. Its remaining influence in the Sahel is collapsing. As of earlier this summer, 2,500 of its troops were based in Chad and Niger—France's last two key strategic partners in the region. The troops were left without any clear roadmap after Operation Barkhane ended in 2022 and France withdrew from Mali after ten years of presence; French-commanded European troops under the Takuba Task Force also withdrew from Mali at the time, while French troops who were part of Operation Sabre withdrew from Burkina Faso less than a year later. A total withdrawal from Niger would be a disaster for France, which is why the coup has occupied French attention. France's vital interests in Africa have been hit. 
The French government has seemed to run out of solutions to the region's challenges. But critics are wondering why France thinks it needs to get things under control in Africa; even before the coup, those critics wondered why a military answer to the problems in the Sahel (an answer that has already failed) is still and exclusively on the table. And in finding new answers to this problem, it isn't just about adjusting aid to the region: France needs to change its paradigm. A growing part of the French population, including experts in military and security circles, are aligned with these views and are requesting changes.
There is still time for the French government to do things differently. It can renew old networks and reshape its Africa policy for its approach toward Cote d'Ivoire, Senegal, and Gabon (its other West African partners), countries that have been shaken by demonstrations questioning French presence. At this point, these countries are still in the situation to welcome the French troops without risking domestic political turmoil.
Africa has deeply changed; the new generation, with a politically conscious middle class, has demands. They won't accept double or low standards when it comes to Africa. This motivation is stronger than the generation's so-called attachment to Russia, a geopolitical player that opportunistically wants to advance its interests in the region by raising its flags at demonstrations. That scene unfolded last week in Niger as the Russia-Africa Summit kicked off over five thousand miles away in St. Petersburg, without Bazoum in attendance (he had already planned not to attend the summit). Of course, speculation was rife about Russia's involvement in the coup given this timing, even though Russia recently condemned the coup.
Most Africans don't explicitly want to oust France or other Western partners from their countries: Instead, they are seeking a renewed partnership on a healthier and more equal basis.
This coup and others that have taken place across West Africa in recent years reflect significant geopolitical changes underway, from France's retreat to Russia's angling for opportunity, but also the need of West African governments to be better supported by their partners and allies. Most Africans don't explicitly want to oust France or other Western partners from their countries: Instead, they are seeking a renewed partnership on a healthier and more equal basis. When it comes to the war against jihadists, Africans expect more wins than a ten-year military presence. To renew their partnerships globally, African governments are diversifying their roster of international partners, adding countries such as China, Turkey, Israel, and India to their lists. Niger itself has worked with China for years on oil exploration—which has included work on a pipeline that runs from Niger to Benin—and it has worked with Western allies such as Canada on uranium.
As these geopolitical changes have unfolded, Niger has seen many domestic challenges, including coups—experiencing four since its independence in 1960—in addition to other attempts to cut back on the government's power such as Tuareg rebellions. In recent years, the country has also seen terrorist attacks launched by ISIS affiliate groups, al-Qaeda affiliate groups, and Boko Haram. As a landlocked and desert country with a population of about 26 million people (about half of whom live below the poverty line) and with the highest birth rate in the world, hardships are accumulating in Niger; the region's coups and terrorist activity make those hardships even worse.
Knowing the severity of these hardships, and knowing that a few officers abandoned the Nigerien government in the hours leading up to its fall, one may wonder on what basis these regimes rested: the much-vaunted popular vote or the police? If a military leader tried to bring down a government every time he or she had personal concerns that contradicted elected leaders—whether it be France's General Pierre de Villiers or US General Mark Milley—many governments based on the popular vote would have already fallen apart. This problem is much deeper than a simple dispute; it is about the strength of the institutions. The Sahelian governments don't have such strong institutions, as they face pressure from terrorist movements that aim to see institutions crumble. 
Russia is quick to lend its support to countries under coup leadership, solidifying its role as a partner to these countries. But the West, in striking contrast, tends to stick with old paradigms, easily exploited by Russia in its misinformation strategy. At times, Western partners—who know at least one way to save threatened regimes (via defense agreements)—seem no longer able to find their satellite navigation quickly enough to rescue government leaders held in their residences (such as Burkina Faso's Roch Marc Christian Kaboré, Mali's Ibrahim Boubacar Keïta, or Niger's Bazoum). Caught between inefficient strategies and noninterference, Africa's Western partners are leaving these presidents to face their downfall without any strategy that would help them to connect with the civilian populations and their request of renewed partnership.
Russia, determined to prove that it is not isolated after the international response to the war in Ukraine, has been able to use Africa to circumvent Western economic sanctions and rebuild its forces via the Wagner Group, which is active in the Central African Republic and Mali. There, the countries' gold, diamonds, and sugar serve as bargaining chips for the security services of the private militia. The United States, meanwhile, has redirected its focus to the European continent to support Ukraine and also to protect its strategic interests. But the Niger events show that US strategic interests still run through Africa.
However, while the field may be wide open for Russia, it may not be so easily navigable. After all, Russian troops are blamed, along with Malian forces, for the terrible March 2022 massacre in Moura, which will haunt the Sahel for a long time. And Russia is starting to appear weaker globally, especially after Wagner Group leader Yevgeniy Prigozhin's rebellion exposed the leaks in the Russian defense apparatus. The redeployment of Wagner's forces to Africa following their ousting from the Ukrainian ground was also negatively perceived in African circles. 
Even the Russia-Africa Summit has revealed a weakened impression of Moscow: This year's convening in St. Petersburg gathered only seventeen heads of state, whereas the first convening in Sochi in October 2019 gathered forty-three heads of state—as Russia was just beginning to re-engage with the continent for the first time since the fall of the Soviet Union. Russia's recent suspension of the agreement to export grain from Ukraine only accelerated the weakening of its image on the continent. Clearly, Africa remains a challenge for Russia, too.
---
Rama Yade is the senior director of the Atlantic Council's Africa Center and a senior fellow at the Europe Center. She is a professor at Sciences Po Paris and Mohammed 6 Polytechnic University in Morocco. She was a member of the French cabinet, serving as deputy minister for foreign affairs and human rights and ambassador to UNESCO.
Further reading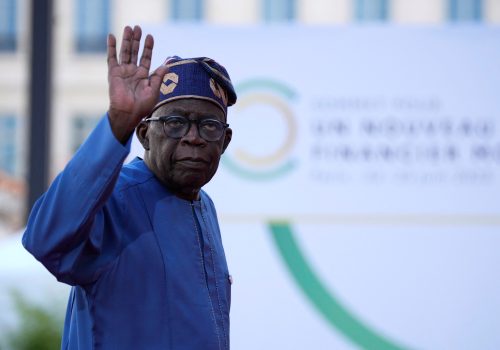 Tue, Aug 1, 2023
AfricaSource By O. Felix Obi
Bola Ahmed Tinubu does have an opportunity to set up Nigeria as an economic powerhouse and African superpower. Here's how he can seize it.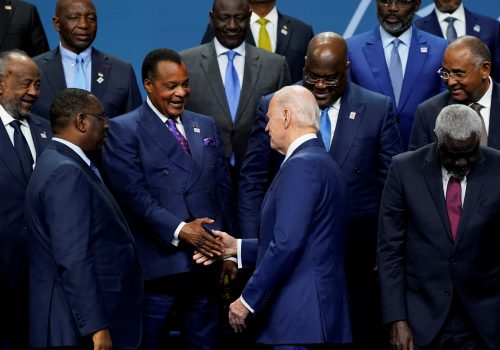 Mon, Mar 13, 2023
AfricaSource By Aubrey Hruby
The Biden administration's commitment to high-level engagement with African leaders is welcome, but its recent US-Africa Leaders summit should have been a launch pad for big, bold ideas.
Thu, Jul 27, 2023
New Atlanticist By Digital Forensic Research Lab
As Russian President Vladimir Putin attends the Russia-Africa Summit, he and his government are making moves to solidify regional cooperation. Amid this, Wagner seeks to capitalize on the coup in Niger.