Watch the full event
Two hundred countries are hurriedly assembling inventories on how they are doing on climate change—and where gaps remain—in the global stocktake. EU climate envoy Anthony Agotha predicted that the survey, set to conclude at this year's United Nations Climate Change Conference (known as COP28), won't say that countries are "still on the path" to limiting global warming to 1.5 degrees Celsius.
Despite that outlook, Sue Biniaz, US deputy special envoy for climate change, said the landmark agreement from COP21 holds up: "The Paris Agreement is working," she said, "it's just not working fast enough, and we need to accelerate.
The two climate leaders spoke Wednesday at the EU-US Defense & Future Forum, cohosted by the Delegation of the European Union to the United States and the Atlantic Council's Europe Center. There, the officials outlined their priorities for COP28.
At last year's COP27 in Egypt, there was a "concerted effort" to focus on loss and damage and to hold the line on climate change mitigation commitments set at COP26 in Scotland. "We were going in hoping to get Glasgow plus, [but] it almost turned out Glasgow minus," Agotha said.
And now, he explained, it has become clear that "there is no dollar or euro [amount] in the world enough to redress the loss and damage that will happen," even if global warming is kept in check. Biniaz and Agotha said they hoped that countries can design and adopt the loss and damage fund in the coming weeks at COP28 in Dubai, considering the urgency.
Below are more highlights from their conversation at the forum, moderated by Atlantic Council Global Energy Center Senior Director Landon Derentz, which touched upon the EU's and United States' COP priorities and ways that the transatlantic partners are working together on mitigating and adapting to climate change.
Adapting for a climate-changed future
At COP28, "fossil fuels [have] to be on the table," Agotha said, explaining how Russia's war in Ukraine and supply chain crises have highlighted the world's dependence on oil and gas. "We reduced our dependence on Russian gas," he explained, adding that countries need to raise their ambitions to reduce their fuel usage. Currently, he said, many in the energy industry are only looking to extract fuel to "the last drop of oil" and counterbalance with carbon capture.
Agotha said that the EU is trying to take a "whole of government approach" to securing a climate-changed future. For both him and Biniaz, that means more than reducing their militaries' emissions: It means preparing forces to operate in changing environments and adjusting to a new world in which the risk of conflict is increased by climate change.
As leaders meet at COP28, they'll be considering a new effort to attain global agreement on tripling renewable energy deployment and doubling energy efficiency. Agotha and Biniaz said that climate financing will be necessary for those goals. Biniaz said that the "forgotten goal" of the Paris Agreement is to make finance flows consistent across the world. "There has not been enough attention paid to that goal; it's something that [the EU and United States] together are trying to highlight."
Currently, countries are racing to fulfill their commitment to mobilize one hundred billion dollars in annual climate financing for low-income countries. Biniaz said that developed countries are "on track" to meet the goal, albeit running behind. Even then, that funding "is not going to get us to 1.5 or to sufficient adaptation," she warned. "We need to be talking about the trillions."
Can allies on separate tracks work together?
In talking about the EU's Carbon Border Adjustment Mechanism, which imposes carbon emissions tariffs on imported goods, Agotha recalled the difficulty in designing a measure that is "watertight." "Any country in the world that goes through a green transition will have to deal with the issue of carbon leakage"—when industries leave to manufacture elsewhere, using practices that damage the climate. "We would love the US to have a carbon price, which would harmonize this much better."
Biniaz acknowledged that the US Inflation Reduction Act (IRA) sparked "a little bit of a mixed reaction in the world, including from the EU," but she explained that with the Paris Agreement calling on countries to take more and more ambitious action, "almost by definition, you're going to have national laws that have trade-related provisions in them. It's kind of inevitable."
Despite that initial shock from the EU, Agotha said that the IRA and the EU's Green Deal Industrial Plan are proof that "the road on the transition is the right one to take." He added that despite "some discriminatory effects," the EU and United States do "find channels to discuss this and to see if we can smooth things out."
With the world "ripping at its seams," as Agotha argued, maintaining the transatlantic relationship is critical: "We need to continue to work, even where we disagree."
On Tuesday, the United States and China issued a statement on enhancing their climate cooperation—despite tensions in the US-China bilateral relationship. "We have been treating climate as a kind of separate track from bilateral issues. Because… it's an existential issue," Biniaz explained. "We should not be holding it hostage to whether we disagree on some bilateral issue."
The EU climate commissioner is set to meet with China's top climate envoy to continue climate and environment dialogues. Agotha explained that, because they have "mostly the same point of view on climate," the EU and United States essentially "[reinforce] each other" when they work bilaterally with China. Biniaz warned that in the past, China has "tried to divide us, at least in the global negotiations," so there may be a benefit to hosting "trilateral" talks instead.
---
Katherine Walla is an associate director of editorial at the Atlantic Council.
Watch the full event
Further reading
Wed, Nov 15, 2023
New Atlanticist By Katherine Walla
"Stay firmly on the course and boost our long-term support" to Ukraine, Kallas said at the EU-US Defense & Future Forum.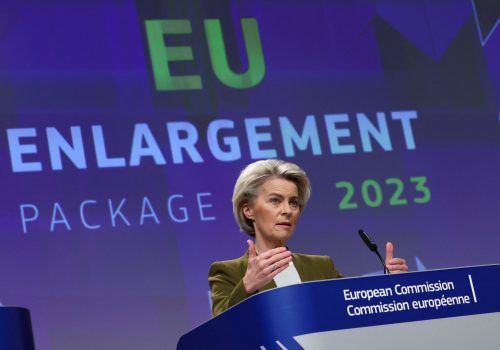 Thu, Nov 9, 2023
New Atlanticist By Atlantic Council experts
Ukraine, Moldova, and Georgia just saw their bids to join the twenty-seven member bloc boosted by the European Commission. Atlantic Council experts explain what it means for EU enlargement.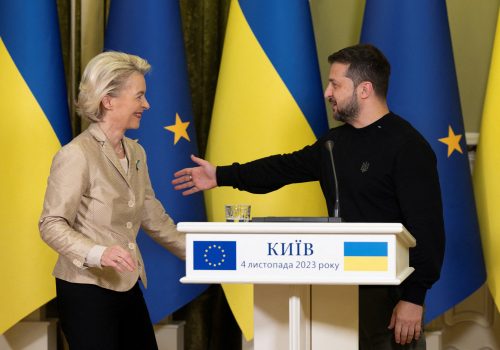 Thu, Nov 9, 2023
UkraineAlert By Peter Dickinson
The European Commission this week recommended opening EU membership negotiations with Ukraine. The move represents historic progress at a time when Ukrainians are fighting to defend their independence and their right to choose a European future, writes Peter Dickinson.