Colombian President Gustavo Petro took office promising change, but his rhetoric is bumping into reality. Petro's recent cabinet shake-up raises questions about the sustainability of his agenda moving forward—especially as a major player in advancing a democratic solution in Venezuela.
Despite facing mounting opposition since taking office in August, Petro hopes to consolidate his government's program with this new lineup announced on April 26. The reshuffle boots seven ministers from the administration, including market-friendly Finance Minister Jose Antonio Ocampo and the ministers of health, interior, transportation, agriculture, communications, and science. The question now is whether this surprise shake-up will prove to be a defining moment in Petro's presidency or serve as a nail in the coffin for parts of his wide-ranging domestic agenda, which includes sweeping proposals for health, labor, and pension reforms. The stakes are high and come just as the United States and Colombia are trying to find ways of working together to coordinate on a range of issues—both inside Colombia and across Latin America.
At the top of the agenda is Venezuela. On April 25, Colombia hosted a high-level summit on Venezuela meant to widen the international consensus in support of political talks to resolve the country's long-standing political and humanitarian crisis. Despite some friction, the conference highlighted the potential for US-Colombia collaboration on Venezuela—with implications for other regional diplomatic priorities in the future. While close coordination with Colombia could potentially advance US priorities across the hemisphere, this progress won't come easily. It will largely depend on Colombia's ability to navigate the current challenges with stability.
The conference came about after a White House meeting between US President Joe Biden and Petro on April 20. The two presidents discussed key issues in the bilateral relationship, such as counternarcotics, security, and US assistance. But in their joint statement, it's also clear that the two leaders found a surprising amount of common ground on broader areas such as climate change, migration, and perhaps the leading human-rights issue in the Americas today: the crisis in Venezuela.
Colombia followed up the White House meeting by hosting high-level diplomatic delegations from twenty countries across the globe. The conference saw diverse participation, including EU foreign policy chief Josep Borrell, Brazilian presidential advisor Celso Amorim, and other leading decision makers from Europe, Latin America, and elsewhere. While Colombia's decision to invite representatives from South Africa and Turkey raised eyebrows, this did not dissuade the Biden administration from sending a high-level delegation to the meeting, including Deputy National Security Advisor Jon Finer, Special Presidential Advisor for the Americas Chris Dodd, National Security Council Senior Director for the Western Hemisphere Juan Gonzalez, and Deputy Assistant Secretary of State Mark Wells.
While the conference was held in private, remarks afterwards by Colombian Foreign Minister Alvaro Leyva (who survived the cabinet shakeup) identified three points of consensus.
A solution to Venezuela's crisis requires a timetable for free and fair elections. With presidential elections in Venezuela meant to occur in 2024 and legislative and regional elections slated for 2025, the focus of the international community is on ensuring competitive electoral conditions. This will not be easy given ongoing persecution of opposition candidates, widespread corruption, and Venezuelan leader Nicolás Maduro's control of state institutions. In this sense, Borrell's presence was significant. The European Union Electoral Observation Mission that oversaw regional and municipal elections in 2021 had significant access to Venezuela's electoral authority on the ground. Its twenty-three recommendations make up a framework for the path to free and fair elections moving forward.
Negotiations to resolve the crisis are an urgent priority—and implementing a humanitarian accord is the best chance to build momentum. In 2021, the Maduro government and the opposition signed an ambitious plan in Mexico City to begin negotiations to resolve the country's political crisis, aimed at electoral and judicial reforms. While the parties continue to negotiate in Caracas, progress in this process has been intermittent. In a breakthrough agreement in November 2022, the parties agreed to create a joint committee to channel an estimated three billion dollars in funds frozen by US sanctions to provide humanitarian assistance to Venezuela. This fund, to be overseen by the United Nations, is meant to prioritize health care, malnutrition, and restoring basic infrastructure. However, implementation is lagging behind. For example, the United Nations has not yet created the fiduciary fund five months after the agreement, claiming that it lacks clarity on navigating US sanctions. This international consensus in support of implementing the humanitarian fund is a sign of buy-in for the idea of building momentum based on existing accords.
Agreements should be paired with clear US offers of sanctions relief in order to incentivize progress. In its readout on April 25, the White House made clear that it had spelled out a step-by-step approach for such progress, "where concrete actions toward restoring Venezuelan democracy, leading to free and fair elections, are met by corresponding sanctions relief by the United States." Existing financial and oil sanctions give the US significant leverage, since Maduro is desperate for access to resources amid an ongoing economic crisis. It remains to be seen, however, whether the Venezuelan government can be incentivized to provide significant political agreements that may ultimately threaten its hold on power.
The fact that these three points emerged out of the conference is significant—but it was especially significant that Colombia signed on. Previously the Petro administration had issued mixed messages on Venezuela, voicing vague concerns on human rights while moving to normalize diplomatic and trade relations with Maduro. Indeed, Petro has been more comfortable talking about the impact of US sanctions than about authoritarianism, human-rights violations, and crimes against humanity in Venezuela. In Leyva's remarks after the conference and in some of Petro's comments after his meeting with Biden, the Colombian government's position appears to have shifted to include a clearer emphasis on the need to pair sanctions relief with progress towards free and fair elections.
There are limits to US-Colombia coordination on Venezuela. The uncertainty and instability surrounding the Colombian government inspired by the recent cabinet shake-up and the government's inconsistent messaging on other areas of prior consensus, such as the Trade Promotion Agreement with the United States, limits its credibility. Additionally, the Petro administration is focused on negotiations with the National Liberation Army (ELN) to secure peace in Colombia, making it hard for Petro to take a bold stand against the Maduro regime, unless the United States offers significant support on this front.
Colombia's decision to expel former Venezuelan opposition leader Juan Guaidó, who was recognized by the United States as interim president until his mandate ended in January, did not gain the Andean country many points either. Guaidó arrived unexpectedly in Colombia on the eve of the conference. Rather than using the opportunity to recognize his contributions to the search for a democratic solution, the Colombian government wasted no time in ensuring that he made it on a plane to Miami. In doing so, the Petro administration generated unnecessary noise, raising concerns about their commitment to denouncing persecution and distracting from wider opposition support for jumpstarting negotiations.
Despite the friction, Colombia's decision to host this conference—and ultimately to shift its position on Venezuela to be more in line with US priorities—represents an important step in exploring the future of diplomatic cooperation between Washington and Bogotá. This holds important lessons for other shared interests, including climate and migration policy, areas where the two countries have identified opportunities for future collaboration.
---
Geoff Ramsey is a senior fellow at the Atlantic Council's Adrienne Arsht Latin America Center. Ramsey is a leading expert on US policy towards Venezuela and has traveled regularly to the country for the last decade.
Isabel Chiriboga is a program assistant at the Atlantic Council's Adrienne Arsht Latin America Center, where she contributes to the center's work on Colombia, Mexico, and the Andes.
Further reading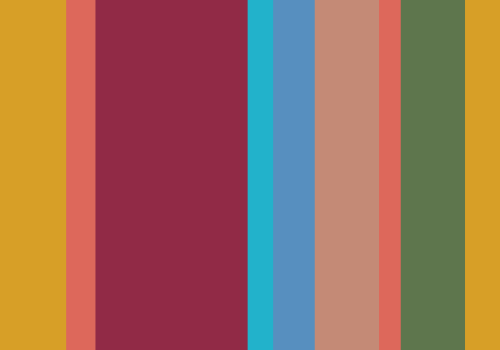 Wed, Jun 1, 2022
Allies US-Colombia Book By Adrienne Arsht Latin America Center
Agenda for June 1, 2022 event, Allies: Twenty-seven bold ideas to reimagine the US-Colombia relationship.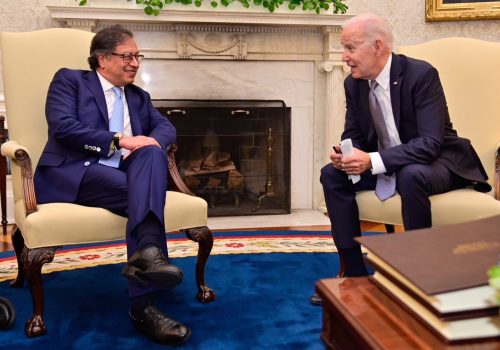 Fri, Apr 21, 2023
New Atlanticist By Atlantic Council experts
The two countries find themselves at odds on counternarcotics policy, but in synch on climate. Our experts break down the presidents' Oval Office meeting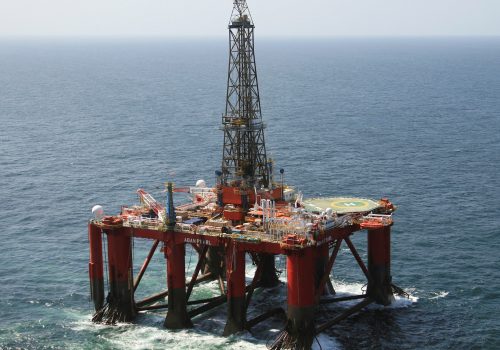 Wed, Jan 25, 2023
Experts react By Atlantic Council experts
The agreement would boost Caribbean energy supplies while creating an exception for some US sanctions on Caracas—without allowing cash payments to go to President Nicolás Maduro's government.