Will eleventh-hour diplomacy get Sweden into NATO by the Vilnius summit?
With the NATO summit set to begin July 11, Sweden, alongside several allies and Secretary General Jens Stoltenberg, are making a last-minute push with high-level meetings in Washington and Brussels to ensure that Stockholm's membership will get a green light from Turkey—the final big step before it can join the Alliance.
On Wednesday, Swedish Prime Minister Ulf Kristersson met with US President Joe Biden in Washington DC, followed by a meeting between Swedish, Finnish, and Turkish foreign ministers in Brussels on Thursday. The central message: Sweden is ready to become an ally—immediately.
For several months, Turkish President Recep Tayyip Erdoğan has kept Sweden and NATO allies on the edge of their seats over Swedish extraditions of individuals connected to the Kurdistan Workers Party (PKK). Stockholm and Ankara have been at an impasse, trading arguments over due process and terrorist threats. Enflaming the whole process has been a series of Quran burnings, something which Kristersson has said is legal, but not respectful.
Just like at the NATO Summit in Madrid last year, Erdogan has placed himself in the role of kingmaker. All allies except Turkey and Hungary have ratified Sweden's membership, and Hungary is widely considered to be following Turkey's lead.
In the symbolically important meeting with Kristersson this week, Biden sent a clear signal to Ankara: The United States is committed to welcoming Sweden into NATO as soon as possible. Kristersson reiterated that Swedish membership would contribute to the security of the Alliance as a whole. "No country knows this better than the United States," he said.
The trilateral meeting in Brussels showed, however, that Turkey is still not on board. Swedish NATO membership is "within reach," Stoltenberg said. He added that everyone is working toward a positive outcome in Vilnius and leaders will meet again on Monday, one day before the start of the summit.
At stake in Vilnius is not only the security of Sweden and the Alliance as a whole, but NATO's open-door credibility.
Potentially paving the way for a successful outcome is this week's conviction by a Swedish court of a PKK member for the crime of terror financing, the first use of the country's new anti-terror laws that entered into force in June. The four-and-a-half-year sentence followed by a possible extradition is exactly the type of implementation Turkey has wanted to see from Sweden. Moreover, former Foreign Minister Ann Linde admitted this week that Sweden had not taken the threat posed by the PKK seriously enough in the past. Swedish police are now prioritizing the issue and deeper cooperation with Turkish authorities on combatting terrorism is expected to continue. Public opinion is also shifting, with a majority now in favor of banning the burning of religious texts. Hate speech laws, though not part of the trilateral memorandum, are additionally under review. All the while, rumors continue to swirl of the US Congress ending its roadblock on F-16 fighter jet sales to Turkey, a prospect that could help push the process across the finish line.
At stake in Vilnius is not only the security of Sweden and the Alliance as a whole, but NATO's open-door credibility. With twenty-nine allies already having ratified Sweden's membership, failure to fully admit Sweden undermines unity within the Alliance and makes NATO look weak and fragmented. As Stoltenberg correctly pointed out on Thursday, only Russian President Vladimir Putin and the PKK profit from continued delay.
---
Anna Wieslander is director for Northern Europe at the Atlantic Council and head of its Northern Europe office in Stockholm. She is a former official at the Swedish Defence Ministry and Swedish Parliament.
Eric Adamson is project manager at the Northern Europe office.
Further reading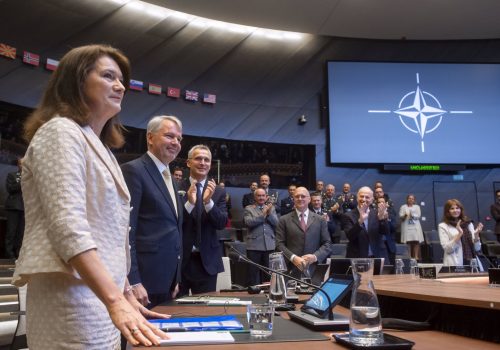 Mon, Aug 8, 2022
New Atlanticist By Atlantic Council experts
With this tracker, the Atlantic Council team is keeping tabs on the countries that have ratified the amended NATO treaty—and handicapping the political prospects for ratification in the rest.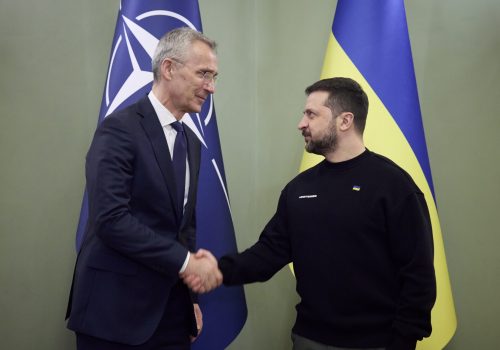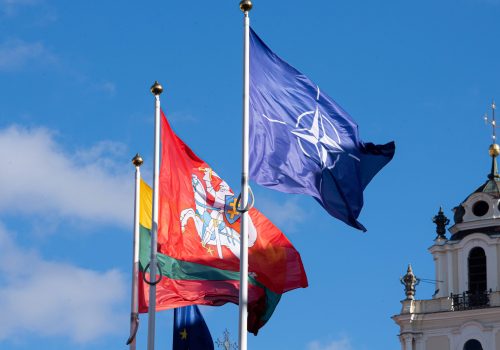 Tue, Apr 11, 2023
Issue Brief By Charles Barry and Christopher Skaluba
A successful NATO summit in July requires significant progress on a host of NATO's political and military priorities, especially those enumerated at Madrid.