Reshaping the order
This month's topline events
Putin in Peril. Russian President Vladimir Putin faced the most serious challenge to his authority since taking office, as the Wagner Group, a Russian paramilitary organization, mounted an insurrection against the Kremlin's military leadership. With heavily armed mercenaries seizing the city of Rostov and moving within a few hundred miles of Moscow, a looming conflict was averted as Yevgeny Prigozhin, the group's chief, agreed to stand down and go into exile in Belarus. But Prigozhin's whereabouts remained in doubt, as Putin sought to reassert control over the Wagner Group and consolidate his grip on power.
Shaping the order. The sudden rebellion by Prigozhin, a longtime close ally of Putin, suggests that the war in Ukraine is placing serious strains on Russia's political leadership. Though Putin appears safe for now, the insurrection could open the door to future challenges to his rule, with the potential to shake the global order. Moscow appears to be struggling to gain control over Wagner, which has provided a crucial source of funding for Russia's operations in Ukraine and helped the Kremlin expand its influence across the Middle East and Africa.
Hitting home. The fall of Putin could ultimately lead to a more peaceful Russia, but political instability inside the Kremlin could also pose new risks to US security interests.
What to do. With Putin forced to shift his focus to domestic challenges, Washington should use this opportunity to accelerate weapons support for Kyiv as Ukrainian forces push forward with their critical counteroffensive.
Blinken in Beijing. US Secretary of State Tony Blinken met with Chinese President Xi Jinping and Chinese Foreign Minister Qin Gang in Beijing, on a trip intended to "stabilize" relations between the two nations. While China refused a US request to resume military-to-military contacts, both sides appeared to view the talks as productive. But Chinese officials reacted bitterly to President Joe Biden's subsequent reference to Xi as a "dictator," calling the comments "extremely absurd and irresponsible."
Shaping the order. While it may temporarily help improve the atmospherics surrounding the US-China relationship, Blinken's visit is unlikely to lead to a shift in the overall trajectory. Tensions will remain high in light of Beijing's threats against Taiwan and other attempts to undermine the global order, as the US pursues efforts to shift supply chains in critical industries away from China, as part of a new "derisking" strategy.
Hitting home. Seeking to maintain stable relations with the world's second largest economy may be beneficial for the American people, but this will also require sustained efforts to defend against potential threats.
What to do. The Biden administration should continue to coordinate with allies on strategies to counter Beijing's assault on the global order, even as it tries to establish guardrails in the US-China relationship.
Modi's State Visit. President Joe Biden hosted Indian Prime Minister Narendra Modi at the White House, as the administration sought to bolster economic and geopolitical ties with India. Amid media criticism of India's backsliding on democracy, Modi was given a White House state dinner – only the third of Biden's presidency – and invited to speak before a joint session of Congress. The two nations agreed to strengthen defense and technology cooperation, including building GE military jet engines in India and launching joint initiatives on semiconductors, artificial intelligence, and other areas.
Shaping the order. Washington's warm welcome for Modi reflects a desire to cultivate a stronger relationship with India in the context of strategic competition with China. While joint concerns over China appear to be propelling the relationship forward, it remains unclear whether the two nations can reach a more meaningful strategic partnership, especially given New Delhi's refusal to condemn Russia's aggression against Ukraine. In addition, Modi's targeting of religious minorities and crackdown on political dissent have raised questions about the future of the relationship.
Hitting home. A stronger US relationship with India could generate new business opportunities for US companies seeking to reduce supply chain dependencies on China.
What to do. While seeking to build on the positive momentum coming out of Modi's visit, Washington should also make clear that it sees a shared commitment to democratic norms as the foundation for closer ties between the world's two largest democracies.
Quote of the Month

"Democracies must now rally together around not just our common interests, but also our shared values. Preserving and protecting the freedoms that are essential to peace and prosperity will require vigorous leadership…"
– US Secretary of Defense Lloyd Austin in New Delhi, India, June 5, 2023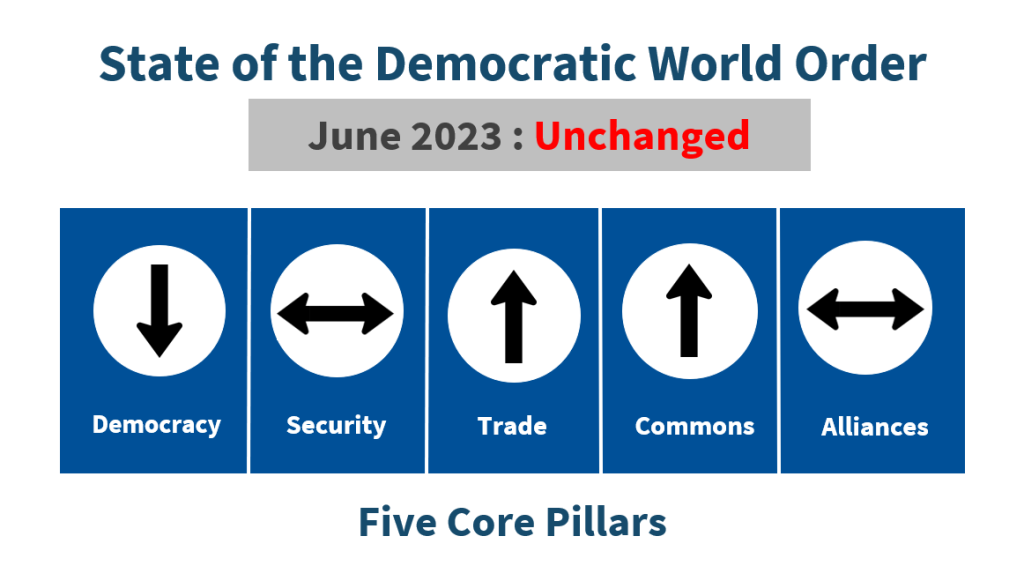 State of the Order this month: Unchanged
Assessing the five core pillars of the democratic world order
Democracy (↓)
Guatemala's ruling government sought to overturn the results of the country's presidential elections after the results indicated that Bernardo Arévalo, a reformist candidate, gained enough votes to qualify for a run-off. The State Department warned that undermining the election results would constitute a "grave threat to democracy."
With the support of Pakistan's ruling government, the country's military began implementing a broad crackdown against the media and political opposition, in the wake of national protests following the arrest of former prime minister Imran Khan.
As Indian Prime Minister Narendra Modi made a high-profile visit to Washington, US concerns over democratic backsliding in India appeared to take a back seat in an effort to cultivate closer relations between the two nations.
Overall, the democracy pillar was weakened.
Security (↔)
Yevgeny Prigozhin, head of the paramilitary Wagner Group, mounted an insurrection against Russia's military leadership, but agreed to stand down after his heavily armed mercenaries came within a few hundred miles of Moscow.
China and Cuba reached a secret agreement to allow Beijing to establish a surveillance facility on the island targeting the United States, and are in the process of negotiating a deal to establish a new joint military training facility.
A contingent of leaders from seven African countries, including South African president Cyril Ramaphosa, met with Ukrainian President Volodymyr Zelensky and President Putin, in a bid to initiate peace talks between Russia and Ukraine, though neither side accepted the African proposal.
In a further indication of Seoul's tilt toward a harder line on China, South Korean President Yoon Suk Yeol directly criticized China's ambassador in Beijing for his comments critical of South Korea's joining US-led initiatives.
On balance, the security pillar was unchanged.
Trade (↑)
The US and Britain issued the Atlantic Declaration, a new economic framework aimed at enhancing cooperation on critical and emerging technology, supply chains, clean energy, and other issues, as a potential counterpart to the US-EU Trade and Technology Council.
The US and thirteen other members of the Indo-Pacific Economic Framework reached an agreement on supply chains – one of the framework's four core pillars – that will result in several new bodies focused on advancing supply chain resiliency.
On balance, the trade pillar was strengthened.
Commons (↑)
The United Nations adopted the world's first treaty aimed at protecting the high seas and preserving marine biodiversity in international waters, which constitute over two-thirds of the ocean.
The US announced plans to rejoin the United Nations Educational, Scientific, and Cultural Organization (UNESCO), in an effort to counter China's growing sway in multilateral fora. After the Trump administration withdrew the US from the organization in 2017, China became one of its largest donors.
On balance, the global commons pillar was unchanged.
Alliances (↔)
French President Emmanuel Macron expressed opposition to a proposal by NATO Secretary General Jens Stoltenberg to open a NATO liaison office in Japan, suggesting that the alliance should stay focused in the North Atlantic region.
On his first trip to the White House since taking office, British prime minister Rishi Sunak met with Joe Biden, as the two leaders committed to closer cooperation on a range of political and economic issues.
US-India relations appeared to enter a new chapter as Prime Minister Narendra Modi joined President Joe Biden for an official state visit in Washington.
On balance, the alliance pillar was unchanged.
Strengthened (↑)________Unchanged (↔)________Weakened (↓)
What is the democratic world order? Also known as the liberal order, the rules-based order, or simply the free world, the democratic world order encompasses the rules, norms, alliances, and institutions created and supported by leading democracies over the past seven decades to foster security, democracy, prosperity, and a healthy planet.
This month's top reads
Three must-read commentaries on the democratic order
Lucan Ahmad Way, in Foreign Affairs, contends that revolutionary autocracies have demonstrated remarkable staying power, even in the face of mounting challenges.
Hal Brands, in Foreign Policy, suggests that Russia, China, Iran, and to some extent North Korea constitute a bloc of adversaries more cohesive and dangerous than anything the United States has faced in decades.
Sumit Ganguly and Dinsha Mistree, in Foreign Affairs, argue that in the face of Chinese aggression, a policy of continued non-alignment will not serve India well.
Action and analysis by the Atlantic Council
Our experts weigh in on this month's events
__________________________________________________
The Democratic Order Initiative is an Atlantic Council initiative aimed at reenergizing American global leadership and strengthening cooperation among the world's democracies in support of a rules-based democratic order. Sign on to the Council's Declaration of Principles for Freedom, Prosperity, and Peace by clicking here.
Ash Jain – Director for Democratic Order
Dan Fried – Distinguished Fellow
Soda Lo – Project Assistant
If you would like to be added to our email list for future publications and events, or to learn more about the Democratic Order Initiative, please email AJain@atlanticcouncil.org.