As US President Joe Biden travelled to Ukraine and Poland last week, US Secretary of State Antony Blinken paid an important visit to NATO allies Turkey and Greece. Blinken's visit to Turkey came just two weeks after a devastating earthquake hit southern Turkey and northern Syria, with a death toll surpassing 46,000. Below, Atlantic Council experts weigh in with their takeaways on Blinken's trip.
Defne Arslan: Blinken signals that Turkey is a key NATO ally and regional hub
Rich Outzen: The visit presents an opportunity to re-engage Turkey
Katerina Sokou: The US sees Greece as key to regional stability
Thomas S. Warrick: The US should help Turkey redesign its infrastructure
Blinken signals that Turkey is a key NATO ally and regional hub
In the aftermath of one of the worst natural disasters in the history of Turkey, Blinken's visit was necessary and important. Since the tragedy, the United States has been engaged at the highest levels and quickly delivered relief aid. It's worth noting that this trip, Blinken's first to Turkey in his two years as secretary of state, was pre-planned before the earthquake, but his messages mostly focused on US assistance to a close ally and friend at a time of need.
The devastation facing the country is monumental. The death toll has is still rising and an estimated 85,000 buildings have collapsed or been severely damaged in an area affecting a population close to 18 million, almost equal to one-fifth of Turkey's population. Blinken's promise of an additional $100 million in US humanitarian assistance, on the top of the $85 million announced in the immediate aftermath for both Turkey and Syria, is a positive step. In all, $185 million is a total much higher than the amount the United States provided to Turkey after its 1999 earthquake, which struck the Marmara region.
Blinken delivered a clear message that Turkey matters a lot for the United States and NATO alliance despite differences over several issues. His remarks underlined and praised the role Turkey played in the Ukraine war, including brokering the grain deal, implementing the Montreux convention to deter "naval escalation in the Black Sea," and supplying energy generators and drones to Ukraine that were critical in the fight against Russia. Blinken also called Turkey an important NATO ally on the southern flank playing a critical role for NATO's security, while also serving as an important energy hub for the energy security of Europe.
The secretary of state also explained why modernization of Turkey's F-16 fighter jets is in the US interest. He noted that Turkey and the United States still share very close defense cooperation, and F-16 modernization will contribute to NATO's airpower, adding that it is important for Turkey to stay compatible with NATO's higher standards. These were all critically important messages by Blinken. Only one additional point that he should keep in mind is that Turkey's southern boarder is actually NATO's southern border, and the United States' current policy there supporting the Kurdish People's Protection Units (YPG) is also an indirect threat to NATO, given their ties to the terrorist-designated Kudistan Workers Party (PKK).
Overall, this was an encouraging and timely trip with the right messages. It is also important to underline that this is an opportunity that needs to be seized by Turkey.
—Defne Arslan is the senior director at the Center for Atlantic Council IN TURKEY and Turkey Programs. Follow her on Twitter @defnesadiklar.
The visit presents an opportunity to re-engage Turkey
Blinken's travel to Turkey and Greece was planned before the earthquake, but quite naturally focused on a show of solidarity and aid in the aftermath. In addition to Blinken announcing $100 million in new US refugee and humanitarian assistance, he and Turkish Foreign Minister Mevlüt Çavuşoğlu presented a welcome image of shared concern as they conducted an aerial tour of the Hatay region and spoke with US and Turkish military members at Incirlik Air Base. The later visit to Ankara provided a venue to discuss NATO enlargement—which Blinken pointedly said is not a bilateral issue between the United States and Turkey—regional tensions, the war in Ukraine, trade goals, and other items.
As US Assistant Secretary of State Karen Donfried noted to reporters, the neighborly spirit shown by Ankara and Athens over the past two weeks reflects some of the alliance spirit that Washington hopes becomes a norm in the region, rather than recriminations and tensions that have marked Greek-Turkish relations in recent years. The Blinken visit does not suffice to reset US-Turkish or Greek-Turkish relations, but it reflects a moment of possibility prompted by a terrible human tragedy that took more than 46,000 lives. For Washington, it presents an opportunity to re-engage Turkey on a positive agenda of increased trade, enhanced security cooperation, and more effective coordination on Syria—especially on the issue of refugees—after two years in which the Biden administration afforded light and episodic attention to bilateral relations.
—Rich Outzen is a nonresident senior fellow at the Atlantic Council IN TURKEY. Follow him on Twitter @RichOutzen.
The US sees Greece as key to regional stability
Monday's warm meeting between Blinken and Greek Prime Minister Kyriakos Mitsotakis should come as no surprise. In Athens and Washington, it has become commonplace to describe US-Greece relations as the strongest they have ever been. The marked improvement is supported by a strategic dialogue, now on its fourth round, that Blinken led, together with his Greek counterpart. The high-level dialogue has helped advance shared priorities in a range of areas in the bilateral agenda: defense and security, energy and environment, trade and investment, law enforcement and counterterrorism.
And, importantly, regional cooperation. Greece is increasingly seen as a leader that promotes stability, economic development, and regional integration in a geopolitically volatile area. Ahead of the visit, the State Department noted that the United States supports Greece's role in diversifying Europe's energy supplies, its diplomatic efforts to promote the European Union ambitions of the Western Balkans, and contribution to dialogue and economic development in the Eastern Mediterranean, through multilateral initiatives such as the "3+1," made up of Israel, Cyprus, and Greece, plus the United States.
In the past year, Greece has also won strategic points for unequivocally supporting Ukraine against Russian aggression, with the Alexandroupolis port providing critical logistical support to NATO's eastern flank. It also responded promptly to the earthquake in Turkey, sending the first international search and rescue team, while the Greek prime minister expressed his dedication, together with the US secretary of state, to support those impacted. Blinken expressed his hopes that the goodwill created between the two neighboring countries will last, helping his balancing act of continuing to build on the strategic momentum with Greece, while successfully reengaging Turkey.
—Katerina Sokou is a nonresident senior fellow at the Atlantic Council's Europe Center and a Theodore Couloumbis Fellow on Greek-American Relations at the Hellenic Foundation for European and Foreign Policy (ELIAMEP). Follow her on Twitter @KaterinaSokou.
The US should help Turkey redesign its infrastructure
Blinken's visit to Turkey saw the announcement of more than $100 million in urgently needed humanitarian aid, on top of more than $85 million the United States has already provided. There is another way the United States can help, too. Turkish leaders often remind their US counterparts that Turkey lives in a dangerous neighborhood—recent events have proven the danger extends beyond the geopolitical to the geological. Over the millennia of the civilizations that have lived on what is modern Turkey, earthquakes have frequently shaped the history of the land and its hardy peoples. Beyond just the emergency crews needed to try to rescue any survivors and clear blocked roadways, the United States should offer help to Turkey to rebuild its infrastructure to be more resilient against earthquakes.
The United States and Japan have some of the world's most sophisticated engineers and experts to design buildings, roadways, and public works to be endure seismic shocks. Turkey continues to see aftershocks from February's earthquakes, and until science is able to predict earthquakes with specificity, the best way to prevent future loss of life is in the design and construction of resilient infrastructure. Helping Turkey rebuild a more resilient infrastructure should be a top priority for both the United States and Turkey going forward.
—Thomas S. Warrick is a nonresident senior fellow at the Scowcroft Center for Strategy and Security's Forward Defense practice and the Scowcroft Middle East Security Initiative at the Atlantic Council. Follow him on Twitter @TomWarrickAC.
Further reading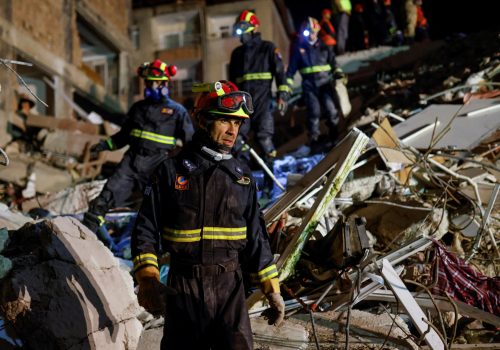 Tue, Feb 14, 2023
TURKEYSource By Grady Wilson
Turkey's allies and partners must continue to offer help and solidarity in dealing with the horrific earthquake. And for the United States, there's a significant opportunity for public diplomacy between two troubled allies.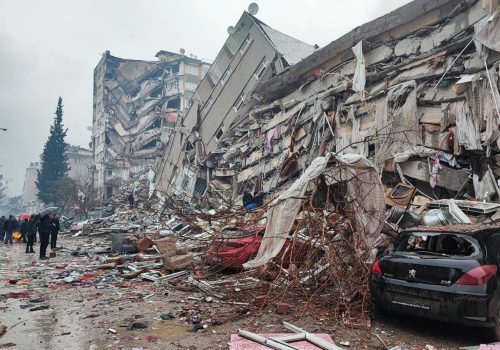 Mon, Feb 6, 2023
New Atlanticist By Atlantic Council experts
How can the international community help? What will the impact be for a region already reeling from a decade-long war and refugee crisis?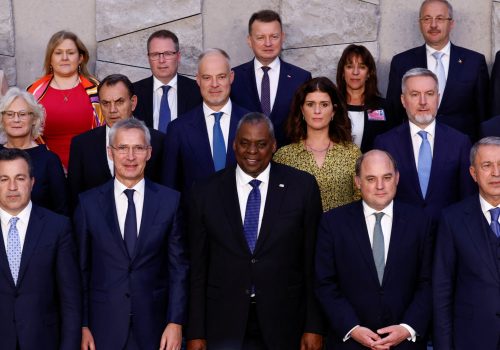 Fri, Jun 24, 2022
New Atlanticist By Alper Coşkun
Irritants that have weighed down the relationship between Ankara and its allies must be addressed sooner than later.