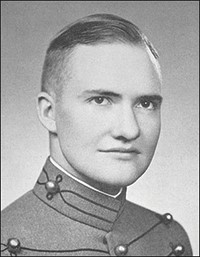 In memory
A career dedicated to public service and balancing perspectives
Over the course of Lt. Gen. Brent Scowcroft's career in public service, he developed a reputation as a source of balanced, bipartisan analysis that made him a sought-after voice on national security for commanders-in-chief of both parties.
"He would not try to run over the head of cabinet members, or cut them off from contact with the president, yet I also knew he would give me his own experienced views on whatever problem might arise," President George H. W. Bush recalled of Scowcroft.
In the early days of the Cold War, Scowcroft was a leading advocate for strong transatlantic cooperation as a means to preserve peace and security. When the Cold War abruptly ended in 1989, he made it his life's work to preserve and advance that same system of international cooperation, democracy, and human dignity that unites the Atlantic community.
"The events were great. The hazards were deep," said Scowcroft. "But we navigated the complexities to advance freedom and security, at a time when many others deemed it impossible. When looking back at the events of 1989—what we commemorate is an attitude more than anything specific. It was the values that won."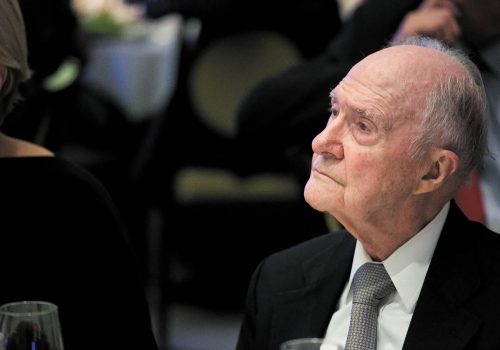 Thu, Sep 10, 2020
On August 22, a memorial service was held to honor the life and legacy of General Brent Scowcroft. These are a collection of tributes from those who worked with Brent Scowcroft and knew him as a mentor and friend.
Read More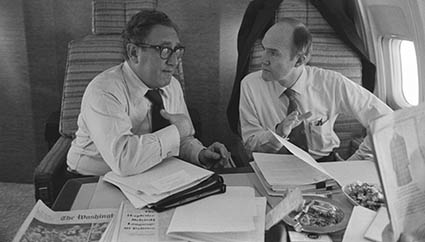 Fri, Aug 7, 2020
With Brent Scowcroft's passing yesterday at age ninety-five, the United States lost one of the central players in the transatlantic community's success in bringing a peaceful end to the half-century-long Cold War with the Soviet Union, in the remaking of the European map to include a reunified Germany, and in providing the opportunity for the spread of democracy and freedom to Central and Eastern Europe.
Feature by Frederick Kempe, Jeffrey Lightfoot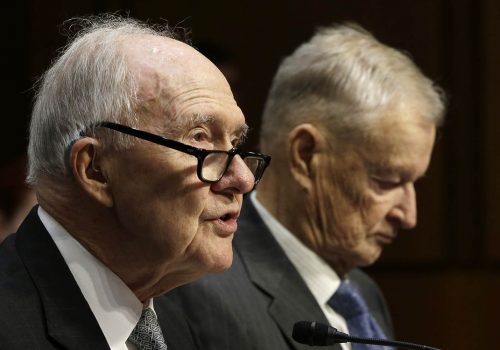 Fri, Aug 7, 2020
Many have walked the halls of power, but few are deserving of the title of statesman. General Brent Scowcroft embodied statesmanship and leaves a legacy that will survive his passing to shape US foreign and national security strategy and policy for generations to come. Indeed, the country and the world have lost an historic force for stability and security, a legendary strategist who ended the decades-long Cold War without a shot.
New Atlanticist by Barry Pavel and Matthew Kroenig
The Atlantic Council in 2012 honored Scowcroft's legacy by relaunching its flagship international security program as the Brent Scowcroft Center on International Security, recently re-envisioned as the Scowcroft Center for Strategy and Security. The center is guided by Scowcroft's vision of blending analysis of today's challenges with long-term strategic thinking about how the United States' role in the world interacts with historical forces, technological change, geography, and culture.
"In 1961, the Council's founders—those 'present at the creation' of our international rules-based system, joined forces across party lines and among disparate organizations to form the Atlantic Council," said Scowcroft. "They did so out of a need for sustained US engagement in the world and to develop an ambitious agenda for the Atlantic community. They succeeded. The Council convinced me to lend my own name to the effort by showing me how it would help carry forward that same mission at this similarly crucial moment in history. I'm so proud of the work it accomplishes each day."
Read more on General Scowcroft:
Press releases
Fri, Aug 7, 2020
FALLS CHURCH, VA—Following is a statement on the passing of Lieutenant General Brent Scowcroft, USAF (Ret.) from his office: Lieutenant General Brent Scowcroft passed away yesterday at the age of 95 of natural causes. Brent Scowcroft was an American patriot and public servant of the highest order with an extraordinary military and government service career spanning […]
Press Release by
Fri, Aug 7, 2020
With Brent Scowcroft's passing, the United States has lost one of the most remarkable figures in our country's foreign-policy history. Seldom has the world seen a man of such historic accomplishment and remarkable modesty. He helped win the Cold War, he defined the role of national security advisor, and he mentored legions of principled individuals […]
Press Release by Atlantic Council
Highlights of the Atlantic Council's evening honoring Brent Scowcroft
"I'm so proud of the work the Scowcroft Center accomplishes each day. The Council convinced me to lend my name to this effort, and I'm glad I did so as we are advancing our founding mission at another historic turning point."
2012 Global Citizen Awards