About the project
In an already fragile Central African neighborhood, the Democratic Republic of the Congo—Africa's second largest country by area, fourth largest by population, and potentially one of the richest countries on the continent with mineral reserves worth $24 trillion—stands at a vital juncture in its history.
Featured commentary & analysis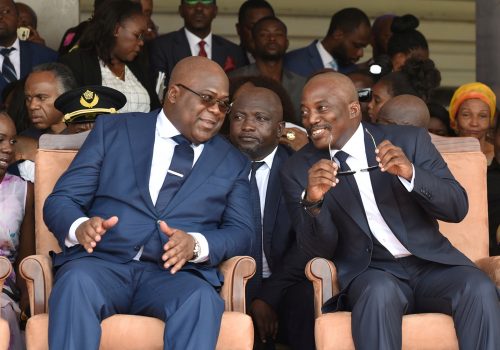 AfricaSource
Jan 14, 2020
Congo, one year later
By
Pierre Englebert
Overall, while there has clearly not been any regime transition in Congo, there are faint stirrings of change. It is long shot, but it seems that the Western strategy of embracing Tshisekedi in exchange for Kabila's removal from office may yet – possibly, hopefully – bear some fruit.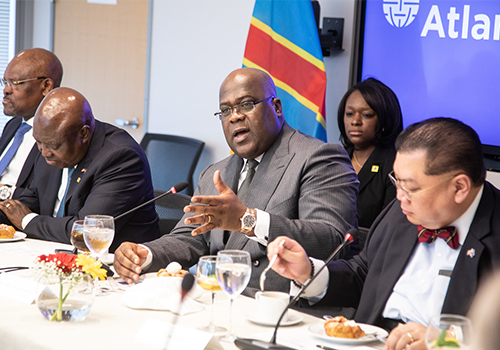 Event Recap
Apr 4, 2019
Congolese president discusses strategic partnership with the United States
By
Africa Center
On Thursday, April 4, the Atlantic Council's Africa Center hosted H.E. Félix Tshisekedi Tshilombo, president of the Democratic Republic of the Congo (DRC). Atlantic Council Vice President and Africa Center Director Dr. J. Peter Pham, who concurrently serves as US special envoy for the Great Lakes Region of Africa, introduced the President and welcomed participants. […]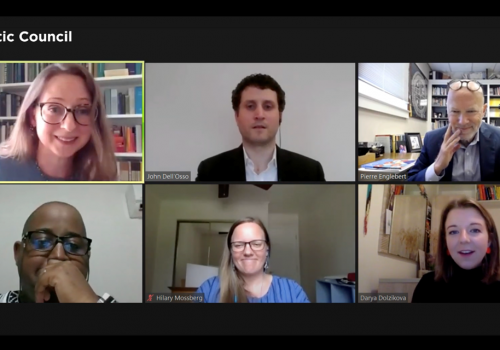 Event Recap
Sep 3, 2020
Expert panel responds to incidents of North Korean sanctions evasion in the DRC
By
Africa Center
On Thursday, September 3, the Africa Center hosted a virtual panel to discuss the latest report published by The Sentry: Overt Affairs: How North Korean Businessmen Busted Sanctions in the Democratic Republic of Congo. The Sentry's Director of Illicit Finance Policy Ms. Hilary Mossberg provided opening remarks alongside Africa Center Director of Programs and Studies Ms. Bronwyn Bruton, […]
Featured reports & research
Issue Brief
May 11, 2016
Congo blues: Scoring Kabila's rule
By
Pierre Englebert
Across Africa, leaders are tinkering with term limits and prolonging their tenures. In an increasingly unstable Central African region, Joseph Kabila, President of the Democratic Republic of the Congo (DRC), appears poised to be the next African leader to sidestep the relinquishing of power and the election of his successor, constitutionally mandated for November 2016. […]
Issue Brief
Mar 14, 2016
Why the Congo matters
By
Gérard Prunier
With a population of almost 80 million people and unparalleled natural resources, the Democratic Republic of the Congo (the DRC or the Congo) is a country of tremendous potential—but only that. One of the most violent places on earth, its people suffer from the brutality of armed groups and political instability. Now, President Joseph Kabila's […]
Experts
All content