French Election Dashboard: Everything you need to know about the presidential race
On Sunday, April 10, French citizens headed to the polls to take the first step to elect France's next leader. No candidate won an outright majority so the two leading candidates, incumbent President Emmanuel Macron and long-time rival Marine Le Pen will go to a runoff on Sunday, April 24. With reelection up for grabs for President Emmanuel Macron against a rival with a starkly different vision for France, the Europe Center breaks down the race.
Meet the final two candidates
The candidates on the issues
Ahead of the runoff, both candidates released their official presidential programs detailing their campaign positions. This is a side-by-side comparison of their positions on key issues.
Crime and public safety
Macron
Le Pen
• Continue to push back radical Islam. 
• Double the presence of law enforcement in the public, deploy 200 new brigades of gendarmes in rural areas, double the presence of law enforcement in public transportation at critical times, and triple the fine against street harassment for women's safety. 
• Eradicate Islamist ideologies and all of their networks from the national territory. 
• Restore minimum sentences so that all criminals and offenders have a sanction. 
• Eliminate any possibility of reduction and adjustment of sentences, in particular for violence against persons, and add street harassers to the sex offender registry.
Defense
Macron
Le Pen
• Pursue the 2% of GDP (€50 billion) military spending objective.
• By 2030, fully modernize the military with the delivery of more than 60 supplementary Rafale fighter jets, 5 new nuclear attack submarines, and 1,250 new, versatile armored vehicles.
• Double the number of operational reservists in our armies by 2027.
• Increase the defense budget to €55 billion by 2027.
• Guarantee soldiers the equipment and means necessary to guarantee and protect national interests.
• Strengthen sovereignty and independence.
Digital literacy
Macron
Le Pen
• Generalize education for computer coding and digital media.
• Hire 20,000 employees to help French people master digital tools.
• Achieve digital sovereignty by exclusively using French suppliers for public procurement, strictly controlling foreign or non-European interests, and promoting the emergence and development of French digital companies.
• Bridge the digital divide with an increase in digital training capacities and a proactive policy to fight against digital illiteracy.
Economy and purchasing power
Macron
Le Pen
• Revise the purchasing policy of the state: the priority objective will be to buy local, rather than to always buy cheaper, to develop innovation and French industries.
• Reduce poverty by automatically paying aid (i.e. premium activity, family allowances, etc.) to those who are entitled to it to avoid fraud.
• No inheritance tax up to €150,000 per child, no tax up to €100,000 transmitted to other family members (grandchildren, nephews, nieces, etc.)
• Reduce VAT from 20% to 5.5% on energy products (fuel, oil, gas, and electricity) as basic necessities.
• Protect the French economy from unfair competition and review free trade agreements that do not respect France's interests.
• Exempt from income tax all young workers up to the age of 30 so that they can stay in France and start their families here.
• Exempt contributions from parents but also from grandparents to their children and grandchildren up to €100,000 per child every ten years.
Energy
Macron
Le Pen
• Continue building the first 6 new generation nuclear power plants, multiply by 10 France's solar power capacity, install 50 wind farms at sea by 2050, and build a sector of renewable energy production companies.
• Invest in becoming a leader in green hydrogen, and produce millions of electric and hybrid vehicles and the first low-carbon aircraft.
• Implement a carbon tax at the borders of Europe to avoid unfair competition.
• Stop wind projects and gradually dismantle existing farms.
• Relaunch the nuclear and hydroelectric sectors and invest in the hydrogen sector. Launch 20 new nuclear reactors
• Get out of the European electricity market to find decent prices.
Environment
Macron
Le Pen
• Clean up old landfills and massively reduce waste exports by developing French industrial recycling sectors.
• Require consumers to be provided with clear information on the environmental impact of everyday products (cosmetics, clothing, etc.).
• Plant 140 million trees through the end of the decade.
• Improve consumer information by requiring the mode of production, origin of the product or its components, and the companies that participated in its production as part of the purchase criteria.
• Guarantee water quality by renovating the water distribution network and requiring companies to rehabilitate industrial wastelands.
• Restore biodiversity.
Europe
Macron
Le Pen
• Ensure European strategic autonomy by defining a common doctrine and strengthening the capabilities of European armies and their coordination.
• Ensure European energy independence by accelerating decarbonization and the deployment of clean energy to reduce dependence on imported coal, gas, and oil.
• Ensure European technology independence by investing to develop its innovators, protecting Europe in the most strategic areas, and equipping essential infrastructure like the "cloud" and a constellation of satellites.
• Leave NATO's integrated command.
• Strengthen and deepen strategic bilateral partnerships it has already agreed to in key areas of the world; sign new ones with Greece, Cyprus, Hungary, and Serbia; and seek out an alliance with Russia on substantive issues.
• Create a European Alliance of Nations to gradually replace the European Union to ensure a Europe of free and sovereign nations, assuming its thousand-year-old heritage to put an end to the project of those who want to make the European Union an ideologically laden federalist superstate.
Immigration
Macron
Le Pen
• Complete the Schengen reform to strengthen European borders.
• Create a "border force" to strengthen national borders.
• Continue to overhaul the organization of asylum and residence rights to quickly decide who is eligible and more effectively expel those who are not.
• Only deal with asylum applications abroad.
• Abolish the jus soli (automatic right to citizenship based on birth in France) and limit access to naturalization only on criteria of merit and assimilation.
• Systematically expel foreign illegals, delinquents, and criminals.
Retirement
Macron
Le Pen
• Increase the minimum pension to €1,100 per month.
• Gradually increase the statutory retirement age to 65.
• Propose a work-retirement combination simpler and more advantageous for those who wish to work longer to support a smooth transition to retirement.
• Raise the minimum pension to €1,000 per month and increase small pensions.
• Reject any extension of the retirement age.
• Allow those who started working before age 20 and worked for 40 years to retire at age 60.
Social services and education
Macron
Le Pen
• Expand public housing to tenants.
• Increase the number of hours of French language and mathematics in primary school and put mathematics in the core curriculum in high school.
• Institute a free health check-up at key ages (25, 45, 60) and implement detection and prevention plans for mental health, infertility, sickle cell disease, etc.
• Fight against medical deserts by developing teleconsultations and medical hotlines in underserved areas.
• Build 100,000 social housing units per year, including 20,000 for students and young workers. 
• Put teaching French language, mathematics, and history back at the heart of school programs.
• Prioritize preventative health care, in particular through systemic school medical visits.
• Take action against medical deserts through providing strong financial incentives for caregivers and increasing the number of nursing homes.
Expert insights on the election
Understanding the electorate
Heading into the second round of the election, Macron and Le Pen will have to compete to win over the voters who supported the far-left candidate Jean-Luc Mélenchon.
These graphics break down the first round of voting by four key indicators: age, education, social class, and geography and indicate which segments of first-round voters supported Mélenchon in significant numbers and must now pick between the two final candidates.
Age
Mélenchon performed best with younger voters receiving 31 percent and 34 percent of the two youngest age ranges, respectively. Macron came out ahead with older voters and Le Pen was favored by those in the middle age ranges.
Education
In the first round, 26 percent of voters with a university degree backed Mélenchon, along with 22 percent of voters with a high school degree. Macron performed best with the most-educated voters, and Le Pen dominated among the least-educated voters.
In France, students take the baccalauréat (le bac) exam at the end of high school to earn a high In France, students take the baccalauréat (le bac) exam at the end of high school to earn a high school degree. Subsequent education levels are measured relative to the baccalauréat, with two years of university equaling the baccalauréat +2 and a college degree equaling the baccalauréat +3.
Social Class
Mélenchon received approximately one-quarter of the first-round vote from each of the four segments of currently employed workers. Macron carried a commanding percentage of approximately one-third of the votes from executives and pensioners, and Le Pen mirrored those results almost exactly among lower-class workers.
Social class is divided into five tiers on a scale where the laborer class would equal the American lower class and the executive class would equal the upper class.
Geography
Mélenchon performed best in the suburbs surrounding Paris as well as in those in the south of the country. Macron carried the west of the country and most large cities, and Le Pen performed well in the northeast and southeast in less urban areas.
The French government is divided into 101 administrative departments to oversee local services of the federal government. Hover over each department to learn more about their electoral outcomes.
Meet the frontrunner candidates
With twelve candidates in the running for the first round, the field is crowded. We have focused on the top five candidates according to aggregate polling. The candidates are organized throughout this dashboard in descending order of their poll numbers as of April 6, 2022.
Aggregate polling
First-round voting
Incumbent President Emmanuel Macron won the first round of voting by 4.6 points over long-time rival Marine Le Pen.
Macron – Le Pen runoff
Polling from immediately after the first vote indicates a six-point spread between the candidates going into the second round.
The candidates on the issues
The following quotes come from the candidates' official Twitter accounts.
Domestic priorities
Explore some of the domestic drivers of the presidential race.
Cost of living

In the French debate, it's often called pouvour d'achat (purchasing power). How far can a citizen stretch a euro? As the global economy enters a turbulent period, French voters are nervous about their standard of living.
International priorities
Learn more about the candidates' positions on issues of interest to international observers.
The France-US relationship
The candidates in their own words
These word clouds illustrate which keywords appear most frequently in each candidate's public addresses, tweets, and statements.
Methodology: The candidate quotes and word cloud data on this dashboard were compiled using each candidate's own public addresses, tweets, and statements.
Related content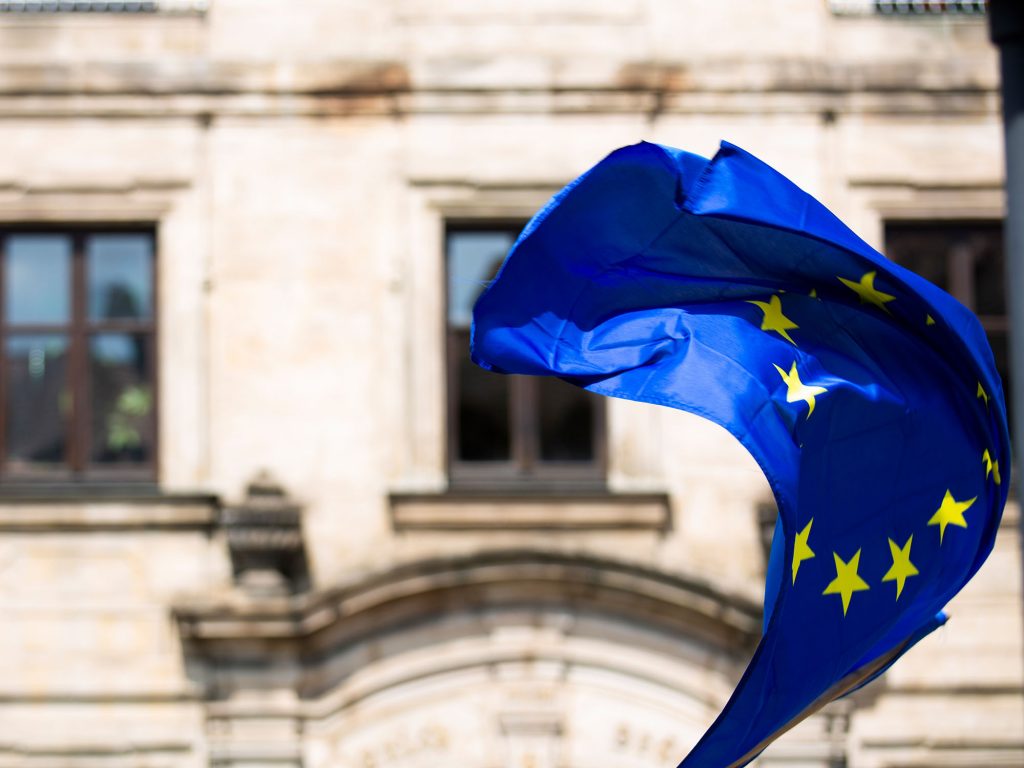 Providing expertise and building communities to promote transatlantic leadership and a strong Europe in turbulent times.
The Europe Center promotes the transatlantic leadership and strategies required to ensure a strong Europe.