Ukraine Aid Tracker: Mapping the West's support to counter Russia's invasion
Overview
When Russia invaded Ukraine in February 2022, it believed that transatlantic resolve against its aggression would be fractured. But in the months since Russia began this war, the West has remained resolute, largely demonstrating a common understanding of the need to support Ukraine with military and humanitarian aid.
As the war drags on and the needs of the Ukrainian people and military grow more acute, since Spring 2022, the Europe Center is using open-source information to track the contributions from individual states across Europe and North America to support military and humanitarian efforts in Ukraine. The interactive maps below illustrate the unity of the West's response in providing aid to Ukraine and include information detailing each country's contributions since the start of the war (and even earlier, for some countries). The timeline of the most significant moments in the war and concurrent military aid illustrates the progression of the West's response to the military situation. The bar charts break down how the waves of refugees from Ukraine are spread out across Europe.
Click to jump to a section:
Map: Military aid to Ukraine from Western states
Timeline: Key military aid developments
Chart: Refugees from Ukraine by destination country
Map: Western states sending humanitarian aid to Ukraine
Russian atrocities in Ukraine over the past year have caused untold disaster and spurred the largest humanitarian crisis in Europe in nearly eighty years. As a result, Europe has opened its doors to more than eight million refugees fleeing from Ukraine for their safety.
While the prevailing belief is that large, Western European countries have led Europe's efforts to counter Russia's aggression, Central and Eastern European countries bear the brunt of refugee waves coming from Ukraine. Nearly one-third, or 2.5 million, of total refugees from Ukraine in Europe have settled in countries included in the United Nations' Refugee Response Plan (Bulgaria, the Czech Republic, Hungary, Poland, Moldova, Romania, and Slovakia), while Poland has settled the greatest number of refugees at over 1.5 million and has seen over eight million refugees cross its border seeking safety since the start of the war (though six million have also returned to Ukraine).
Looking at the refugees taken in as a proportion of national population, Estonia, Montenegro, and the Czech Republic top the list, while some larger countries such as France and the United Kingdom fall toward the bottom. As Ukraine's closest neighbors, Central and Eastern European countries have served on the front line of Europe's greatest refugee crisis in generations and are likely to continue doing so as the war enters its second year.
Opening rush: The biggest wave of aid from the West was sent immediately after Russia began its invasion on February 24, 2022. Within the first week, twenty-eight countries sent military aid and twenty-six countries sent humanitarian aid. Since then, aid packages have slowed down and become more spread out over time, but several countries are still sustaining their contributions. For example, with military aid, fourteen countries sent aid in the remainder of March 2022, twenty sent aid in April, sixteen sent aid in May, and fifteen sent aid in June. At least twenty-three countries have announced further military aid in 2023.
Geography matters: As many Western countries rushed to prepare aid packages as soon as Russia invaded Ukraine, former Soviet or Warsaw Pact countries on the Eastern front generally responded more quickly and with more robust military aid. Estonia, Latvia, Lithuania, the Czech Republic, and Poland were among the eight countries that had already sent Ukraine lethal military aid in the month before Russia invaded. Balkan countries, including Yugoslavia's successor states, were less likely to provide military aid, with only two of the seven successor states sending lethal aid.
Humanitarian politics: Unsurprisingly, there are more Western countries readily sending humanitarian aid than military aid. While some countries wrote off sending any military aid at the beginning of the conflict (e.g., Hungary, Serbia, and Bulgaria), there is widespread support for sending humanitarian aid. Thirty-three countries are providing some form of military aid, while forty are providing state-sponsored humanitarian aid.
Comparative advantages: Most countries across the West are doing what they can to support Ukraine, with many relying on their own comparative advantages in choosing what aid to send. For example, Germany, the United Kingdom, and especially the United States are sending military aid packages (both lethal and non-lethal) to Ukraine more often than most other countries. Meanwhile, out of the eight Western countries not sending any military aid, all have sent humanitarian aid.
Widespread solidarity: Despite a few countries still refraining from sending certain types of aid, it is clear that the conversation on whether and how to support Ukraine is happening in every capital on both sides of the Atlantic. Within countries, multiple ministries or branches of government are combining efforts to further assist civilians, often in partnership with non-governmental organizations, by gathering and sending humanitarian aid ranging from medicine and food to shelter supplies and rescue equipment to Ukraine. On military assistance, the West stepped up even more as the Ukrainian resistance proved itself. More countries have jumped in to send aid—including lethal aid—as Ukraine's requests have evolved from defensive weapons towards heavy weapons and artillery.
The data for these visualizations was collected from various online sources and includes the details of military and humanitarian aid sent to Ukraine since the beginning of 2022 from over forty countries across Europe and North America. The dataset only includes aid sent to support military or humanitarian efforts in Ukraine and does not include aid sent to support efforts in nearby countries.
The military aid tracker categorizes countries by the type of military aid they have sent—whether that means lethal aid, non-lethal aid, both, or neither. The humanitarian aid tracker shows only state-sponsored aid, not private donations.
Explore the full dataset: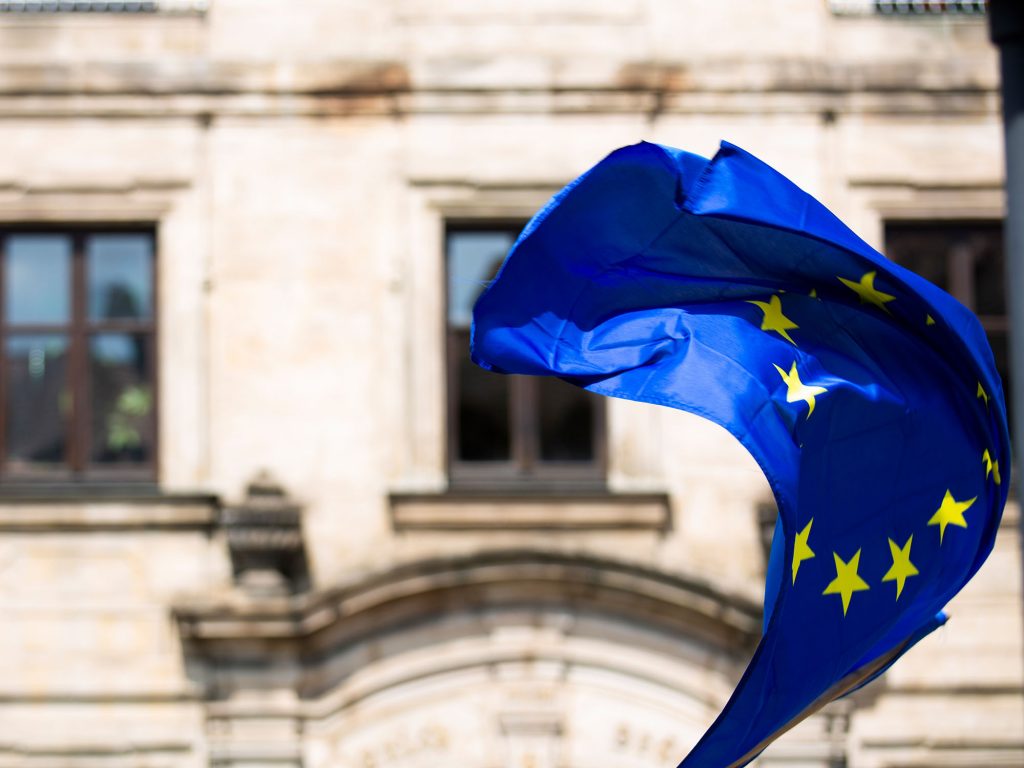 Europe Center
The Europe Center promotes leadership, strategies and analysis to ensure a strong, ambitious and forward-looking transatlantic relationship.
Further reading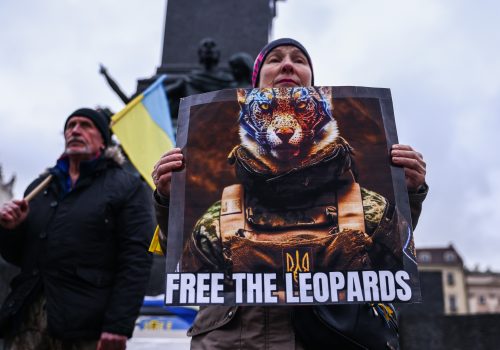 Wed, Jan 25, 2023
Experts react By Atlantic Council experts
Is this a turning point for Germany's participation in arming Ukraine? Our experts lay out what's next.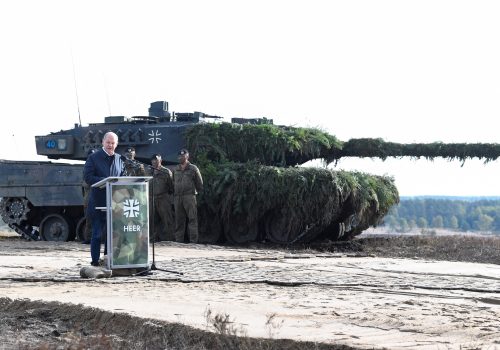 Tue, Jan 24, 2023
New Atlanticist By Eric Adamson
Two schools of thought have emerged on arming Ukraine—defeat Russia vs. avoid escalation. A recent conference hosted by the Atlantic Council in Stockholm investigated the roots of the divide.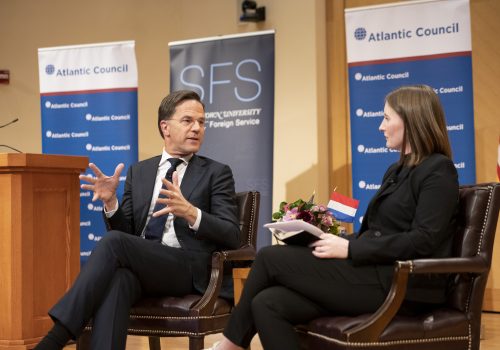 Wed, Jan 18, 2023
New Atlanticist By Nick Fouriezos
Prime Minister Mark Rutte spoke at an Atlantic Council Front Page event on Tuesday, where he discussed Ukraine, the Caribbean, China, and more.