Why did China broker an Iran-Saudi detente?
China has entered the chat. Iran and Saudi Arabia announced the restoration of relations on Friday, after years of proxy battles and diplomatic strife, in a deal brokered by Beijing. What does this move mean for one of the Middle East's defining rivalries? How should the United States view China's role in the breakthrough? What is Israel thinking about all this? Our experts dig beyond the diplomat-speak.
TODAY'S EXPERT REACTION COURTESY OF
Jonathan Panikoff (@jpanikoff): Director of the Scowcroft Middle East Security Initiative and former US deputy national intelligence officer for the Near East (he's expressing his own views, which do not imply US government endorsement)
Carmiel Arbit (@c_arbit): Nonresident senior fellow at the Middle East Programs
William Wechsler (@WillWechsler): Senior director of the Rafik Hariri Center and Middle East Programs and former US deputy assistant secretary of defense for special operations and combating terrorism
The deal behind the deal
The agreement, Jonathan says, makes good business sense for Saudi Arabia as a means of reducing the likelihood of attacks from Iran or its proxies. "Riyadh views its security as paramount to ensure that oil drilling, transport, and sales aren't disrupted and that the country is seen as a secure place for long-term foreign direct investment."
Carmiel adds that "the Saudis are opportunistic at every turn: They are contending with rising tensions at home, waning influence in the Muslim world, and strained relations with the United States. And so they are hedging."
What's in the deal for Iran, as it creeps ever closer to enriching uranium to weapons-grade levels? "Tehran probably views it as an opportunity to slow growing relations between Saudi Arabia and Israel," Jonathan tells us. "Riyadh is likely to continue security and intelligence cooperation with Jerusalem, but Tehran is probably betting that their Saudi counterparts will be less inclined to enable Israeli and/or US military action against Iran."
Anytime two heavily armed regional rivals reduce tensions, it's a good thing, Will argues, "so we should welcome the news." But, he adds, there are complications here for the United States—starting with China's role.
Subscribe to Fast Thinking email alerts
Sign up to receive rapid insight in your inbox from Atlantic Council experts on global events as they unfold.


Beijing the broker
China has been steadily increasing its presence in the Middle East for years—but this is its biggest move yet. "Yesterday, China promised its interests in the region were only economic and it did not want to be a major political player; today China will promise that it only wants diplomatic influence, not a regional military presence," Will says. "The world should have never believed yesterday's promises and it certainly shouldn't believe today's."
Jonathan has spent the week at a conference in Doha, Qatar, where he encountered the widespread view that "China only has a passive economic interest in the region." But, he adds, "economic and commercial ties often give way to political engagement, which eventually can lead to intelligence and security cooperation." 
US policymakers, Jonathan adds, need to take note. "Leave the Middle East and abandon ties with sometimes frustrating, even barbarous, but long-standing allies, and you'll simply be leaving a vacuum for China to fill," he says. "And make no mistake, a China-dominated Middle East would fundamentally undermine US commercial, energy, and national security."
The Israel question
This news will be met with more apprehension in Israel than in the United States, Will says. "It would not be surprising if the next announcement [is] a renewal of US-Iranian discussions on the Joint Comprehensive Plan of Action [nuclear deal], once again brokered by China. While I remain skeptical of whether such a deal is likely (or even advisable) in current circumstances, such an announcement would be welcome in Washington yet seen in Jerusalem as diminishing US-Israeli deterrence against Iran."
But on the other big normalization question in the Middle East, Carmiel says "Israel will not demur in its courtship of the Saudis as a result of the announcement."
So far, Saudi Arabia is "making hefty demands" in exchange for normalization with Israel, "including security guarantees and civil nuclear technology," which the United States is not yet ready to provide, Carmiel points out. "So they are playing several hands at once."
The net result, Carmiel says, is a deal that "reinforces Saudi Arabia's role as a leader in an increasingly dynamic region that is looking for more independence from the United States."  
Further reading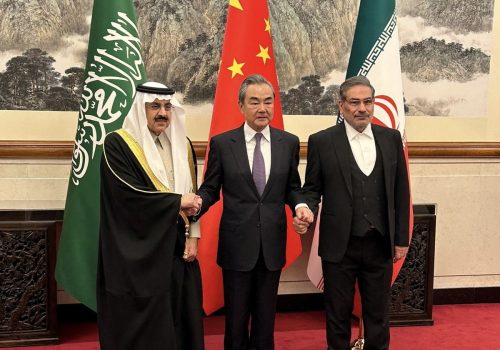 Fri, Mar 10, 2023
New Atlanticist By Atlantic Council experts
Long-standing regional adversaries just made a big announcement: They will reestablish diplomatic relations in a deal brokered by China. Atlantic Council experts share their insights on the announcement.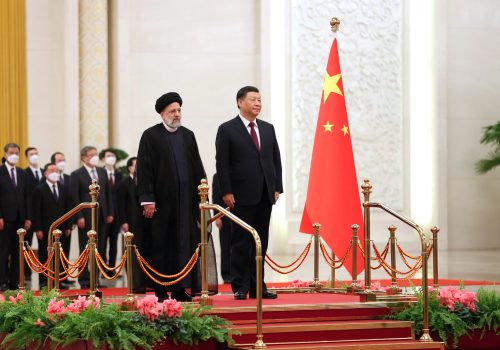 Sun, Feb 19, 2023
New Atlanticist By Atlantic Council experts
While much of the world is focused on Chinese balloons violating US airspace, Iranian President Ebrahim Raisi recently flew to Beijing to meet with Chinese leader Xi Jinping.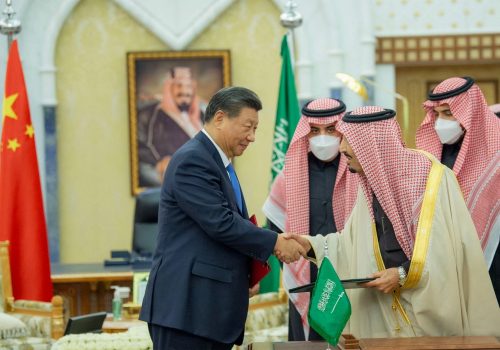 Thu, Dec 15, 2022
MENASource By Jonathan Fulton
Given the bad state of US-Saudi relations, it is natural to see Xi's visit in the context of geopolitical competition between Washington and Beijing, but that framework misses the bigger picture.