Civil society in Belarus changed dramatically in 2020. Civic groups mobilized to provide crucial public health education and personal protective equipment for their fellow citizens when the state refused to take the coronavirus crisis seriously. Belarusian dictator Alyaksandr Lukashenka's inaction destroyed his reputation. A few months later, apolitical engineers, fashion designers, and entrepreneurs joined a democratic movement to oust the discredited president after he declared himself the victor of the manipulated August 2020 presidential election. Belarus's middle class built crowdsourcing platforms, organized, marched, and continued to show up week after week. When Lukashenka's regime cracked down violently on protestors, civil society worked tirelessly to document the state's brutality and free political prisoners.
As a result of its rapid growth and significant success over the past year, civic groups in Belarus face different challenges in 2021. How can civic organizations and grassroots activists maintain momentum in the coming year? What can Western actors do to best support civil society in Belarus?
George Kent, deputy assistant secretary at the Bureau of European and Eurasian Affairs at the US Department of State, provides opening remarks. Sofya Orlosky, senior program manager of Eurasia programs at Freedom House, Franak Viačorka, nonresident fellow at the Atlantic Council's Eurasia Center, and Andrei Yahorau, senior analyst with the Center for European Transformation, join to discuss the rise of civil society in Belarus. Melinda Haring, deputy director of the Atlantic Council's Eurasia Center, moderates.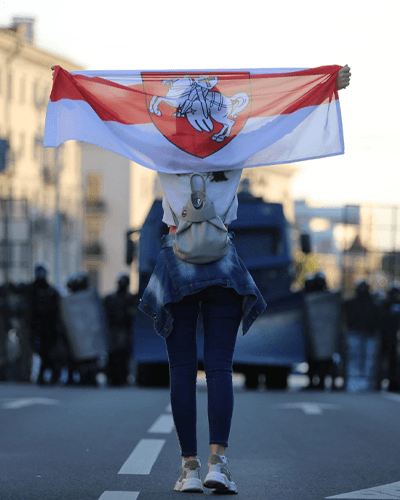 Belarus
Belarus' August 2020 presidential election saw widespread protests and serious fraud allegations as President Lukashenka claimed victory against popular opposition candidate Sviatlana Tsikhanouskaya. Following a brutal crackdown against protestors by security forces, will Belarus begin its transition to democracy, or will Belarusians face further repression as Lukashenka's rule falters?


The Eurasia Center's mission is to enhance transatlantic cooperation in promoting stability, democratic values and prosperity in Eurasia, from Eastern Europe and Turkey in the West to the Caucasus, Russia and Central Asia in the East.
Follow us on social media
and support our work