As the global community continues to grapple with the coronavirus (COVID-19), the Atlantic Council is open for business. Our business, meetings, and events, however, are occurring virtually. For more information, please read an update from our President and CEO.
Following eight months of protests after Belarusian dictator Alyaksandr Lukashenka's self-proclaimed electoral win, the democratic movement there is seeing dwindling numbers of people willing to face arrest and government harassment. Cultural figures are more resolved than ever to use their influence to help keep the movement alive. Artists, singers, and cultural advocates seek to inspire Belarusians to continue their fight. Cultural symbols were important during the Cold War and are vital now. They can inspire and sustain a long and unpredictable democratic revolution and should not be underestimated.
2021 will be a pivotal year for Belarus. What are the important symbols that resonate most with Belarusians across the country? What can Western actors do to elevate the most impactful cultural voices?
Joining the Eurasia Center for a discussion of the flowering of creative resistance across Belarus are Karima Bennoune, the United Nations special rapporteur in the field of cultural rights, Natalia Kaliada, co-founding artistic director and CEO of the Belarus Free Theater, Ilya Silchukov, a Belarusian operatic baritone, and Svetlana Sugako, singer and manager of the Belarus Free Theater and a prominent LGBTI activist. Melinda Haring, deputy director of the Atlantic Council's Eurasia Center, moderates.
This event will not feature an in-person audience. You will be able to join via desktop or mobile app, through your web browser, or by phone. To join the question and answer period, you must join by app or web.

Register below for details on joining the virtual audience.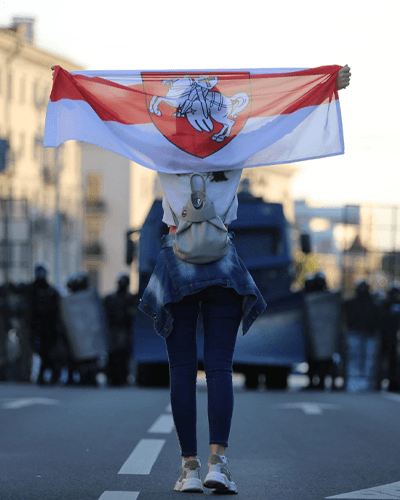 Can democracy win?
Belarus
Belarus' August 2020 presidential election saw widespread protests and serious fraud allegations as President Lukashenka claimed victory against popular opposition candidate Sviatlana Tsikhanouskaya. Following a brutal crackdown against protestors by security forces, will Belarus begin its transition to democracy, or will Belarusians face further repression as Lukashenka's rule falters?

Wed, Apr 7, 2021
Ukraine has ruled out a return to peace talks in Minsk due to growing Russian influence over Belarus as the Kremlin capitalizes on the international isolation of Belarusian dictator Alyaksandr Lukashenka.
Read More

Wed, Apr 7, 2021
As the Russification of the Belarusian state unfolds, a very different dynamic is developing in Belarusian civil society: ordinary Belarusians are distancing themselves from Russia and embracing the West.
UkraineAlert by Brian Whitmore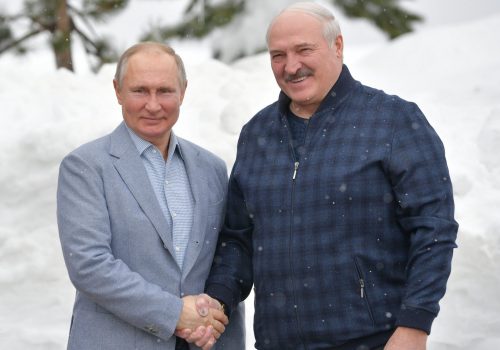 Wed, Mar 31, 2021
Russia is slowly but steadily achieving the "soft annexation" of Belarus via a series of political, economic, and military measures that will assure the Kremlin of dominance over its small western neighbor.
UkraineAlert by Brian Whitmore