As Ukraine and its partners try to find a peaceful resolution to the conflict in Donbas, the dynamics and realities of the conflict, and any future settlement, are often shifting. The coronavirus pandemic, related economic crisis, and sharp decline in world hydrocarbon prices are not only affecting relations between the West and Russia, but also Ukraine and the conflict in Donbas. How are current events shaping the path to peace? More importantly, how can Ukraine and its partners work together to secure a lasting solution to the conflict in Donbas?
The Kyiv Security Forum and Atlantic Council's Eurasia Center bring together Arseniy Yatsenyuk, former prime minster of Ukraine and founder of the Open Ukraine Foundation; Ambassador John Herbst, director of the Atlantic Council's Eurasia Center; Ambassador Steven Pifer, William J. Perry Fellow at Stanford University's Freeman Spogli Institute for International Studies and nonresident senior fellow at the Brookings Institution; Ambassador William Taylor, vice president at the United States Institute of Peace; and Ambassador Kurt Volker, former US Special Representative for Ukraine Negotiations, to discuss the risks and challenges facing peace in the Donbas. Danylo Lubkivsky, former deputy foreign minister of Ukraine, former foreign policy advisor to the prime minister of Ukraine, and member of the board at the Open Ukraine Foundation, will moderate the discussion.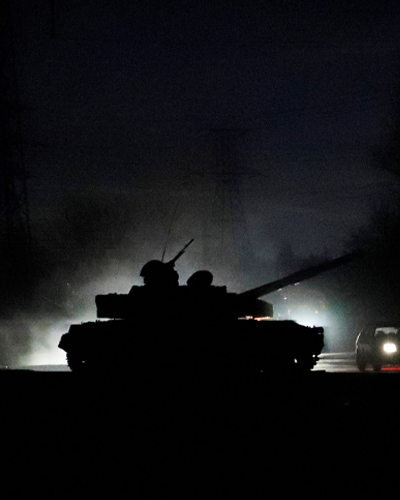 Europe in crisis
War in Ukraine
In February 2022, Moscow launched an all-out invasion of Ukraine after a months-long military build-up, threatening the country's sovereignty and its future. This existential moment for the country follows the 2014 Maidan revolution, a nexus for Ukraine's Europe-focused foreign policy and reform efforts. The ensuing Russian invasion and occupation of Crimea, aggression in Ukraine's east, and Kremlin disinformation efforts, cast a shadow over Ukraine's independence.
Co-hosted in partnership with


The Eurasia Center's mission is to enhance transatlantic cooperation in promoting policies that strengthen stability, democratic values, and prosperity in Eurasia, from Eastern Europe in the West to the Caucasus, Russia, and Central Asia in the East.