Russia and Saudi Arabia's alliance to prop-up global oil prices have collapsed into an all-out energy war. With increasing uncertainty about how much the novel coronavirus will impact the global economy, Russia's decision to walk away from OPEC+ meetings two weeks ago—a decision reportedly driven by longtime Putin ally and Rosneft CEO Igor Sechin—and a surge in oil production by Saudi Aramco, oil prices have reached record lows.
Now, with OPEC+ in tatters, Moscow determined to punish US shale producers, Riyadh insistent on reminding the world of its market-shaping power, and oil producers around the world scrambling to sustain their oil revenues, yesterday's realities are rapidly changing as battle lines are drawn amid a pandemic.
Dr. Anders Åslund, Senior Fellow, Eurasia Center, Atlantic Council; Randolph Bell, Director, Global Energy Center, Atlantic Council; and Kirsten Fontenrose, Director, Scowcroft Middle East Security Initiative, Atlantic Council, discuss what is next for Russia and the Middle East as well as the dispute's effects on global markets and international relations—particularly as governments are rocked by the ongoing global pandemic, with Ambassador John Herbst, Director, Eurasia Center, Atlantic Council, moderating the discussion.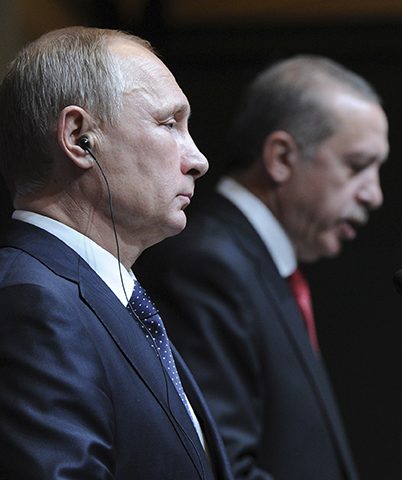 Putin, the Gulf, & more
Russia & the Middle East
Russia has long sought a strategic advantage in the Middle East and the Kremlin has become increasingly embroiled in regional security and political issues. From military intervention in Syria and tensions with Turkey to an oil price war with Saudi Arabia and support for Iran, Russia's growing presence in the region poses issues for its long-term stability.