Russian President Vladimir Putin's war in Ukraine is not only affecting the lives of millions of Ukrainians, but is having wide-reaching effects across Europe. Energy in particular has emerged as a major issue in Moscow's war, which has led to a precipitous jump in oil and gas prices across the globe. In the West, there are growing calls to cut off purchases of Russian hydrocarbons to put more pressure on Putin through Russia's economy. While the United States has already agreed to cut Russian hydrocarbon purchases, other countries have yet to follow this step.
Will the rest of the West follow the United States in banning Russian hydrocarbon imports? How can Europe replace Russian energy on short notice? What does Ukraine's energy security look like, both in the near and long-term, now that Russian forces have claimed control over key power plants in the country?
Ambassador John Herbst, senior director of the Atlantic Council's Eurasia Center, moderates a conversation with Robin Dunnigan, deputy assistant secretary with the Bureau of European and Eurasian Affairs at the US Department of State, Maxim Timchenko, chief executive officer of DTEK, Yuriy Vitrenko, chief executive officer of Naftogaz, Dr. Paul Sullivan, nonresident senior fellow at the Atlantic Council's Global Energy Center, and Debra Cagan, distinguished energy fellow at the Transatlantic Leadership Network, on the pressing energy security concerns, including Ukraine's energy security.
---
This event will not feature an in-person audience. You will be able to join via desktop or mobile app, through your web browser, or by phone. To join the question and answer period, you must join by app or web.

Register below for details on joining the virtual audience.
---
Follow us on social media
and support our work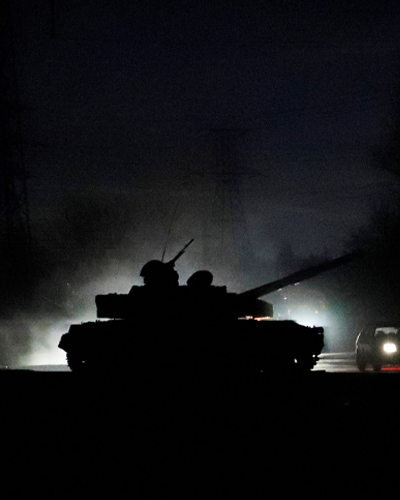 Europe in crisis
War in Ukraine
In February 2022, Moscow launched an all-out invasion of Ukraine after a months-long military build-up, threatening the country's sovereignty and its future. This existential moment for the country follows the 2014 Maidan revolution, a nexus for Ukraine's Europe-focused foreign policy and reform efforts. The ensuing Russian invasion and occupation of Crimea, aggression in Ukraine's east, and Kremlin disinformation efforts, cast a shadow over Ukraine's independence.