As the global community continues to grapple with the coronavirus (COVID-19), the Atlantic Council is open for business. Our business, meetings, and events, however, are occurring virtually. For more information, please read an update from our President and CEO.
Energy systems around the world are at an inflection point. Rapidly increasing electrification, coupled with a far-reaching consensus to address climate change, demands a transformation of power systems globally. The COVID-19 crisis has highlighted the crucial need for a reliable, resilient electricity system during a pandemic. But it also has emphasized the need for processes and procedures that insulate key electricity system assets from the crisis so that they can continue provding their crucial services.
What lessons can we draw from continued progress on the Barakah Nuclear Energy Plant during a crisis? What will the Barakah plant mean for the United Arab Emirates' (UAE) ability to manage future crises? And how should we rethink power systems so as to lower their carbon footprint while also delivering resilient operations during times of need?
Event recap
On Wednesday, May 6, H.E. Mohamed Al Hammadi, chief executive officer of the Emirates Nuclear Energy Corporation (ENEC), joined Atlantic Council president and CEO Fred Kempe for a virtual fireside chat on the UAE's progress at the Barakah Nuclear Energy Plant and the government's broader efforts to diversify and build resilience into the country's power system.
To begin, Al Hammadi discussed the history and progression of the Emirati nuclear energy program. In 2007, the UAE commissioned a comprehensive review of different energy sources in order to determine the country's future energy mix and reduce reliance on hydrocarbons. Study results prompted state leaders to further develop national renewable energy capacity (through the creation of Masdar) and publish a 2008 white paper outlining the development of a nuclear energy program committed to the highest safety, security, and nonproliferation standards.
Since publication of the white paper, the UAE has completed one of four planned units at the Barakah Nuclear Energy Plant in Al Ruwais and is currently testing the remaining three. Al Hammadi noted that once all four reactors are fully operational, they will generate approximately 25 percent of the UAE's electricity, reduce carbon emissions by about 21 million tons per year (or the equivalent of removing 3.2 million cars from the road), and create thousands of jobs in the public and private sector while developing new supply chains outside of oil and gas.
In response to the COVID-19 crisis, the UAE has made safety, security, and protection of its workers a top priority. While over six hundred people are working on-site to get the first unit online in the next several weeks and grid-ready by the end of the year, non-essential workers have been told to work from home. Each day, ENEC management conducts daily observations and testing, and enforces social distancing measures. So far, there have been no reported cases of COVID-19 at the site.
In discussing the effects of COVID-19 on the nuclear supply chain and the power system more broadly, Al Hammadi expressed confidence in global grid resilience and the UAE's ability to easily replicate the success of Barakah's first unit. He reiterated the UAE's commitment to diversifying and decarbonizing its energy portfolio and highlighted the country's recently announced 1.5 gigawatt tender for the world's lowest solar bid at $0.0135 per kilowatt hour. According to Al Hammadi, nuclear energy is particularly vital to the UAE's energy portfolio because of its high power density—some 325,000 watts per kilogram (kg). To underscore nuclear energy's added value, he followed on with comparisons to other energy source power densities: oil (14,000 watts/kg); solar photovoltaic (120-200 watts/kg); and forms of storage including hydrogen (39,000 watts/kg) and batteries (250 watts/kg).
Al Hammadi concluded the virtual fireside chat by outlining potential future developments in the UAE energy sector, including plans to export electricity to Gulf Cooperation Council countries, further diversify the country's energy portfolio, and collaborate with international companies and organizations to inform best practices for nuclear safety, security, and nonproliferation.
Featuring
H.E. Mohamed Al Hammadi, Chief Executive Officer, Emirates Nuclear Energy Corporation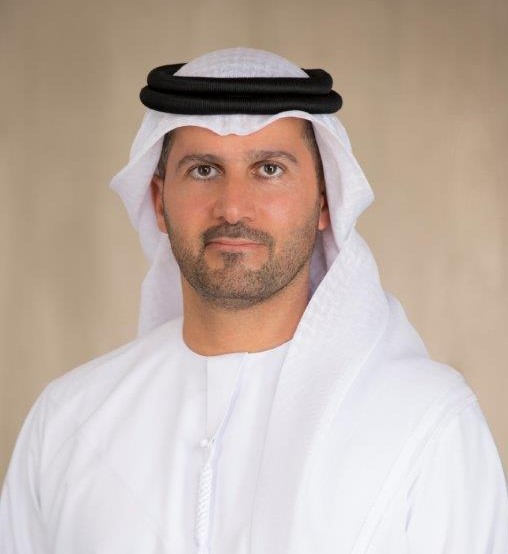 H.E. Mohamed Al Hammadi is the chief executive officer of the Emirates Nuclear Energy Corporation (ENEC). His responsibilities include directing the deployment of nuclear energy plants in the United Arab Emirates (UAE) and developing plans for a peaceful nuclear energy program and non-regulatory infrastructure. He brings to ENEC a strong background in municipal power and utility projects, including management, construction, finance, and administration. Al Hammadi joined the ENEC after serving as general manager of the Federal Electricity and Water Authority (FEWA), where he led a wide-ranging restructuring of the organization that created a more customer-service oriented utility. He also served in a senior position with Mubadala Development Company, where he was involved with project finance and business development projects involving independent water and power producers. He is a member of the Board of Directors of the Advanced Technology Investment Company, the corporation formed to make investments in the advanced technology sector, both locally and internationally. Al Hammadi served for more than five years as project division manager for the Abu Dhabi Distribution Company (ADDC), where he was responsible for managing major power, water, and civil projects. He also worked as a project engineer with the Abu Dhabi Water and Electricity Authority (ADWEA), where he played important roles in the completion of various power distribution projects that improved the delivery of electricity to wide areas of the Emirate of Abu Dhabi. He earned his BSc in electrical engineering and his MSc in engineering management from the Florida Institute of Technology.
Moderated by
See all virtual fireside chats
Related content
Learn more about the Global Energy Center