Over the past three weeks, Ukraine's three-month counteroffensive breached the first of Russia's defensive lines in the south, took the town of Robotyne, and made progress on the road to Tokmak, a key town in the direction of Melitopol. If Ukrainian forces can approach or go around Tokmak, they will be able to place under artillery fire the railroad on which Moscow relies to send military supplies to its troops in southern Ukraine including Crimea.
The evident, but still limited gains Ukraine has made in the south and around Bakhmut, where its columns are moving east both north and south of the city, have been notable in light of the fact that it has not received from the West the more advanced weapons on which our armed forces depend to conduct offensive operations. F-16s have now been promised, but only recently was permission granted to start training Ukrainian pilots, and the planes will only arrive next summer. And no decision has been taken to send Ukraine the longer-range missiles such as ATACMS.
Ukrainians remain resolute and popular support for the war effort remains high. In Russia, however, domestic stability has been called into question, as Wagner troops conducted their ill-fated mutiny and march toward Moscow in June. The long-term implications of those events and of the subsequent death of Wagner leader Yevgeniy Prigozhin on the effectiveness of Russian forces remain uncertain.
What is the current state of play on the battlefield? What does Ukraine need to do to take advantage of its gains? What can the West do to help Ukraine maintain its momentum through the rest of the year? What can observers expect next?
The Atlantic Council's Eurasia Center gathers an expert panel to discuss these questions and more.
Speakers
Debra Cagan
Senior Advisor, Eurasia Center
Atlantic Council
Amb. John Herbst
Senior Director, Eurasia Center
Atlantic Council
Minister Andriy Zagorodnyuk
Former Minister of Defense of Ukraine;
Distinguished Fellow, Eurasia Center
Atlantic Council
Moderator
---
This event will not feature an in-person audience. You will be able to join via desktop or mobile app, through your web browser, or by phone. To join the question and answer period, you must join by app or web.

Register above for details on joining the virtual audience.
---
Follow us on social media
and support our work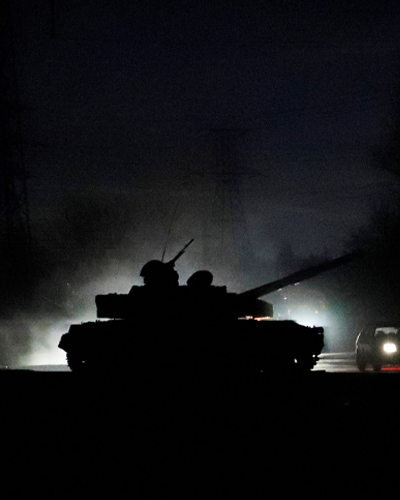 Europe in crisis
War in Ukraine
In February 2022, Moscow launched an all-out invasion of Ukraine after a months-long military build-up, threatening the country's sovereignty and its future. This existential moment for the country follows the 2014 Maidan revolution, a nexus for Ukraine's Europe-focused foreign policy and reform efforts. The ensuing Russian invasion and occupation of Crimea, aggression in Ukraine's east, and Kremlin disinformation efforts, cast a shadow over Ukraine's independence.


The Eurasia Center's mission is to enhance transatlantic cooperation in promoting policies that strengthen stability, democratic values, and prosperity in Eurasia, from Eastern Europe in the West to the Caucasus, Russia, and Central Asia in the East.