The temperature is rising, the fever white hot: The Grand Ethiopian Renaissance Dam as flashpoint between Egypt and Ethiopia
In-Depth Research & Reports by Christopher D. Booth
Once considered unlikely by regional experts, military confrontation along the Nile is a growing possibility, as a diplomatic solution to the Egyptian-Sudanese-Ethiopian stand-off recedes. Outside observers may not understand why Egypt considers the Grand Ethiopian Renaissance Dam (GERD) an "existential threat" to its existence, but, regardless, Egyptian President Abdel Fattah el-Sisi and his advisors see it as such.

A new Atlantic Council issue brief, "The Temperature is Rising, the Fever White Hot: The Grand Ethiopian Renaissance Dam as Flashpoint between Egypt and Ethiopia," authored by Christopher D. Booth, describes the relationship between water scarcity and government stability in Egypt. The current Egyptian government is aware of the the role that water scarcity may have played in the 2011 Egyptian Revolution that overthrew Hosni Mubarak, and of the continuing threat that water issues pose nearly ten years later, particularly in light of Egypt's political and economic challenges.
Booth warns that, given the inconclusive diplomacy of the West regarding the threat the GERD poses to Egypt, the Egyptian regime may determine that it has no other choice but to take up arms against its "oppressors" and roll the dice in an attack against the dam.
Related content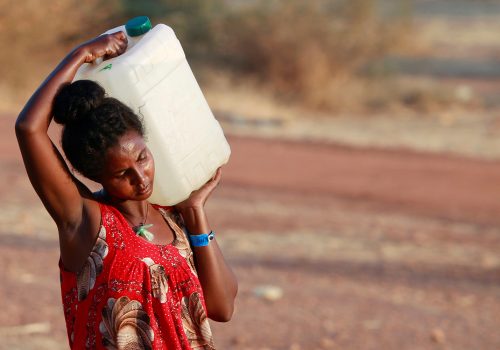 Fri, Nov 20, 2020
A fast-developing crisis in Ethiopia has the crucial US ally edging closer to all-out war, just two years after Prime Minister Abiy Ahmed took office promising democratic reforms and a year after he won the Nobel Peace Prize. So what happened? Today we're turning to Cameron Hudson, an expert on the region and former US diplomat and intelligence officer, for a look behind the headlines.
Fast Thinking by Atlantic Council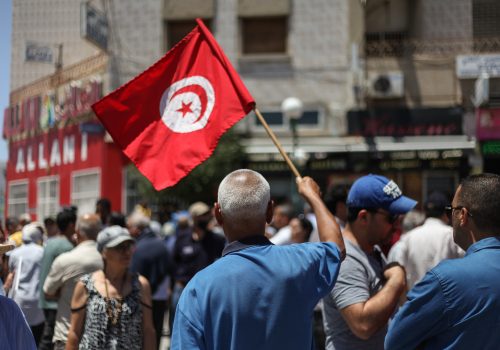 Tue, Sep 29, 2020
This report draws on case studies of Libya, Tunisia, Egypt, Algeria, and migration to the EU to illuminate the key challenges faced in the Mediterranean community, and warns of the undesirable outcomes ahead if international inaction toward the region persists.
Issue Brief by Karim Mezran, Emily Burchfield, Paolo Alli, Emadeddin Badi, Haykel Ben Mahfoudh, Alessia Melcangi

Fri, Jul 10, 2020
Competition for the Nile Basin's freshwater has been growing markedly for three decades. In 2011, it intensified after Ethiopia started building the Grand Ethiopian Renaissance Dam (GERD).
MENASource by Amal Kandeel
Sign up to recieve our newsletter
Sign up for the MENASource newsletter, highlighting pieces that follow democratic transitions and economic changes throughout the region.