Subscribe to the newsletter
See the latest editions of the newsletter

Thu, Oct 22, 2020
UN Secretary General Antonio Guterres said the world is failing to confront the global challenge presented by COVID-19. Guterres added that if coordinated measures are not taken, the virus could push millions into poverty and hunger.
Aviso LatAm: COVID-19
More from AALAC on COVID-19 in Latin America
Blogs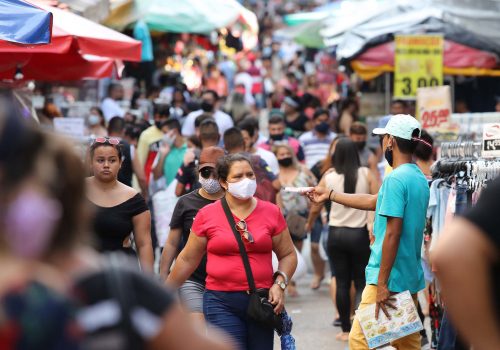 Wed, Oct 28, 2020
Given its proximity to the United States, an economically vibrant and healthy Latin America is in the interest of the next US administration. Now, more than ever, it is important for the United States to lean in on Latin America as a strategic partner and continue growing its existing economic, social, and political ties for mutual benefit.
Elections 2020 by Adrienne Arsht Latin America Center
Tue, Oct 6, 2020
On September 29, the Adrienne Arsht Latin America Center hosted an event to discuss Central America's economic reactivation in the context of COVID-19 and how countries can take advantage of the demographic bonus of a large working-age population, attract nearshoring opportunities, and renew momentum towards regional integration.
Event Recaps
Mon, Sep 28, 2020
By: María Eugenia Brizuela de Ávila, Laura Chinchilla Miranda, María Fernanda Bozmoski, and Domingo Sadurní Contributing authors: Enrique Bolaños and Salvador Paiz Foreword As the coronavirus pandemic rages on, countries around the world face an unprecedented test: concurrent public health and economic crises coupled with the resulting political and social reverberations. In Central America, the […]
Issue Brief by María Eugenia Brizuela de Ávila, Laura Chinchilla Miranda, María Fernanda Bozmoski, and Domingo Sadurní