Tue, Jun 16, 2020
On June 15, 2020, the Atlantic Council Northern Europe Office in cooperation with the Konrad-Adenauer-Stiftung (KAS) Nordic Office, organized a seminar on the topic of "European Leadership and the Corona Crisis: Geopolitical Effects on Northern Europe". The public seminar was attended by experts from all around Europe, representing parliaments, governmental institutions, political parties, think-tanks and […]
Event Recap
Event recaps

Tue, Jun 16, 2020
On June 15, 2020, the Atlantic Council Northern Europe Office in cooperation with the Konrad-Adenauer-Stiftung (KAS) Nordic Office, organized a seminar on the topic of "European Leadership and the Corona Crisis: Geopolitical Effects on Northern Europe". The public seminar was attended by experts from all around Europe, representing parliaments, governmental institutions, political parties, think-tanks and […]
Event Recap

Fri, May 29, 2020
The Atlantic Council's Northern Europe office convened a seminar on lessons learned from the early phases of the pandemic for European and transatlantic leadership.
Event Recap by Elin Schiffer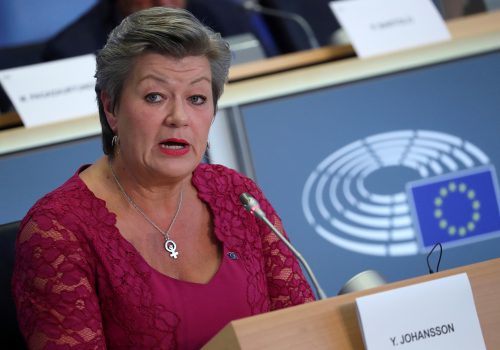 Wed, Apr 8, 2020
"The European Commission has acted faster and stronger than anyone expected," on coronavirus, according to European Commissioner for Home Affairs Ylva Johansson.
Event Recap by Paul Cormarie
Fri, Dec 6, 2019
On Tuesday, November 19, the Atlantic Council's Transatlantic Digital Marketplace Initiative organized a running of its Digital Policy simulation in Paris. This was co-organized with the Institut Montaigne, and hosted at Linedata Services. Institut Montaigne recruited about 20 players, a mix of tech and cybersecurity experts and national security analysts. On Thursday, November 21, the […]
Event Recap
Fri, Oct 18, 2019
On October 18, 2019, the Atlantic Council's Global Business & Economics Program and Future Europe Initiative hosted a roundtable conversation with Roland Lescure, Chair of the Economic Affairs Committee in the French parliament and representative for the French living in North America. The discussion focused on the transatlantic economic relationship and future growth prospects for […]
Event Recaps by Global Business & Economics Program

Tue, Oct 8, 2019
On September 20, 2019, the Atlantic Council Northern Europe organized a seminar highlighting the launch of a new issue brief titled 'Securing Northern Europe: Toward A Comprehensive Approach'. Director for Northern Europe Anna Wieslander and Project Assistant Elin Schiffer presented the report for an audience consisting of invited members of parliament, civil servants, foreign diplomats […]
Event Recap

Thu, Mar 28, 2019
The seminar brought together journalists, academic experts, civil society and representatives of government and organizations to discuss the challenge presented by disinformation and different ways to improve resilience ahead of a string of elections in Europe during 2019.
Event Recap by Atlantic Council

Tue, Feb 19, 2019
On February 19, 2019, the Atlantic Council in cooperation with the Embassy of Sweden in Vilnius organized a seminar on the threats of disinformation in electoral contexts. Information influence campaigns presenting challenges or threats to public elections are an increasing concern in Sweden, Lithuania and the rest of the EU. Sweden and Lithuania, both being […]
Event Recap by Elin Schiffer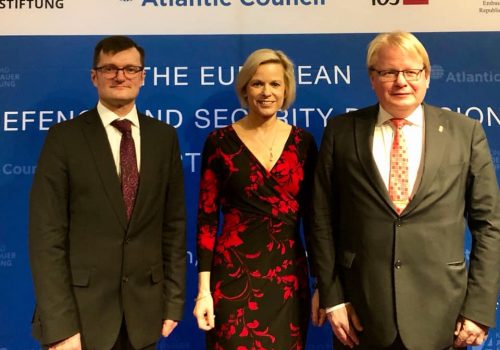 Tue, Dec 11, 2018
On December 11, 2018, the Atlantic Council Northern Europe Office and the Konrad-Adenauer-Stiftung, in collaboration with the Latvian Embassy in Sweden, organized a high-level, public international conference on 'The European Defence and Security Dimension in Northern Europe'. The conference brought together policy experts, academic researchers, representatives of government and organizations and media from a significant […]
Event Recap by Elin Schiffer

Thu, Dec 6, 2018
On December 6 the Atlantic Council Northern Europe Office, in cooperation with the Embassy of the Republic of Poland in Stockholm, organized a seminar titled "NATO at 70: How to Navigate in A Turbulent World". The seminar was attended by experts representing both Swedish governmental institutions, the Stockholm diplomatic corps, and think-tanks. The closed half-day […]
Event Recap by Elin Schiffer