The Wagner rebellion is over—for now. But how will the events reverberate in the Middle East and North Africa?
The June 23-24 rebellion led by Wagner Group leader Yevgeny Prigozhin—aimed, he claimed, at replacing the Russian Defense Minister Sergei Shoigu and Chief of the General Staff Valery Gerasimov (not Russian President Vladimir Putin)—has ended. However, reverberations from it are likely to continue being felt beyond Russia, such as in the Middle East and North Africa (MENA), as well as other regions where Wagner forces have been active.
It is still unclear whether the Russian Ministry of Defense (MOD) will succeed in asserting its authority over Wagner mercenary forces in Ukraine, or whether they will remain loyal to Prigozhin. There may be even greater uncertainty concerning the Wagner forces operating in MENA. Moscow can presumably bring Russian military and state security forces to bear against Wagner's Prigozhin loyalists in the Ukraine theater. In the Middle East and North Africa, though, this may not be possible.
Both regular Russian armed forces—primarily naval and air—as well as Wagner troops have been present in Syria since Moscow first sent troops there in 2015. Wagner forces were also deployed to Libya in 2018 and to several other African countries, including the Central African Republic, Mali, Sudan, and Burkina Faso, in the years since then.
Forcefully asserting Russian MOD control over Wagner forces operating in Syria and the rest of the Middle East might prove difficult if the latter decide to resist. Furthermore, asserting such control in Libya and elsewhere in Africa, where the Wagner presence is much greater than any regular Russian military presence, might be impossible.
Wagner forces in these areas have many incentives to be uncooperative. Those in the Middle East and Africa might be especially resistant in order to protect the income they generate from "protecting" governments and warlords. Wagner mercenaries in both the Middle East and Africa also fear redeployment to Ukraine, where, in May, Prigozhin claimed that twenty thousand Wagner fighters died in the 2023 battle over Bakhmut alone.
Sign up for the MENASource newsletter, highlighting pieces that follow democratic transitions and economic changes throughout the region.
Syrian dictator Bashar al-Assad might be sympathetic to any effort by Russian President Putin to assert control over the Wagner forces stationed in his country. Centralized dictatorial control is, after all, a principle he seeks to apply in his own country. Assad, though, will not want to see a conflict between regular Russian armed forces and Wagner forces, as this could encourage Assad's many opponents to revive their opposition to his regime. Perhaps he will try to imitate Belarusian leader Aleksandr Lukashenko by attempting to mediate between rival Russian forces.
By contrast, General Khalifa Haftar in Libya and Mohamed Hamdan Dagalo—also known as Hemedti—in Sudan are much more reliant on support from Wagner. In April, CNN revealed that Wagner has been arming Hemedti's Rapid Support Forces in its war against Sudan's military leader, General Abdel Fattah al-Burhan, with whom Moscow maintains good relations, through Haftar-controlled territory in neighboring Libya. Anything that weakens or diminishes Wagner's ability to support Haftar and Hemedti would be most unwelcome, especially since they have no assurance that the Russian MOD will pick up where Wagner forces left off. Of course, since the Wagner Group may not be dependent on financing from Moscow in many places—due to local sources of income, such as some degree of control over natural resources—Wagner-protected governments or opposition leaders controlling parts of countries may be able to continue collaborating with local Wagner bosses without involving a Moscow that is distracted by issues closer to home.
Nevertheless, it must be noted that the recent Wagner crisis affects not just those Middle Eastern countries with a Wagner presence, but all Middle Eastern countries cooperating with Russia—which is basically all Middle Eastern governments. To begin with, the rebellion of security forces whom Putin had strongly relied upon is not something that the Middle East's many authoritarian leaders want to see repeated in their own countries. Additionally, for all those Middle Eastern governments that came to see Russia as an effective security partner—partly based on Russia's successful intervention in Syria compared to America's unsuccessful ones in Iraq and Afghanistan—the Wagner rebellion raises questions about Putin's capability to act outside of Russia, as internal matters are necessarily his immediate focus.
For some, of course, this might offer opportunities. Turkey, for example, might take this as a chance to exercise greater freedom in places where Russia and Turkey have backed opposing sides (e.g. Syria, Libya, and the Armenia–Azerbaijan territorial conflict over Nagorno-Karabakh).
Iran might see the possibility of declining Russian focus on Syria as more than just an opportunity to increase its activity in Syria. Tehran may even regard it as necessary to do so out of fear that the Assad regime might start to unravel otherwise. Increased Iranian activity there would heighten Israel's already strong concerns about Iranian activity in Syria and could lead to a clash between them.
Elsewhere, Putin's focus on internal affairs and the war in Ukraine may accelerate the trend among Middle Eastern governments—including those in the oil-rich Gulf—of viewing China, and not Russia, as a counterbalance to the United States.
Perhaps more than anything else, the Wagner rebellion will force Middle Eastern governments to lower their expectations about what Putin's Russia can do for them, and adjust their foreign policies accordingly.
Mark N. Katz is a professor of government and politics at the George Mason University Schar School of Policy and Government and a nonresident senior fellow at the Atlantic Council.
Further reading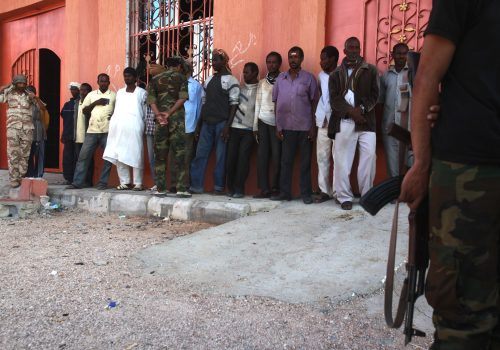 Fri, May 21, 2021
MENASource By Alia Brahimi
One of the darker realities of the war in Libya is that the conflict (now in its eleventh year) is powered by layers of actors from outside the contested territory. Libyans have been killed and their country ravaged by foreign soldiers of fortune.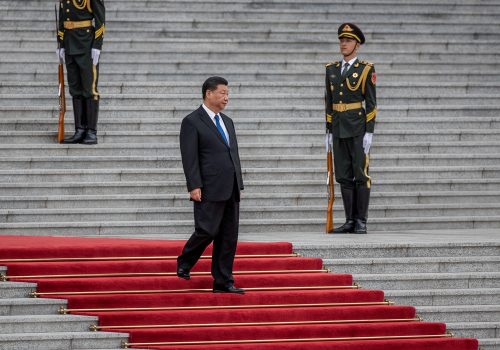 Wed, Feb 23, 2022
MENASource By Ahmed Aboudouh
It's on major Western democracies to make democracy appealing again by aggressively filling the gaps China and Russia exploit to make the world more accommodating to their political models and the new trend of rising authoritarianism.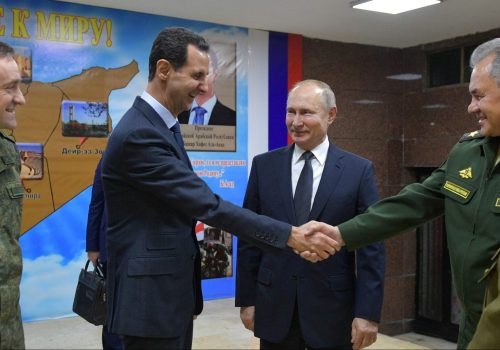 Tue, May 12, 2020
MENASource By Mark N. Katz
Russian articles criticizing the Assad regime do not presage a Kremlin effort to replace him, but are, instead, a concerted Russian effort to get the Assad regime to change its ways.