Bernardo Arévalo's path to Guatemala's presidency seemed like a long shot. Throughout the campaign, the odds were against him and there were moments when it looked like his effort would fail. And even now, after his landslide victory in the August 20 presidential runoff election, Arévalo's opponent and the Guatemalan political establishment are contesting the results. Yet as improbable as it was, his victory marks a major change in Guatemala's politics and sets up the possibility of a new era in the relationship between the United States and Central America's most populous nation and its largest economy.
In the wake of the June 25 first-round election marked by high abstention rates and voter discontent, Arévalo emerged as the second-place candidate, setting the stage for an eagerly anticipated August 20 runoff. This contest was far from ordinary—an attempt (and brief success) in July to suspend the Semilla Movement, the political entity behind Arévalo, created a legal limbo and heightened tensions in the country. Arévalo's resounding victory in the runoff on Sunday, securing 58 percent of the vote against Sandra Torres's 37 percent, is not just a triumph for the recently formed Semilla Movement but also a seismic shift in Guatemalan politics. Although his opponent has yet to acknowledge the results, Arévalo's win is the first instance in more than a decade that a left-of-center candidate will have claimed victory in a Guatemalan presidential election—signaling a reconfiguration of the country's political landscape. 
The Biden administration and the US Congress should view Arévalo's leadership as an opportunity to reinvigorate the US-Guatemala relationship.
The existing relationship between the United States and Guatemala has been marked by cooperation on various fronts, including migration, trade, and security. Nevertheless, sporadic tensions have at times punctuated this relationship. During the early stages of the COVID-19 pandemic, President Alejandro Giammattei criticized the United States for a perceived lack of assistance. Furthermore, Giammattei's refusal to attend the 2022 Summit of the Americas in response to Washington's disapproval of the reappointment of sanctioned Attorney General Consuelo Porras for another term, illustrates the complex nature of the relationship.
Nevertheless, Arévalo's ascendancy promises a fresh chapter in US-Guatemala relations. Arévalo has displayed a keen interest in strengthening ties with the United States, recognizing the economic significance of the relationship and its potential for fostering investment and trade. He has also expressed a desire to collaborate with the United States on addressing the needs of the Guatemalan diaspora, potentially leading to enhanced cooperation on migration-related issues. Domestically, Arévalo's ambitions span beyond economic and migration concerns, reflecting a comprehensive approach including physical infrastructure, healthcare, and education, with the goal of presenting viable alternatives to emigration.
The Biden administration and the US Congress should view Arévalo's leadership as an opportunity to reinvigorate the US-Guatemala relationship. Almost six in ten Guatemalan voters turned out for Arévalo in the second round, and the private sector has also voiced its support and willingness to work with the new president-elect. A willing and reliable partner in the region, Guatemala under Arévalo could anchor a revamped Central America strategy. This strategy could extend beyond a traditionally confrontational-all-or-nothing approach to corruption and migration. Instead, it could incorporate comprehensive economic development initiatives and strengthened bilateral ties in areas of education, technology, and human capital. However, the window of opportunity is limited, as internal governance challenges and opposition efforts could impede progress. Arévalo's mandate will require robust international backing to overcome these hurdles and solidify a transformative partnership with the United States.
Arévalo's victory marks a new path for Guatemala and invites deeper US engagement, benefitting both nations and the broader region. The coming months are crucial to shape not only bilateral relations but also regional dynamics. As Guatemala ushers in this new era, the international community, led by the United States, has a vital role to play in supporting Arevalo's vision for a progressive and forward-looking Guatemala. 
---
María Fernanda Bozmoski is a deputy director with the Atlantic Council's Adrienne Arsht Latin America Center.
Eva Lardizábal is an assistant director at the Atlantic Council's Adrienne Arsht Latin America Center.
Further reading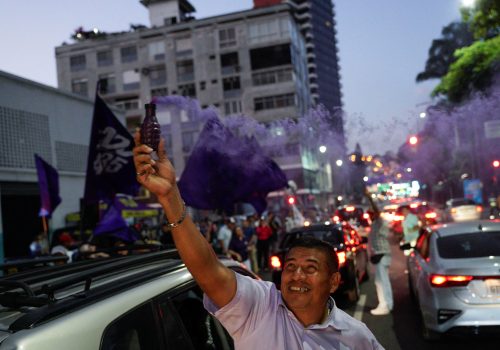 Tue, Aug 22, 2023
New Atlanticist By Isabel Chiriboga, Diego Area
Luisa Gonzalez and Daniel Noboa will now go head-to-head in a runoff election on October 15 to determine the next leader of the Andean nation.
Fri, Aug 11, 2023
Issue Brief By Geoff Ramsey, Ignacia Ulloa Peters
Venezuela's crisis has generated a large and complex global emergency. Recent negotiations have resulted in agreements between the Maduro regime and the opposition, including a $3.2 billion Social Agreement. This issue brief highlights five key recommendations for leaders in the United States and abroad to help shape the way for its successful implementation.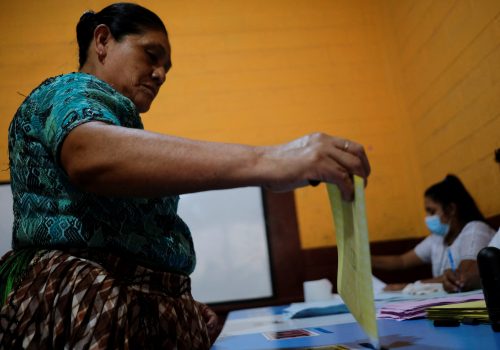 Mon, Jun 26, 2023
New Atlanticist By María Fernanda Bozmoski, Eva Lardizábal
The outcome of Guatemala's presidential runoff election this August could reshape the geopolitical map of the Western Hemisphere.