Conflict with China? Germany is not prepared.
China, Russia, and Iran are simultaneously testing the West. Central pillars of the international order are being challenged with the aim of creating a new order in which might alone makes right. In this situation, the decisive factor will be how far China is willing to go. After all, a third conflict in the South China Sea—alongside Russia's war in Ukraine and the newly flared-up Middle East conflict—would also push US capabilities to their limits. A division of labor with Europe would be inevitable. Only Europe is not prepared for this. Least of all Germany.
That is why it is so important that we, in coordination with Brussels and Washington, finally pursue a China policy that simultaneously invests in our own strengths—economic, diplomatic, and military—and takes worst-case scenarios seriously. Too often in the recent past, these very scenarios have come to pass. After much wrangling, the German government has finally adopted a China strategy that rightly focuses on the principle of de-risking. But there is reason to doubt that the urgently needed de-risking with respect to China will now take place. After all, China policy continues to be shaped by the chancellery, which does not believe in changing course.
Chinese leader Xi Jinping is the de facto ally of Russian President Vladimir Putin, who is waging a war of extermination in Ukraine.
In the past year, we Germans painfully experienced what it means to become dependent on a single country and, what is more, on an authoritarian system. Compared to Germany's dependence on Russian oil and gas, its dependence on the Chinese market is many times greater. By now it should be clear to all that China will not show any consideration for Europeans in the event of a conflict. Chinese leader Xi Jinping is the de facto ally of Russian President Vladimir Putin, who is waging a war of extermination in Ukraine. To date, China has not condemned the Russian attack and, moreover, provides Russia with technology for military use. Furthermore, China's close ally, the Islamic Republic of Iran, supplies Putin with kamikaze drones for use against Ukraine.
Already in Russia's war against Ukraine, China has tried to present itself as a peacemaker in contrast to the United States. We are now seeing the same behavior in the Middle East. Unlike the West, China has not condemned the terror of Hamas, and it has already become apparent that Beijing is positioning itself more and more against Israel in the conflict between Israel and Hamas. China must be calculating that the people in the Middle East and in the so-called Global South are mostly pro-Palestinian. Such courting for sympathies and supporters in the Global South is an expression and consequence of the geopolitical competition between the United States and China.
A conflict limited to Israel and Hamas that binds the United States as Israel's ally in the region is definitely in China's interest. A regional escalation, however, is a different matter. No country imports more oil from the Middle East than China. China now meets 72 percent of its need for oil from imports. More than half of that comes from the region, particularly Saudi Arabia and Iran. A regional conflagration would therefore have serious consequences for China's energy security. Iran, for its part, has an interest in maximum chaos in the region, but below the threshold of its own involvement in a war. The latter could endanger both regime stability and uranium enrichment facilities within Iran. This gives some hope that all-out regional escalation can be avoided.
China is already taking advantage of the fact that the United States is now militarily tied down in the Middle East and in Europe, and thus it cannot concentrate on Asia. In the South China Sea, Beijing has several territorial disputes with island states, especially the Philippines. It does not recognize the official 2016 ruling by an international arbitration tribunal according to which China's claims over maritime areas inside the so-called "nine-dash line" have no lawful effect. In late October, a Chinese coast guard ship rammed a Philippine vessel. There is much to suggest that China timed the aggression in the South China Sea to test the United States. How would the United States react, given that the United States and the Philippines have long been linked by a military alliance?
Against this backdrop, an important aspect of German and European policy toward China should be to keep the United States' back clear for its engagement in Asia. In concrete terms, this means that we must do more for our own security and, above all, to support Ukraine. But Europe remains reactive, not least because of Germany's reluctance. Instead of finally supplying Ukraine with Taurus cruise missiles, which it needs to reach Russian positions in occupied territories and to destroy supply lines, German Chancellor Olaf Scholz has decided against delivering them. Morally and politically, this is a grave mistake.
The German government is acting with similar hesitation when it comes to protecting Germany's critical infrastructure. After the "traffic light" coalition came to power in December 2021, nothing happened for a year and a half regarding the ongoing 5G roll-out, 60 percent of which has so far been made up of Chinese components. Then, Interior Minister Nancy Faeser surprisingly announced a course correction and a de facto ban on Chinese components earlier this year. Since then, a weakened compromise has been presented, which is now being blocked by German Transport Minister Volker Wissing. Once again, valuable time is being lost.
Where the chancellor stands on this issue is not known, but one can guess. After all, it was he who pushed through the partial sale of a terminal in the Port of Hamburg to the Chinese state-owned company Cosco against the will of all his ministers. The German government is also watching and doing nothing as Deutsche Bahn is building its internet protocol network with components from the Chinese manufacturer Huawei. This is downright scandalous given the fact that the federal state is the sole owner of Deutsche Bahn AG. The government is represented on the supervisory board by not one but three ministries—those of finance, economics, and transport.
Regarding German dependence on the Chinese market, things hardly look any better: Not only is there a massive over investment in strategically important sectors of the German economy, but the country is also dependent on raw materials and supply chains from China, which are crucial to the success of the German green transition. It is clear that neither can be changed abruptly and will take time. That is why it is all the more important that Germany acts now. The so-called Mittelstand—small and medium-size enterprises in Germany—have understood this and are acting accordingly. These companies want to stay in China, but at the same time they are diversifying their involvement and reducing it where necessary. Unfortunately, the opposite is true in parts of major German corporations: Investment in China is not declining but continues to rise. In fact, 16.4 percent of total German direct investment abroad went to China in the first half of the year—never before has the country been so important for German industry in relation to the rest of the world. 
These investments are not merely private sector decisions, because they carry an inherent risk of contagion for the entire German economy. After all, what happens if China escalates further in the South China Sea or even if it attacks Taiwan? The United States would demand that Germany participate in sanctions against China. It is politically inconceivable that Berlin would not do so. This would lead Xi to exploit our economic dependence without batting an eye. Western sanctions against China would be followed by dramatic Chinese countersanctions, which would shake parts of our economy to the core.
Preparing ourselves for this conflict, which cannot be ruled out and whose economic significance goes far beyond Germany's dependence on Russian energy supplies, is the decisive challenge for German China policy. Because such a policy has a price in today's world, it is not happening. But the government must not duck away from an issue so crucial to the prosperity and security of our country. It has a responsibility to fight for what is necessary instead of anxiously looking at its own political costs. It is high time for politicians and business leaders to sit down together and develop a foreign trade strategy for Germany. This must open new markets and fields of investment, and thus enable the country to remain on a growth course without paying the price of new dependencies. A new growth strategy is the real foundation of a new German China policy.
---
Norbert Röttgen served as chairman of the Foreign Affairs Committee in the German Bundestag from 2014 to 2021, and now serves as a member.
A version of this article originally appeared in WELT. It has been translated from German and is reprinted here with the author's and publisher's permission.
Further reading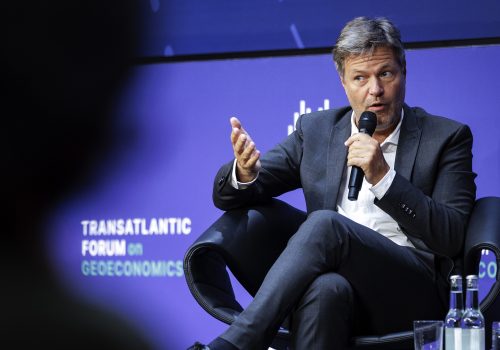 Fri, Sep 22, 2023
New Atlanticist By Daniel Hojnacki
Habeck spoke at the Transatlantic Forum on GeoEconomics about rising populism in Europe, Germany's changing economic model, and what Washington's competition with Beijing means for US-German relations.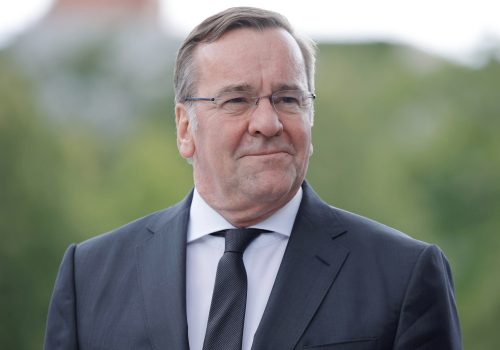 Mon, Jul 31, 2023
New Atlanticist By Katherine Schauer
The actions of Germany's defense minister are now aligning more fully with the lofty ambitions laid out in Chancellor Olaf Scholz's February 2022 speech.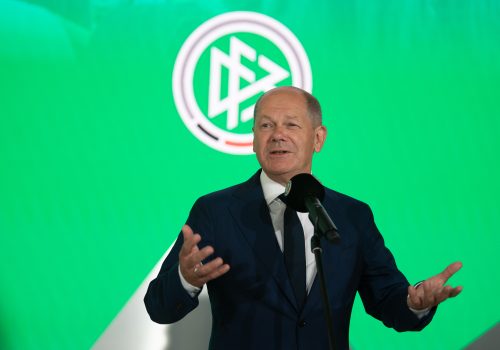 Mon, Aug 21, 2023
New Atlanticist By Roderick Parkes and Benjamin Tallis
Berlin needs an approach that addresses allies' concerns, plays to Germany's strengths, and represents something Germans can get behind.