This summer, Germany finally appears to be laying the groundwork for a more assertive role on the world stage. The coalition government unveiled its first-ever National Security Strategy in June, shortly followed by a China strategy in July, offering a clearer view of Germany's long-term thinking about its security.
Much of this newfound leadership corresponds with the emergence of a new, clear-headed defense minister. Boris Pistorius stepped into the role on January 19, following years of public service as the state interior minister of Lower Saxony. While a less familiar face in federal politics lacking extensive military experience beyond a year of mandatory service, Pistorius became Germany's most popular politician in only one month—buoyed by his clear communication style and reputation for getting things done.
Since becoming defense minister, Pistorius announced that Germany would "permanently station a robust brigade" of nearly four thousand troops in Lithuania to shore up NATO's eastern flank. This decision marks a significant break from decades of German military restraint—and a step up from former Minister of Defense Christine Lambrecht's promise, delivered at the Atlantic Council in March 2022, of a combat-ready German brigade by 2025. Germany's defense ministry has also managed to cut down the time for completing weapons procurement orders from one year to four months. Pistorius now aims to allocate 60 percent of Germany's one hundred billion euro special budget to weapons contracts by the end of the year.
The actions of Germany's defense minister are now aligning more fully with the lofty ambitions laid out in Chancellor Olaf Scholz's February 2022 speech proclaiming a "Zeitenwende," or historic turning point, for Germany's national security thinking. Yet, if Pistorius is to transform Germany's strategic culture and defense posture, he will need to assure allies of Germany's commitment to European and Indo-Pacific security while gaining buy-in from a ruling coalition and German public that is divided on bolstering the country's national security posture with respect to China.
Berlin is divided over Beijing
Pistorius stands apart from Scholz in his approach to the People's Republic of China. The defense minister represents a wing of the Social Democratic Party of Germany (SPD) that is more hawkish toward China, while other party members—including Scholz—remain focused on maintaining constructive economic relations with Beijing.
In his June 28-29 visit to the United States, Pistorius met with US Defense Secretary Lloyd Austin and National Security Advisor Jake Sullivan to reaffirm each country's commitment to supporting Ukraine and discuss partnerships to "bolster global resilience" in the Indo-Pacific. While emphasizing that Germany does not seek to establish military power in the Indo-Pacific, Pistorius insists that his country must work to "ensure the rules based-international order" in the South China Sea and East China Sea and show support for its regional partners, both old and new. Earlier this month, Pistorius attended the IISS Shangri-La Dialogue—Asia's largest defense summit—in Singapore, followed by visits with his counterparts in Indonesia and India to discuss easing the process for purchases of German-made weapons.
Scholz is more risk-averse when engaging with Germany's largest trade partner. Chinese Premier Li Qiang visited Berlin in June 19 to 25 for his first overseas visit, reflecting the importance of the two countries' economic ties. While Scholz "firmly" warned China against using force to change the status quo in the South and East China Seas, the substance of their meetings centered on economic and technological cooperation. Given that the German economy slipped into a recession in the first quarter of 2023, Scholz's focus on reaffirming trade ties amid increasing calls for de-risking is understandable—and in line with popular views.
Perceptions matter—at home and abroad
Germany's geopolitical ambitions will require buy-in not just within the halls of the Bundestag, but among the German public. Here, Pistorius seems to currently have the upper hand—the most recent ZDF Politbarometer finds that the majority of Germans support greater spending on the Bundeswehr. Germans remain hawkish toward Russia—70 and 71 percent view Russia as an adversary to Europe and Germany, respectively.
Of course, German popular opinion should not be viewed as monolithic. Transatlantic Trends 2022 notes a clear regional divide on policies toward Russia, with Germans in the east lagging 8 to 21 percentage points behind citizens in the west, north, and south. A DeutschlandTrend poll published January 19 found nearly equivalent amounts of support and opposition for sending tanks to Ukraine. Additionally, a May 30 Forsa poll conducted on behalf of RTL Germany found that 66 percent of Germans across the political spectrum were opposed to the delivery of cruise missiles to Ukraine through Germany. Proposals for delivery of combat aircraft, ships and submarines were also rejected by 70 percent of respondents in a January 31 Forsa poll. This past year has also seen the resurgence of the right-wing, extremist party Alternative for Germany among eastern citizens anxious about the impact of immigration and ramifications of aiding Ukraine.
Germans are also sharply divided on how their country should approach its relations with China. According to a recent poll by the European Council on Foreign Relations, roughly half of Germany's citizens see China as a competitive rival or conflict-prone adversary, while a slightly smaller portion view the country as a "necessary partner" or "ally." Germans are evenly split between those who support sanctions against China (37 percent) and those who do not (38 percent). Should potential conflict erupt between China and the United States regarding Taiwan, most Germans believe their country and the European Union should remain neutral.
As the fourth largest economy in the world and the fifth largest weapons exporter located in the heart of Europe, Germany has long had the capacity to play a greater geopolitical role in the region and globally. Berlin's actions since Russia invaded Ukraine—and especially since Pistorius took over as defense minister—have revealed that German policymakers are willing to harness this power in support of their country's national security. In only six months as defense minister, Pistorius has made clear headway, and he has made commitments that now need to be followed through on, such as the Lithuanian deployment. At home, Scholz's coalition faces headwinds, including fringe political forces, economic challenges, and the prospect of a protracted war in Ukraine. To make the next six months a success, Berlin must continue to work to ensure buy-in for its geopolitical objectives across coalition partners, allies, and the German public.
---
Katherine Schauer is a young global professional with the Europe Center.
Further reading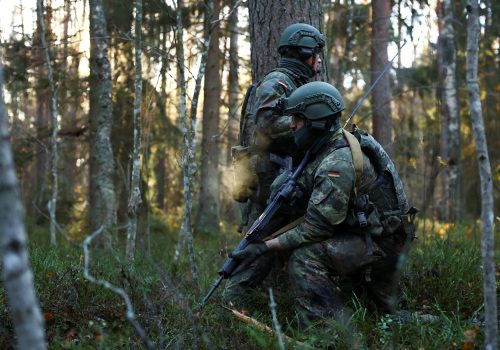 Wed, Nov 2, 2022
New Atlanticist By Siemtje Möller
As she travels to Washington this week to meet with US defense officials and others, Siemtje Möller breaks down her country's historic shift in mindset and force posture.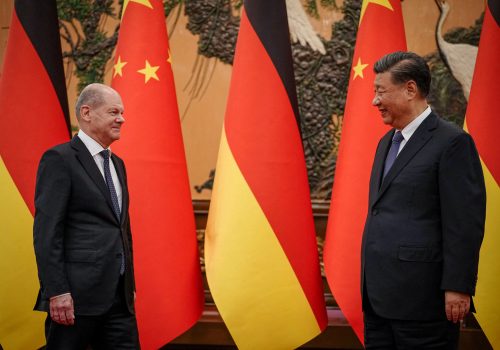 Fri, Jul 14, 2023
New Atlanticist By Atlantic Council experts
Germany released its first-ever China strategy. Experts weigh in on what this means for the future of relations between Berlin and Beijing.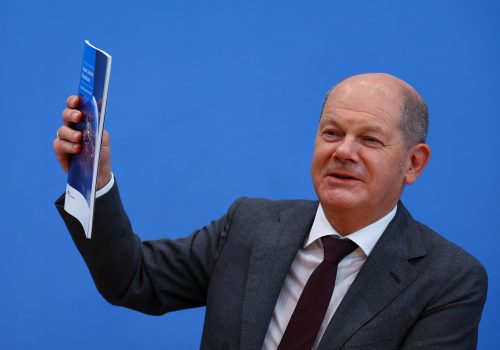 Wed, Jun 14, 2023
New Atlanticist By Atlantic Council experts
Chancellor Olaf Scholz has just released Germany's national security strategy. Atlantic Council experts answer the most urgent questions about the document and the path forward for this major European power.