Dispatches from Taiwan: Expert perspectives from an Atlantic Council visit to Taipei
As the world confronts Russia's continued war against Ukraine, the People's Republic of China's (PRC) increasing maritime aggressions, and an ever-growing North Korean nuclear arsenal, the Indo-Pacific region appears to be at an inflection point that will shape Taiwan's status both regionally and internationally.
All these issues and more have kept a spotlight on Taiwan, an increasingly important bastion of democracy and a strategic US partner in an Indo-Pacific region rife with change. That is why a visit by a senior Atlantic Council delegation to the island this week—supported by the Taipei Economic and Cultural Representative Office—comes at such a crucial time. This delegation, designed to bring together diverse US allies and partners, focuses on bridging trans-Atlantic-Pacific perspectives on the region and the importance of maintaining a free and open Indo-Pacific.
Led by former President of Lithuania Dalia Grybauskaitė, the group also includes former US Secretary of Defense Mark T. Esper, former Chairman of the Republic of Korea Joint Chiefs of Staff Admiral (ret.) Choi Yoon-hee, Vice President and Director of the Atlantic Council's Scowcroft Center for Strategy and Security Matthew Kroenig, Director of the Atlantic Council's Indo-Pacific Security Initiative Markus Garlauskas, Visiting Fellow of the Atlantic Council's Europe Center Petr Tůma, and Associate Director of the Atlantic Council's Indo-Pacific Security Initiative Lauren Gilbert.
This timely delegation includes meetings with senior Taiwan government leaders, corporate executives, and think tank representatives in Taipei to discuss the highest priority traditional and nontraditional security and economic issues that will shape the future of Taiwan; its relationship with the United States, Europe, and like-minded partners around the world; the strategic outlook for the Indo-Pacific region moving forward; and much more.
As the trip progresses, check back here for the latest insights, analysis, and reporting from the Atlantic Council's delegation as events unfold.
---
Our latest expert insight and intel:
---
August 23, 2022 | 9:25 AM WASHINGTON, 9:25 PM TAIPEI
What Taipei and pre-2022 Kyiv have in common
As we were boarding the plane headed from Washington to Taipei, the news broke out about PRC military exercises around Taiwan. Taiwan's Defense Ministry reported that at least twenty-six Chinese aircraft crossed the median line of the Taiwan Strait. It was an expected reaction to Taiwanese Vice President Lai Ching-te's visit to the United States during a trip in which he also visited Paraguay (one of the few remaining friends of Taiwan in Latin America). Lai is well-positioned to become the future head of state after the upcoming January 2024 elections, and he is currently leading the polls by a wide margin.
Saber-rattling became Beijing's favorite way to greet the bilateral US-Taiwan senior-level encounters. In the aftermath of then US Speaker of House of Representatives Nancy Pelosi's 2022 trip to Taiwan, the PRC's military drills led to the interruption of flights around the island. This time, Beijing's reaction was more moderate; we could have safely landed in Taipei on Sunday. Still, Taiwan had to deploy additional air and navy force to closely monitor PRC activities, which consumes resources that should be spent elsewhere.
Our program kicked off sharp on Monday by meeting foreign and defense ministers as well as speaking at the private panel organized by the Prospect Foundation, a Taiwan-based think tank. One of the major takeaways for me from the discussions we've held so far in Taipei was that a growing part of the population is convinced that Taiwan's status quo is worth the fight. The current government's position is crystal clear, and the polls show that almost 80 percent of Taiwanese are in favor of an armed response in case of a PRC invasion, despite all the consequences for life on the island.
As the window of opportunity for Taiwan to get ready for PRC military intervention may be limited—some speak about war's horizon as close as 2027, though Beijing's timeline is unclear—the island is boosting its defense capabilities with a plan to increase defense spending by up to 2.5 percent and a recently approved extension of compulsory military service from four months to one year. Taiwan also tries to build alliances with regional powers, where the United States appears to be an instrumental partner, as illustrated by the recent Camp David trilateral US-Japan-South Korea summit.
The PRC is watching and understands that the eventual full-fledged invasion of the island would be difficult. But there are other scenarios, such as a blockade, that would paralyze life on the island and make a Chinese invasion a lot easier. In a related effort, Beijing tries to prepare the ground with information warfare and hopes for the possibility to reduce the level of resistance. Interestingly, there's also a Taiwanese "peace camp." If most of the opposition parties in Taiwan are criticizing the Democratic Progressive Party government for provoking the PRC, it doesn't mean that all of them are appeasers. You'll find there the whole spectrum of nuanced positions but some, including a few within the largest opposition party Kuomintang, advocate distancing from the United States in order to appease the PRC. They are using war/peace and independence/unification dichotomies and inciting fear to get a few more votes.
If a full-scale PRC invasion may still be years away, the information war is already raging; some of Beijing's greatest successes have been on this front. If you know why you're fighting—as is the case in Ukraine—the enemy will never be able to fully win. Hence the key question of whether the Taiwanese are willing and ready to defend themselves. The polls show positive numbers, but talking to people in Taipei, it sometimes reminds me of Ukraine prior to February 24, 2022; many Ukrainians didn't want to believe in the possibility of a full-scale invasion. Kyiv seemed preoccupied with maintaining the country's attractiveness for investors and downplayed the US intelligence warnings.
In the event of a PRC invasion of the island, the West will come to Taiwan's aid, with the United States taking the lead, but the most important part should be done by the Taiwanese. We can't be more Taiwanese than they are themselves. Also, Europe can play an important role, despite its limited military means deployable in the Indo-Pacific. Moreover, Europe has experience with facing Russian hybrid threats that could well serve Taiwan. Some projects are already ongoing. And it's reciprocal. Taipei already helps a few European countries—mostly among Central and Eastern Europe—that are most exposed to Russian disinformation. As the PRC and Russia are waging a parallel information war, together trying to weaken our democracies, we must join forces, sharing knowledge and best practices.
—Petr Tůma is a visiting fellow at the Atlantic Council's Europe Center.
Further reading
Thu, Jul 27, 2023
New Atlanticist By Joseph Webster
Beijing's solar deployment has been wasteful from an economic and environmental perspective, but the shape of its solar build may be influenced in part by security considerations.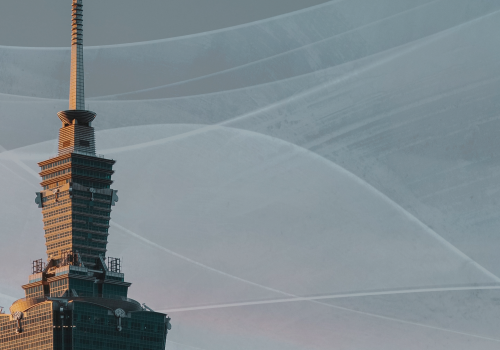 Wed, Jun 21, 2023
Report By Charlie Vest and Agatha Kratz
New research on possible options and their costs of G7 sanctions on China in the event of a Taiwan Crisis.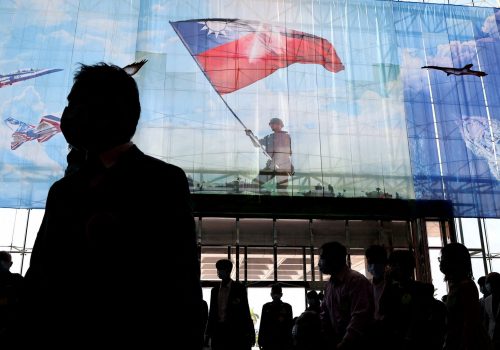 Mon, Jul 18, 2022
New Atlanticist By Atlantic Council experts
The high-level team delivers its insights, analysis, and reporting from the ground.