Experts react: The US-Japan-South Korea summit was 'historic.' But what did it accomplish?
Long-lasting friendships start at camp. On Friday, US President Joe Biden hosted the first-ever trilateral summit bringing together the leaders of the United States, Japan, and South Korea at Camp David in Maryland. Biden convened this summit with Japanese Prime Minister Fumio Kishida and South Korean President Yoon Suk Yeol to cement a common security agenda among the three countries to deter China and North Korea.
The summit resulted in a joint statement dubbed "The Spirit of Camp David," along with separate trilateral principles and a joint commitment to consult with one another on security threats. Below, Atlantic Council experts explain what this historic summit and its resulting commitments will mean for security in the Indo-Pacific region.
Click to jump to an expert analysis:
Markus Garlauskas: Seize the moment while the 'Spirit of Camp David' lasts
Matthew Kroenig: Biden seizes a historic opportunity
Ryo Hinata-Yamaguchi: This time is different for trilateral cooperation
Thomas Cynkin: "The Spirit of Camp David" is a major effort to establish precedent
Bee Yun Jo: A new level of aligned commitments and institutionalization
Lauren Gilbert: The message to China is that South Korea and Japan will not sit idly by
Jessica Taylor: The hard work ahead includes securing semiconductor supply chains
Parker Novak: The summit will have ripple effects in Southeast Asia and the Pacific Islands
---
Seize the moment while the 'Spirit of Camp David' lasts
As the expert commentaries below explain, the progress made in recent months and codified at the Camp David summit is a remarkable achievement, one unparalleled in the history of US-Japan-South Korea ties. After so many false starts in improving this strategic relationship over the course of generations, this time really is different, as Ryo Hinata-Yamaguchi tells us. The progress demonstrated is so dramatic, Parker Novak astutely assesses, that it will have ripple effects throughout the Indo-Pacific region.
This moment came about through a combination of hard work and vision by officials of all three countries, but was enabled by a new set of circumstances very different than from just a few years ago. As Matthew Kroenig notes, Biden seized upon the opportunity presented by Yoon's willingness to weather the domestic criticism inherent in advancing Seoul's relations with Tokyo. But there were also other key factors. As Jessica Taylor points out, the People's Republic of China and North Korea helped set the stage for this summit with their aggressive rhetoric and behavior, as well as their increasing cooperation with Russia.
Amid the optimism of this achievement, it would be wise to recognize that such moments rarely last. The bumpy history of Seoul-Tokyo relations alone suggests that trilateral relations will face setbacks, and we are just one election away from potentially losing one of these three leaders. Tom Cynkin rightly points out that these three leaders, knowing their administrations will not last forever, are trying to establish precedent and momentum that will outlast their tenures. 
So, what's next? How best to follow up while this moment lasts? Is it best to be cautious and incremental to "lock in" these gains without generating political backlash? Or, is a bolder approach called for? I propose it is time to be bold while we have this moment, before it melts away.
Bee Yun Jo identifies in the summit results signs of real progress toward institutionalizing elements of trilateral cooperation, particularly military cooperation to deal with North Korea. This is important, but is this the best we can do? What about more sensitive areas of military cooperation—what about declaring we will share data on threatening Russian or Chinese military movements as well?
As Lauren Gilbert notes, Seoul agreed to go further than it has ever before in a trilateral setting in sending a message to Beijing about its threatening rhetoric and behavior. This step is important, but the language in the statements coming out of the summit was still relatively guarded. Can we go further? Can there be, for example, an explicit trilateral pledge to work together to block any attempt to change the status quo by force in the Taiwan Strait?
These sorts of ideas were arguably unthinkable and "too sensitive" to discuss for the trilateral relationship a few weeks ago. Should they still be now?
This moment will not last. There will be setbacks in trilateral relations at some point, no matter what we say or do, or refrain from saying or doing. Now is the time to be bold, to lay down markers, and to push trilateral cooperation out of the comfort zone to address the most important strategic issues we will face together in the years ahead.
—Markus Garlauskas is the director of the Indo-Pacific Security Initiative in the Scowcroft Center for Strategy and Security and a former senior US government official, serving as both an intelligence officer and strategist often dealing with trilateral strategic issues.
---
Biden seizes a historic opportunity
Today's summit bringing together the leaders of the United States, Japan, and South Korea is a historic step that could greatly strengthen US alliances in Asia and improve the United States' position in a new era of strategic competition. As revisionist autocracies such as China, Russia, Iran, and North Korea increasingly work together to challenge the US-led rules-based order, the United States has sought to bring together like-minded democratic allies in Europe and Asia to build a free-world coalition to defend that order.
This has been relatively easier in Europe, where the United States already has a large, longstanding, and successful multilateral alliance in NATO. It has been more complicated in the Indo-Pacific, where the United States has a hub-and-spoke framework of bilateral alliances with Australia, Japan, South Korea, and the Philippines. The United States has been building new multilateral frameworks like AUKUS (Australia-United Kingdom-United States) and the Quadrilateral Security Dialogue, or "Quad," and it has tried for years to encourage deeper trilateral cooperation with Japan and South Korea. Historical animosities between Japan and South Korea have made this difficult, to the detriment of US national security strategy. But a new administration in South Korea with a new approach to foreign policy and US relations has created a historic opportunity and the Biden administration has been right to seize it.
—Matthew Kroenig is vice president and senior director of the Scowcroft Center for Strategy and Security and the Atlantic Council's director of studies.
---
This time is different for trilateral cooperation
The summit was another significant step forward to deepen and expand US-Japan-South Korea trilateral security cooperation in areas spanning from defense to economic security in the Indo-Pacific region. However, the success of the trilateral framework hinges not simply on the capacity to deal with the array of agendas, but its consistency, credibility, and sustainability.
Indeed, it is not the first attempt by the United States, Japan, and South Korea to institutionalize trilateral cooperation. The Trilateral Coordination and Oversight Group was established in 1999 and lasted until 2003, and the Defense Trilateral Talks begun in 2008 still run to this day. There have also been various other dialogues and initiatives that were quite successful at the operational level but were undermined by the lack of political and strategic follow-through. This time, however, the three leaders are attempting to push through in a top-down manner to institutionalize trilateral cooperation with a life cycle that is not dependent on particular administrations. Nevertheless, the controversial nature of the initiative—particularly in South Korea—makes it vulnerable to becoming a target for populist revisionists. Much, therefore, comes down to how the three countries can prove to each other's publics that trilateral cooperation is mutually beneficial and effective for their intertwined national security interests, as well as work with other allies and likeminded states for peace and stability in the Indo-Pacific region.
Another challenge is how to operationalize trilateral cooperation that goes beyond the Korean peninsula to also focus on the Taiwan Strait, Southeast Asia, and the Pacific Islands. In particular, how the United States, Japan, and South Korea can coordinate their readiness to effectively deter and defend against worst-case scenarios, such as a simultaneous contingency in the region, that raise questions about capacity. To do so, the three countries will need to not only coordinate their readiness but also expand their operations beyond missile defense and anti-submarine warfare. Such areas might include intelligence, surveillance, and reconnaissance; naval mine warfare; cyber and electronic warfare; outer space; evacuation of one another's citizens; and logistics. Achieving this will require the formulation of trilateral strategies and seamless operational coordination. It will also require the establishment of a trilateral nuclear consultative group, regular drills and trilateral dispatchment of liaison officers, and efforts to ensure technical compatibility and interoperability.
—Ryo Hinata-Yamaguchi is a nonresident senior fellow in the Scowcroft Center's Indo-Pacific Security Initiative, a project assistant professor at the University of Tokyo, and an adjunct senior fellow at the Pacific Forum.
---
"The Spirit of Camp David" is a major effort to establish precedent
This is the first stand-alone trilateral summit among the three countries, and the first Camp David summit hosted by Biden during his presidency, both of which are intended to imbue the summit with special historic significance and symbolism.
Irrespective of Chinese and North Korean posturing, this does not represent the kernel of a "NATO in Asia." The United States has an alliance with Japan, and one with South Korea, but the trilateral format is not a triple alliance structure. Rather, it is a strategic partnership among the three countries, a defensive arrangement responding to an array of challenges from both China and North Korea.
In terms of concrete results, we can see strengthened cooperation and coordination across a truly impressive array of areas of mutual interests, starting with institutionalized annual trilateral meetings by leaders and cabinet members. The countries pledged to work together on promoting maritime security and economic security (including supply chain resilience), combating North Korean cyber threats and sanctions evasion, cooperating on missile defense, and conducting trilateral military exercises.
"The Spirit of Camp David" statement issued by the three leaders is a political agreement, rather than a legal one requiring signature, but it nevertheless is a powerful document. It represents a major effort to establish precedent, create momentum, and set the course for trilateral security cooperation among the three countries. In democracies, administrations come and go; with this statement, the three leaders are attempting to establish a legacy that will continue irrespective of political changes in their respective capitals. They are doing this because the fundamental national security interests of the three countries and the consequent impetus to strengthen cooperation among them transcend the political vagaries of any given administration.
—Thomas Cynkin is a nonresident senior fellow in the Scowcroft Center's Indo-Pacific Security Initiative and the practice lead, Japan and Northeast Asia, of the Transnational Strategy Group, a global consulting firm operating at the nexus of policy and business.
---
A new level of aligned commitments and institutionalization
Leading up to the trilateral summit at Camp David, South Korean experts debated on three major points. First, whether there will be a new statement and/or declaration of trilateral cooperation. Second, if there is a new document, what steps of progress would it outline in trilateral dealings with North Korea, and how would it address China and the Indo-Pacific. Third, whether the South Korea-US Nuclear Consultative Group (NCG), created in April 2023, would be expanded and incorporate Japan.
Now the results are out, in the form of the "Spirit of Camp David" joint statement and Camp David Principles, and the bandwidth of cooperation has expanded all round. In dealing with North Korea, new accomplishments are evident in "institutionalizing" and thereby "deepening" the countries' recent efforts. Namely, building upon recent trilateral ballistic missile defense and anti-submarine warfare exercises, the Camp David summit has now enabled a multi-year, regularized trilateral framework for the exercises. The leaders also reaffirmed a timeline to operationalize the sharing of real-time missile warning data of North Korean missile launches by the end of 2023, which was agreed during the Phnom Penh summit last year. Tackling recent North Korean cyber activities, the three leaders also agreed on the establishment of a new trilateral working group.
In addressing China and Indo-Pacific, the trilateral concerns have become sophisticated most notably in "economic security" realms. Building from the reiteration of trilateral security concerns over China's "dangerous and aggressive behaviors" in the waters of the Indo-Pacific and South China Sea, as well as across the Taiwan Strait, the Camp David statement rolled out new frameworks and consultation mechanisms in the realms of finance, supply chains, and advanced technologies. Trilateral alignments on China and the Indo-Pacific are also highlighted by the establishment of annual meetings between foreign ministers, defense ministers, commerce and industry ministers, and national security advisors, as well as an annual Trilateral Indo-Pacific Dialogue. Unlike some speculation that the trilateral statement on China and the Indo-Pacific would show only modest change given South Korea's position between the United States and China, the institutionalization and consolidation of trilateral economic security cooperation signal a new level of aligned values and commitments.
Lastly, the NCG was not an official topic of trilateral discussion in its own right. Indeed, it appears that the trilateral agreements at Camp David have already reached beyond—or at least parallel to—the bilateral NCG framework. While South Korea and the United States strive to deepen their efforts in four major areas via the NCG—information sharing, joint planning and operation, exercises, and more frequent and regular deployment of US strategic assets—the three countries are also developing what they can do together more in parallel realms, while not necessarily remaining in the framework of the NCG.
—Bee Yun Jo is a nonresident senior fellow in the Scowcroft Center's Indo-Pacific Security Initiative and an associate research fellow in the Defense Strategy Division at the Center for Security and Strategy at the Korea Institute for Defense Analyses.
---
The message to China is that South Korea and Japan will not sit idly by
At first glance, the outcomes of the Camp David summit may appear to be a rehashing of the same talking points, albeit in a more optimistic packaging. However, this is not the case. Yoon and Kishida have brought a forward-looking perspective to the historically mercurial diplomacy between South Korea and Japan, and Biden has provided essential momentum for them to do so as part of his focus on the Indo-Pacific. This has led to several important outcomes from the Camp David summit.
First, and despite South Korea's tendency to avoid naming China as a threat or even an aggressor when speaking on security in the region, the summit produced a direct call for the end of Beijing's unlawful maritime activities and claims. The leaders further went on to affirm the importance of peace in the Taiwan Strait. While this rhetoric is short of what some would hope, viewing these statements in the context of the leaders' comments on the Pacific Islands, the Association of Southeast Asian Nations, economic coercion, and enhanced military cooperation, we see a subtle statement toward China that South Korea and Japan will not sit idly by should Beijing actively increase its economic and maritime aggressions.
Second, while we have seen consistent messaging on maintaining and improving people-to-people connections alongside democratic values and human rights, the Camp David Principles include a commitment by the countries to "promot[e] the full and meaningful participation of women in our societies." While this may seem a small point, for the women of these countries who face challenges in gaining equality with their male counterparts, this is a huge step. Particularly when considering Yoon's calls to abolish the Ministry of Gender Equality and Family and recent violence against women and LGBTQ+-identifying persons in the military, this statement is a stark and welcome change.
Finally, the three leaders are taking advantage of this current climate of trilateral cooperation and working to establish these new measures while Biden, Yoon, and Kishida are still in office. This is a clear acknowledgment of the frequent backsliding of earlier efforts to improve cooperation and of the potential for collaboration to weaken following a change of administration in any of the three countries, although this has particularly been the case in the past with South Korea and Japan. While each country is driven by its own national security concerns, these statements show an optimistic view of trilateral cooperation in the near future.
—Lauren D. Gilbert is an associate director with the Scowcroft Center's Indo-Pacific Security Initiative.
---
The hard work ahead includes securing semiconductor supply chains
"The Spirit of Camp David" joint statement is a step in the right direction toward concurrent multilateral defense and semiconductor supply chain cooperation. But it remains to be seen if this cooperation can lead to coordinating the group's unfettered access to high-end semiconductors when it needs them the most: during regional armed conflict.
The summit occurred amid expected cooperation among China, Russia, and North Korea. It took place amid expectations of yet another North Korean intercontinental ballistic missile launch as tensions heighten on the Korean peninsula, while Chinese and Russian warships sailed jointly close to Japan, and as tensions across the Taiwan Strait continue. This geopolitically fraught environment is a reminder of the ongoing overlapping tensions that could develop into simultaneous armed conflicts.
The likelihood of continued geopolitical tensions involving Japan, South Korea, and Taiwan, which house critical nodes of the semiconductor supply chain's manufacturing capability mandates cooperation to deter conflicts that could impact these nodes. In addition, during a regional conflict, the United States must maintain unfettered access to especially high-end semiconductors to ensure it is able to meet its security and defense article guarantees to Japan, South Korea, and Taiwan. However, as the supply chain nodes are stovepiped by speciality, a threat to one of the nodes has the probability of disrupting the entire supply chain.
Although high-end semiconductor industry manufacturing giant TSMC and its competitor Samsung have pledged investments in new fabrication facilities abroad, they are likely to maintain the production of high-end chips and those facilities at home. As fabrication plants are specialized, a plant is unable to simply shift from producing low-end chips to high-end chips due to a crisis elsewhere.
Thus, the joint statement announcing that the three will work together "to launch early warning system pilots to expand information sharing and enhance policy coordination on possible disruptions to global supply chains" will be a significant step toward ensuring access to high-end chips during a crisis. But the three states, along with Taiwan, will need to work toward building flexibility in the supply chain. Even if Japan-South Korea-US defense cooperation is successful in deterring regional aggression, threats to the supply chain remain by way of possibly unpredictable events such as climate change–supercharged natural disasters.
—Jessica Taylor is a nonresident fellow in the Scowcroft Center's Indo-Pacific Security Initiative. Taylor has served in the US Department of Defense in both military and civil service capacities for nearly twenty years.
---
The summit will have ripple effects in Southeast Asia and the Pacific Islands
Friday's trilateral summit between the United States, Japan, and South Korea is historic. It's the first time Biden has hosted international leaders at Camp David, a location befitting the significance of the trilateral defense agreement signed by the three nations.
Its ramifications for the East Asian security architecture are drawing the lion's share of media attention, as Seoul and Tokyo's hesitant but growing embrace of each other—strongly encouraged by the United States—is a clear byproduct of increasingly aggressive behavior by the People's Republic of China (PRC).
What's not drawing as much coverage are the implications of growing tripartite cooperation between the United States, Japan, and South Korea for Southeast Asia and the Pacific Islands, both of which have become increasingly prominent arenas for geopolitical competition between the PRC, the United States, and the latter's allies and partners—Japan, South Korea, India, Australia, and more.
To curry favor and gain advantage, both sides are showering these crucial subregions with attention and money. In Southeast Asia, the PRC and Japan have dueled over big-ticket infrastructure and industrial projects in countries like Indonesia. In the Pacific Islands, the United States and PRC inked defense agreements with Papua New Guinea and the Solomon Islands, respectively, while South Korea announced plans to double development assistance.
In both subregions, the United States, Japan, and South Korea bring unique competitive advantages to the table. Japan builds high-quality infrastructure, South Korea's technology sector is ubiquitous, and the United States brings unmatched capacity and resources to bear across economic and security issues. Australia is the largest aid donor to the Pacific Islands, while the United States and Japan are among the largest sources of foreign investment in Southeast Asia.
The joint statement from the Camp David summit specifically states that the United States, Japan, and South Korea will coordinate capacity-building efforts in Southeast Asia and the Pacific Islands to ensure they are mutually reinforcing and maximally beneficial to both regions. This will help the United States, its allies, and partners make headway on their strategic goals and advance development and prosperity for Southeast Asia and the Pacific Islands.
—Parker Novak is a nonresident fellow with the Atlantic Council's Global China Hub as well as with the Scowcroft Center's Indo-Pacific Security Initiative.
Further reading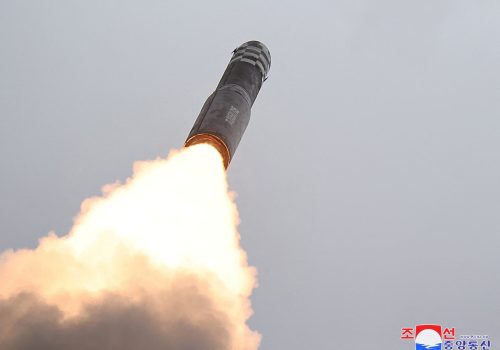 Wed, Aug 16, 2023
Report By Markus Garlauskas
This report highlights two emerging and interrelated deterrence challenges in East Asia with grave risks to US national security: 1) Horizontal escalation of a conflict with China or North Korea into simultaneous conflict; 2) Vertical escalation to a limited nuclear attack by either or both adversaries to avoid conceding.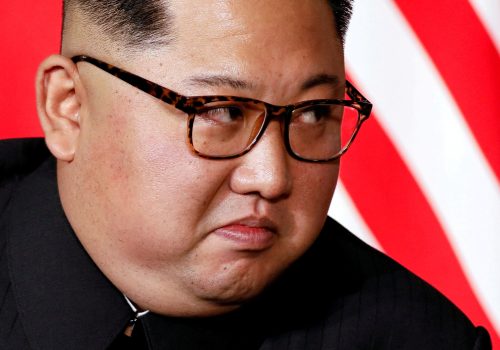 Wed, Jun 28, 2023
New Atlanticist By Markus Garlauskas
The US intelligence community has just released its National Intelligence Estimate on North Korea, a watershed analysis. But more is worth adding to the discussion.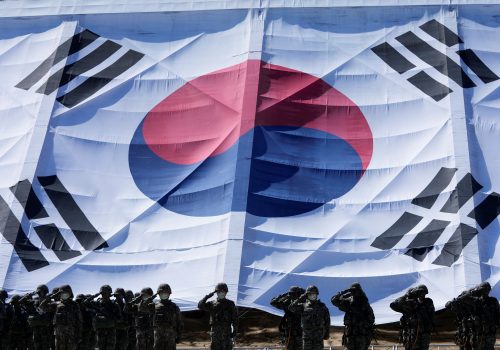 Sat, May 20, 2023
New Atlanticist By Thomas Cynkin
There is space for South Korea to participate in aspects of the Quadrilateral Security Dialogue and other minilateral structures aimed at maintaining international order and security in the Pacific.