Dispatches from Taiwan: Follow an Atlantic Council delegation as it visits the island
Bellicose rhetoric from Beijing and provocative Chinese military activity in the Taiwan Strait. A reinvigoration of the democratic world in the face of aggressive autocracy. A global semiconductor industry hanging in the balance.
All these issues and more have thrown renewed attention on Taiwan, an increasingly strategic US partner in a rapidly changing Indo-Pacific region. That's why a visit by a senior Atlantic Council delegation to the island this week—under the auspices of the Taipei Economic and Cultural Representative Office (TECRO)—could not have come at a more crucial time. Led by former US Secretary of Defense Mark T. Esper, the group also includes former Italian Ambassador to NATO Stefano Stefanini and Council Senior Vice President Barry Pavel.
The visit will feature meetings with senior Taiwanese government leaders, corporate executives, and think-tank representatives in Taipei to discuss the highest-priority security and economic issues that will shape the future of Taiwan, its relationship with the United States, Europe, and like-minded partners around the world, and the strategic outlook for the Indo-Pacific.
Check back here for the latest insights, analysis, and reporting from the Council's delegation.
---
---
July 21, 2022 | 11:43 AM WASHINGTON, 23:43 PM TAIPEI
Day four: Staying strong through solid economic and digital policy
After meeting with a Taiwanese minister and deputy minister on the final day of its visit, the Atlantic Council delegation emerged with the following takeaways:
"Money is a coward." If the threat of a Chinese attack on Taiwan is not deterred effectively, the island risks capital flight by investors seeking a more secure location for their funds. If Taiwan takes the bold steps needed to sustain deterrence, supported by its partners across the world, then it will continue to be a safe place for investors and tourists.
The already strong Taiwan-US semiconductor relationship is growing stronger, especially as the Taiwan Semiconductor Manufacturing Company moves forward with its plans to invest in a semiconductor plant in Arizona. The relationship would be further strengthened if the two nations explored broader cooperation on semiconductors and adjacent technologies.
Ukraine's response to the Russian invasion has reshaped the Taiwanese government's approach to digital policies. Rather than focusing on digital development, the new Taiwan Ministry of Digital Affairs (MODA) will instead focus on digital resilience.
July 20, 2022 | 9:03 AM WASHINGTON, 9:03 PM TAIPEI
Mapping out Chinese pressure on Taiwan
Today's meetings between the Atlantic Council delegation and senior experts and two Taiwanese government ministers resulted in the following conclusions:
The minister of Taiwan's Mainland Affairs Council expressed his gratitude to Europe and the United States for supporting Taiwan in the form of this transatlantic delegation.
China's aggressive approach to Taiwan under President Xi Jinping will be sustained; the only question is the speed with which China pursues its measures and what mix of hard and soft power it will choose to wield. The Chinese Communist Party's Twentieth Party Congress in November will focus significantly on domestic issues, and its updated policies (including on Taiwan) may not emerge until March 2023—after the rotation of key Chinese leadership personnel.
Like Russian President Vladimir Putin's war in Ukraine, a potential Chinese attack on Taiwan would have ripple effects across the entire world; its damage would not be limited just to Taiwan nor even to the Indo-Pacific region.
With so many Taiwanese companies pulling out of China due to the increasingly problematic business environment and increased risks of operating there, some of those companies are coming back to Taiwan; some are moving to Southeast Asia; and some (such as the Taiwan Semiconductor Manufacturing Company) are considering relocating their operations to the United States.
The Atlantic Council delegation was told that its visit, along with its core messages of strong friendship with Taiwan, will help facilitate that process of Taiwanese disengagement from China and growing engagement with the United States.
Another critical milestone for the US-Taiwan relationship would be to complete the new US-Taiwan Free Trade Agreement by the end of 2023.
Putin's invasion of Ukraine is being watched closely in Taiwan, and it has raised concerns here about the island needing to fend for itself in the event of a Chinese attack. By itself, Taiwan cannot defeat China in an armed conflict; but with sufficient preparations now, it will be able to defend itself long and well enough to inspire other Western democracies to come to its assistance. Taiwan and the United States need to continue to work together closely to align their respective roles in such an operation under the overall Taiwanese "porcupine" defense strategy.
A hybrid-warfare scenario, for example—in which Chinese forces occupy outlying Taiwanese islands while other elements force certain factions within Taiwan to condemn the sitting government and negotiate peace—may be more likely than either an all-out amphibious invasion or a Chinese naval blockade. Significant and sustained Chinese information and cyber operations are highly likely under any conflict scenario.
July 19, 2022 | 8:41 AM WASHINGTON, 8:41 PM TAIPEI
Day-two: Talks center on Taiwan's preparedness, defensive capabilities
Here are the key themes raised by the Atlantic Council delegation in its meetings with senior Taiwanese government officials on Tuesday, including President Tsai Ing-wen:
Russia's invasion of Ukraine, combined with China's increasing coercion of and pressure on democratic Taiwan and other countries, constitutes a major wake-up call for the island and its partners. But while extraordinarily tragic, it presents an opportunity for Taiwan to strengthen its position geopolitically, economically, and militarily, especially by leveraging the unprecedented unity among the democratic countries of North America and Europe, along with their allies in the Indo-Pacific. Taiwan is now on the front lines of an epic conflict between democracies and autocracies—and it must act quickly and boldly to strengthen its position.
The One-China policy binds the United States, Taiwan, and China to a distant past that has been overtaken by numerous developments over the decades. It is critically important that US leaders begin a national discussion about moving beyond it. The challenges that China will present going forward require a new policy foundation upon which to build an effective and credible strategy toward the PRC and Taiwan.
Taiwan can do a lot to help support such a move and send the right signals to its own people, as well as those of China, the United States, and other supporters around the world, by taking four bold decisions: adopting an asymmetric defense strategy and acquiring the associated capabilities needed to deter (and, if necessary, defeat) Chinese military aggression; returning the length of conscription from the current four-month period to at least a one-year period and making the training more rigorous; strengthening its ability to mobilize and employ its reserves; and significantly increasing defense spending to support the capabilities and capacity required to thwart Chinese military aggression.
More progress in obtaining European support for Taiwan is both necessary and possible—but can only be accomplished through a clear diplomatic strategy that proceeds step-by-step based on Taiwan's shared democratic values.
A successful defense and deterrence strategy for Taiwan must include effective approaches to sustain its military, economy, and society if China takes military action against it. Key priorities must include the stockpiling of energy supplies, weapons, and ammunition; ensuring access to essential materials and logistics; and building a resilient and effective communications network.
July 18, 2022 | 6:55 AM WASHINGTON, 6:55 PM TAIPEI
Arms sales, policy issues dominate day one of meetings
On Monday, the delegation met with senior government and private-sector officials. Our top takeaways from those meetings include:
China should not be allowed to redefine the One-China policy in a way that favors its position and is inconsistent with the US definition. China should also not pursue coercive military and economic measures against Taiwan.
The United States should expedite arms sales to Taiwan to improve the country's asymmetric capabilities, which are essential to defending against a Chinese invasion. Informed in part by lessons learned from Ukraine, top priorities include Stinger anti-aircraft weapons, coastal-defense cruise missiles, and Javelin anti-armor systems.
Because these systems are in such high demand from US allies and partners worldwide, the United States should quickly develop the means to accelerate the production of these systems to meet global demand.
Further reading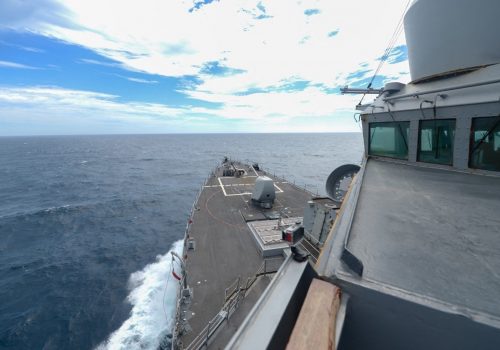 Wed, Mar 24, 2021
New Atlanticist By Philip Anstrén
Policymakers in Brussels should recognize that the EU has significant security interests in the Taiwan Strait, push for dialogue over the issues at stake there, and—if this fails—work with the United States to deter Chinese aggression against Taiwan.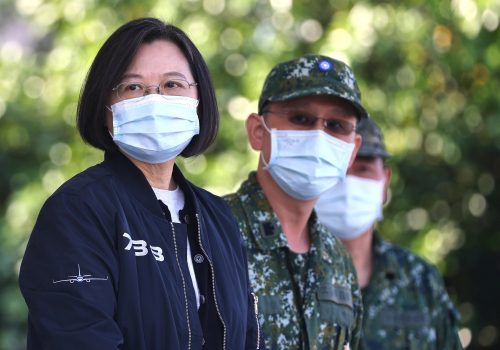 Wed, Jun 30, 2021
New Atlanticist By Philip Anstrén
The United States and the EU emphasize different means, but they still have compelling joint interests that cry out for greater coordination—from the economy to shared security.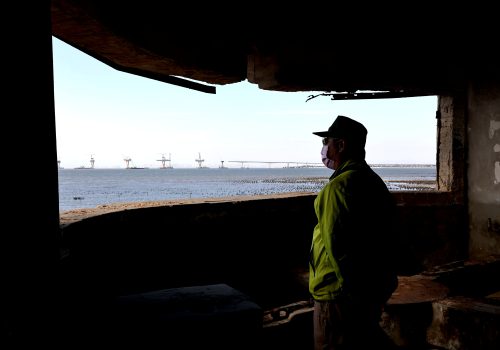 Fri, Feb 18, 2022
Reality Check By Harlan Ullman
Key points Despite Beijing's longstanding desire to invade and conquer Taiwan and achieve "one China," China simply lacks the military capability and capacity to launch a full-scale amphibious invasion of Taiwan for the foreseeable future. With a potential defending force of 450,000 Taiwanese today, using the traditional three-to-one ratio of attackers to defenders taught at […]