Experts react: A 'game changer' G7 summit in Japan
Leaders of the Group of Seven (G7) countries are gathering in Hiroshima, Japan, for a three-day summit in which they will try to come together on some of the world's biggest challenges. Throughout the summit, Atlantic Council experts are taking stock of the gathering of leaders from the United States, Canada, the United Kingdom, Germany, France, Italy, and Japan—plus the European Union. On Saturday, Ukrainian President Volodymyr Zelenskyy joined the G7 leaders in Japan, an appearance French President Emmanuel Macron called a "game changer" for Ukraine's international support. Already the summit in Hiroshima is shaping up to be a game changer in a number of areas as leaders address issues ranging from artificial intelligence to Russia and China.
Read on to find out how these powerful democracies are tackling some of the world's thorniest problems.
This post will be updated as news develops and more reactions come in.
Click to jump to an expert reaction:
Daniel Fried: The G7 brought good news for Ukraine and strong new sanctions on Russia
Josh Lipsky: Unthinkable two years ago, G7 countries are addressing China together
John E. Herbst: Hiroshima makes clear the authoritarian high-water mark has passed
Daniel Tannebaum: Continued alignment on Russia sanctions is impressive, but it's time to finish the job
Kyoko Imai: The Quad crumbles without a corner
Dexter Tiff Roberts: What will the G7 do when China next attempts economic coercion?
Thomas Cynkin: A breakthrough in fighting China's economic coercion, but the details must be fleshed out
Steven Tiell: The regulators are coming for your AI
Robert Cekuta: G7 leaders should have gone further on energy security
Bee Yun Jo: US-Japan-South Korea trilateral cooperation is back on track
Jessica Taylor: Can US-South Korea-Japan trilateral cooperation endure beyond a photo op?
Parker Novak: Biden skipping Papua New Guinea was a missed opportunity
---
The G7 brought good news for Ukraine and strong new sanctions on Russia
The G7 summit generated a lot of support for Ukraine, again demonstrating that persistent predictions of eroding support are off. The G7 Leaders' statement on Ukraine was strong and, critically, did not push Kyiv toward negotiations on Russian President Vladimir Putin's terms (a common recommendation from a certain school of thought that seems resigned to Russian victory even as the battlefield seems to favor Ukraine). The rapid coming together of a European coalition to provide Ukraine with F-16 fighter jets, an initiative that the United States in a policy reversal has now joined, was a major step in intensifying military assistance for Ukraine—a big G7 deliverable, as the saying goes.
There were also new sanctions announced, outlined thematically in the G7 statement and in detail by the United States. These were also a big deal, even as the new sanctions did not include some ambitious proposals. For example, there was no lowering of the oil-price cap, no across-the-board ban on trade with Russia with exceptions (a so-called "white list," as opposed to the current "black list" approach), and no decision to use the immobilized Russian sovereign assets for Ukraine.
But the announced US sanctions package was broad, well-prepared, and impactful. To cite only a few of the new measures, the Biden administration targeted sanctions evaders from around the world, a labor-intensive process that may hinder Russia's efforts to escape the vise of restrictions on high-tech exports to Russia. It went after future Russian energy production and export capacity, a clever move that seems intended to lock in pressure on Russia's critical energy sector for the longer term. The new US sanctions also targeted Russian gold sales (and the European Union seems prepared to target Russian diamond exports), good examples of going after Russian foreign-exchange earnings.
This was solid work. Sanctions theory usually asserts that sanctions are intended to change behavior. The Russian sanctions regime, however, seems intended to weaken the Russian economy generally, and rightly so. The current sanctions recall (and are more sophisticated than) the Cold War–era sanctions that contributed to the decline and fall of the Soviet Union. Putin, who seeks by war to recreate the Soviet and Russian empires, may yet learn that democracies, for all their messiness, are not as weak and feckless as he supposes.
—Daniel Fried is the Weiser Family distinguished fellow at the Atlantic Council. He was the coordinator for sanctions policy during the Obama administration, assistant secretary of state for Europe and Eurasia during the Bush administration, and senior director at the National Security Council for the Clinton and Bush administrations. He also served as ambassador to Poland during the Clinton administration.
Unthinkable two years ago, G7 countries are addressing China together
China is not mentioned a single time in the G7's new special statement on economic security—but make no mistake, it is all about China. Japanese Prime Minister Fumio Kishida made the issue of combating China's economic coercion a priority for Japan's G7, and with this unified statement the leaders achieved what will likely be the lasting legacy of the summit. The big question coming into Hiroshima was: Could the leaders maintain unity against Russia and harness that collective power in addressing China? The statement is the first concrete sign that the answer is yes. Two years ago, during the United Kingdom's G7 summit in Cornwall, it would have been hard to believe that European leaders would sign on to a statement that was so specifically directed at Beijing. But after China targeted Lithuania for its support of Taiwan, the calculus on the continent began to shift. Now, all G7 leaders have committed to a new rapid response coordination platform if another country is targeted. They are also speeding up their push for new supply chains and trying to leverage the Partnership for Global Infrastructure Investment as an alternative to the Belt and Road Initiative.
The statement doesn't specify what other specific steps the group will take to combat what they describe as the "disturbing rise in the incidents of economic coercion." And you can be sure that other participants at the G7, including India's Prime Minister Narendra Modi, will stay away from associating with this statement. Many countries will ask privately, what about the West's use of sanctions and other tools of economic statecraft? The answer from the G7 is that those tools have a legal basis and are a justified response to violations of international law. The bottom line is that the G7 has shown it will increasingly focus on China and will try to maintain a coordinated policy approach. That's a major development.
—Josh Lipsky is the senior director of the Atlantic Council's GeoEconomics Center and a former adviser to the International Monetary Fund.
Hiroshima makes clear the authoritarian high-water mark has passed
G7 summits are usually nerd nirvanas, producing long statements on numerous issues that specialists mine to figure out in which direction the world's leading democracies are moving, usually incrementally. Hiroshima was different. It was rich in substance and symbolism indicating that the world's great democracies recognize the dangers, geopolitical and economic, posed by the two authoritarian revisionist powers, China and Russia.
In the summit statement and discussion, the G7 leaders seemed to be moving toward the understanding that China is a predatory power that needs to be kept in check. The statement also laid out a host of measures to further support Ukraine and isolate Russia for its war-crime laden aggression; and by hosting Zelenskyy, it gave the world a clear symbol of the world's great democracies' determination to enable Ukraine's successful defense. To underscore this, the Biden administration used Hiroshima to finally allow the transfer of F-16 fighter jets to Ukraine. What's more, Hiroshima offered a reminder of just how potent the democratic ideal is in also hosting Indian Prime Minister Narendra Modi, a long-time Putin pal and stalwart of the BRICS group (Brazil, Russia, India, China, and South Africa). It would have been nice to be a fly on the wall in the Kremlin as Putin watched the coverage of Modi's bilateral meeting with Zelenskyy.
Was it really just fifteen months ago that Chinese leader Xi Jinping and Putin issued their lengthy joint statement in Beijing and the world appeared to tremble at the specter of the marching authoritarian great powers? And today, Xi meets with the five Central Asian leaders while the G7 countries sit with India and Ukraine, and International Criminal Court–indicted Putin wonders if he can attend the BRICS Summit in South Africa in August without being arrested. Were these the extraordinary "changes" that Xi told Putin their two nations were driving when they met in Moscow in March?
—John E. Herbst is senior director of the Atlantic Council's Eurasia Center and served for thirty-one years as a foreign service officer in the US Department of State, retiring at the rank of career minister. He was US ambassador to Ukraine from 2003 to 2006.
Continued alignment on Russia sanctions is impressive, but it's time to finish the job
The G7 members continued to show their alignment on new waves of Russian sanctions after meetings in Hiroshima over the last few days. The rhetoric continues to be one threatening those who would evade or circumvent sanctions, or those supporting them, with severe penalties. We've certainly seen designations of those who have circumvented sanctions to date, but without material enforcement, is the coalition missing the plot? Having served at the Office of Foreign Assets Control (OFAC) in the US Department of Treasury, I know firsthand the time it takes to bring an enforcement case to conclusion. If the goal is further isolation of Russia, then seeing nearly five billion dollars per month of exports from G7 nations (according to the Atlantic Council's Niels Graham) is evidence of the scale of Russia's role in the global economy. I do not mean to say that those who have been trading monthly with Russia have been violating sanctions, but perhaps countries and companies do not feel as much that they need to make a choice.
Hopefully, in time, there will be further rounds of sanctions focusing more broadly on export bans, unless otherwise expressly exempted. This would certainly make life more operationally easier for financial institutions which finance the aforementioned trade. For example, as sanctions were built up on Iran, culminating in the Joint Comprehensive Plan of Action (JCPOA), trade with Iran was certainly viewed largely as off-limits, and further enforcement actions against global banks reinforced the consequences for those who would purposefully violate these sanctions. When the JCPOA was enacted and secondary sanctions lifted, as a condition of the deal, there were initial views that Western businesses, where permissible, would flood the market. There were numerous reports of civil aviation, automotive, and consumer products companies who announced plans to reenter the market. Few, if any, global financial institutions would facilitate this trade, even if it was legal. At one point, then US Secretary of State John Kerry and then UK Foreign Secretary Boris Johnson convened the world's largest banks to remind them that certain trade was now permissible. But the banks did not bite. The fear of potentially being on the wrong side of the remaining Iran sanctions, and the large-scale penalties that went along with those violations, was a painful reminder that it may not be worth it.
Now, Iran is certainly not Russia. The former is, according to the International Monetary Fund, the twenty-second largest economy in the world, while the latter recently ranked as the eleventh largest. However, for these Russia sanctions to be truly effective, more companies need to fear the downside risk to their organizations if things go wrong and they end up violating sanctions. To be clear, I do not wish for enforcement to occur outside of the truly egregious examples of violations. Enforcement has served as an effective deterrent historically to help reinforce a sanctions agenda. In the Iran example, these were some of the largest banks in the world that paid billions of dollars in settlement costs, and billions more in remediating their historical issues. There is another reason why enforcement is critical in a new sanctions regime, especially one as challenging to implement as with Russia. It is at times hard for companies to know whether they're doing it right. Some of the best guidance out of OFAC used by firms was borne from enforcement actions, where organizations could apply the lessons learned to themselves and ask if they had done something similar. At the most basic level, if continued rounds of new sanctions are launched without material examples of violators, assuming they exist, can we really say they're effective?
—Daniel Tannebaum is a nonresident senior fellow at the Atlantic Council's Economic Statecraft Initiative in the GeoEconomics Center and a partner in Oliver Wyman's Risk and Public Policy Practice, where he leads the firm's Global Anti-Financial Crime Practice.
The Quad crumbles without a corner
Biden's decision to abruptly end his Asia trip and pull out of the Quad Leaders' Summit reflects poorly on US credibility and reinforces doubts about its resolve. The leaders of Australia, India, Japan, and the United States were expected to meet in Sydney on May 24 to enhance cooperation on critical and emerging technologies, climate change, and maritime domain awareness. However, Biden cut his trip short to deal with domestic debt ceiling negotiations, which are undermining US foreign policy at a pivotal moment for the Indo-Pacific region.
The Quad Summit was intended to signal unity in the face of Chinese attempts to challenge the existing regional order. Instead, China will be further emboldened to assert territorial claims, expand naval capabilities, and militarize islands in the South China Sea. This is a diplomatic gift to Xi, and Chinese state media outlets will jump at the opportunity to tear Washington down. In its messaging to the region, Beijing will claim that a country failing to keep its own government afloat is unfit to lead.
China is right about one thing: Building trust requires consistency, reliability, and simply showing up. Withdrawing from diplomatic trips to Asia due to political emergencies has become an unfortunate pattern for the United States, as presidents George H.W. Bush, Bill Clinton, and Barack Obama all did so.
Furthermore, US foreign policies are at risk of a 180-degree shift every four years, as shown by the political re-emergence of Donald Trump—who ditched the 2017 East Asia Summit in the Philippines because it started late.
Nonetheless, the United States has been deemed the unofficial leader of the Quad. Although the four leaders met on the sidelines of the G7 meeting in Hiroshima, the meeting only lasted fifty minutes and was a clear indication that the Quad framework had been pushed to the wayside.
Perhaps another country ought to take control. With India overtaking China as the most populous country in the world, Modi is asserting himself. India's prime minister is proceeding full steam ahead with his visit to Australia, which includes a public event, a bilateral with Australian Prime Minister Anthony Albanese, and meetings with leaders in the business community. But India's democratic backsliding under Modi means that other Quad members must exercise caution in their engagement.
While the four countries sought to resuscitate the Quad Leaders' Summit by bandwagoning onto the G7, it is evident that this was a missed opportunity to not only strengthen Quad partnerships but more importantly signal commitment to Indo-Pacific countries.
—Kyoko Imai is an assistant director with the Indo-Pacific Security Initiative in the Atlantic Council's Scowcroft Center for Strategy and Security.
What will the G7 do when China next attempts economic coercion?
While some are criticizing the "G7 Leaders' Statement on Economic Resilience and Economic Security" for lacking detail on how countries intend to respond to economic coercion (coercion from China, of course, even if Beijing is never mentioned by name), just the fact that the disparate G7 members, all of which have significant trade and investment relations with China, were able to put out such a strong statement is a big accomplishment. "We will work together to ensure that attempts to weaponize economic dependencies… will fail and face consequences" is just one of numerous tough lines in the document.
If there was any doubt whether China is taking the statement seriously, just check out its irate response. Late Saturday, Beijing lashed out at the United States, calling it the "real coercer" that "politicizes and weaponizes economic and trade relations" with its use of sanctions. It went on to warn the G7 to stop "bludgeoning other countries" and "stoking bloc confrontation." We will have to wait to see what concrete steps are taken by the G7 the next time one of its members or partner countries faces business pressure from China (the Coordination Platform on Economic Coercion that the G7 mentions indeed lacks specificity). But the statement released at the close of the Hiroshima summit is nonetheless a big first step toward confronting this growing challenge head on.
—Dexter Tiff Roberts is a nonresident senior fellow with the Atlantic Council's Indo-Pacific Security Initiative and Global China Hub.
A breakthrough in fighting China's economic coercion, but the details must be fleshed out
Perhaps the signal achievement of the Hiroshima G7 Summit was agreement on a "Coordination Platform on Economic Coercion" to counter Chinese economic coercion, highlighted through a stand-alone document.
Despite the obvious utility of such a mechanism, this outcome was long in coming. Japan and the United States have urged coordination among the leading industrialized democracies to counter Chinese economic coercion. However, European G7 countries have been reluctant, fearful of antagonizing Beijing. They exceeded expectations by joining consensus not only on a general statement of principles opposing economic coercion, but on a coordinating mechanism to take concrete actions.
Now that the G7 has moved past admiring the problem and reached consensus on the need for a coordination platform, the devil will be in the details of implementation. A good starting point may well be mapping out supply-chain vulnerabilities by industry and sector, alerting countries and corporations that might be affected, and helping them devise and implement "de-risking" strategies that would render them more resilient to supply-chain disruptions by China.
This could be an important means of G7 outreach to Global South countries, sensitizing them to the perils and pitfalls of economic dependence on China and demonstrating the benefits of upholding international order and the rule of law in cooperation with developed industrial countries and multilateral institutions.
Another important element will be devising joint approaches on mitigation via ready-made tools to counter economic coercion by providing support and relief for countries targeted by China. Flexible response options include, inter alia, stockpiling critical materials or commodities that China could restrict, providing export credit insurance to encourage alternative exporters to meet demand when China restricts exports, and enacting temporary tariff reductions to compensate when China restricts imports. Similarly, the G7 could consider retaliatory measures, although that may be a bridge too far at this juncture.
Whichever tools are adopted, the G7 decision to work together through a common coordination platform may be seen in retrospect as a watershed moment for countering Chinese economic coercion.
—Thomas Cynkin is a nonresident senior fellow in the Indo-Pacific Security Initiative and a former career US diplomat, serving in Japan and elsewhere.
The regulators are coming for your AI
The G7 has lobbed the latest of three notable salvos in signaling that governments around the globe are focused on regulating Generative Artificial Intelligence (AI). The G7 ministers have established the Hiroshima AI Process, an inclusive effort for governments to collaborate on AI governance, IP rights (including copyright), transparency, mis/disinformation, and responsible use. Earlier in the week, testimony in the United States highlighted the grave concerns governments have and why these discussions are necessary.
"Loss of jobs, invasion of personal privacy at a scale never seen before, manipulation of personal behavior, manipulation of personal opinions, and potentially the degradation of free elections in America." These are the downsides, harms, and risks of Generative AI as Senator Josh Hawley (R-MO) recapped after the Senate Judiciary Committee hearing on May 16, saying "this is quite a list."
Just last week, the European Union (EU) AI Act moved forward, paving the way for a plenary vote in mid-June on its path to becoming law.
Make no mistake, regulation is coming.
Read more here:
—Steven Tiell is a nonresident senior fellow with the Atlantic Council's GeoTech Center. He is a strategy executive with wide technology expertise and particular depth in data ethics and responsible innovation for artificial intelligence.
G7 leaders should have gone further on energy security
When it comes to energy security, the G7 Leaders' Hiroshima Communique falls short. While paying extensive, needed attention to slashing greenhouse gas emissions and rightfully condemning the negative impacts on global energy security stemming from Russia's expanded invasion of Ukraine, the communique could do better in addressing the changing geopolitics of energy and meeting the world's need for assured, predictable, and affordable energy.
The communique is strong on the imperative to decarbonize and limit the rise in global temperatures. Fighting climate change requires radical changes in how the world gets and uses energy. However, energy security, affordability, and access are also important.
While last year Europe built oil and gas stocks as the EU, the United States, and others sanctioned Russia, it was the warmer-than-normal winter that was key to the continent avoiding serious energy shortfalls and economic pain. Significant new natural gas supplies to replace Russia's will not be on stream for another year or more; tight, expensive energy supplies will remain a reality. Next winter may not be as obliging. Continued international action is essential.
Another serious factor tightening the market is rising energy demand. Emerging economies, especially China and India—not the mature, industrialized West—now drive the demand side of the ledger. Their decisions about whether they use coal and other fossil fuels to generate electricity or to decarbonize have global impacts. The G7 needs to keep engaging them.
A third energy security issue demanding attention concerns the billions of people without access to energy today. One of the Sustainable Development Goals is to "ensure access to affordable, reliable, sustainable, and modern energy for all," but those without it rose by twenty million in 2022 to nearly 775 million. As many as three billion people lack a safe way to cook, leading to millions dying each year from household air pollution. Moreover, another two billion people are expected to join the world's population between now and 2050. All of them will need access to reliable energy.
While focusing on pushing the energy transition ahead, the 19,000-word G7 communique is too often silent on other pressing realities. Working, as the communique says, "to holistically address energy security, climate crisis, and geopolitical risk including expansion of global use of renewable energy in order to… keep a limit of 1.5°C within reach" is a worthy objective. But it may prove inadequate in meeting other pressing energy security challenges.
It is essential the United States, its G7 partners, and other governments widen the aperture. The realities of a growing world population looking for greater access to energy should be taken into account. Solutions need to be developed, including new technologies. Governments will need to recognize that some countries will remain more dependent on fossil fuels than others. Countries that already face high borrowing costs and other difficulties in obtaining needed financing, for example, will face difficulties financing lower carbon energy solutions.
G7 leaders need to keep a focus on a changing, dynamic global energy security picture, and push on a wider range of policies and actions.
—Robert Cekuta is a former principal deputy assistant secretary for energy at the State Department and was the US ambassador to the Republic of Azerbaijan.
US-Japan-South Korea trilateral cooperation is back on track
Six months after their previous meeting in November, the leaders of South Korea, the United States, and Japan resumed their talks on the last day of the G7 summit—where highly anticipated topics included enhancing real-time information sharing on North Korea's ballistic missiles, as well as the possibility of Japan joining the South Korea-US Nuclear Consultative Group announced during South Korean President Yoon Suk Yeol's visit to Washington last month. Although the meeting was short, given tight schedules at the summit, the brief sideline meeting is the culmination of real progress in getting trilateral relations back on track.
Most importantly, the three leaders did get to discuss "new coordination" over North Korea's "illicit nuclear and missile threats," according to the White House statement. This manifests how working-level discussions are ongoing and making real progress. As Biden invited Yoon and Kishida for a formal trilateral meeting in Washington, more fine-tuned outcomes will be available in the near future. Second, their appearance in the setting of Hiroshima was symbolic in and of itself. The leaders of South Korea and Japan put forth "courageous" efforts (as Biden put it) to mend ties during their bilateral meeting just before the trilateral sideline meeting, which showcased their unity and just how much their ties have improved in the past few months.
Moreover, as Yoon clarifies and realigns South Korea's approach to global issues—agreeing to push back against China's "coercive behavior" and provide more non-lethal aid to Ukraine—the trilateral meeting signals a resumed heyday of trilateral security cooperation.
— Bee Yun Jo is a nonresident fellow in the Indo-Pacific Security Initiative and an associate research fellow at the Korea Institute for Defense Analyses. She is also an evaluation committee member of the South Korean Ministry of Foreign Affairs and an advisory committee member of the the ministry's Department of Arms Control and Nonproliferation.
Can US-South Korea-Japan trilateral cooperation endure beyond a photo op?
The decision by Kishida, Yoon, and Biden to meet despite the compressed timeline of Biden's abbreviated Asia-Pacific trip displayed the leaders' strong desire to communicate that increasing trilateral cooperation is a priority. However, significant hurdles remain to advancing this cooperation.
Amid North Korea's efforts to improve its nuclear and missile capabilities, the three countries have notably increased cooperation on combined military readiness and intelligence sharing. However, there is a limit to their working together, as shown by South Korea's rejection of Japan joining the South Korea-US Nuclear Consultation Group and Seoul's hesitation to expand the grouping's military cooperation beyond North Korea.
As anticipated, the G7 Leaders' Statement on Economic Resilience and Economic Security highlights continued cooperation toward strengthening the semiconductor supply chain. The United States is trying to form a semiconductor alliance (known as the Chip 4) with semiconductor heavyweights South Korea, Japan, and Taiwan. But despite the group's increased alignment on export controls, this alliance has not yet come together. With US-South Korean-Japanese trilateral military cooperation solely focused on North Korea, it is unclear whether the grouping would be able to coordinate a response in the event of a critical threat to the supply chain outside of the Korean peninsula. For instance, the idea floating around some national-security circles that the United States should blow up TSMC's foundries on Taiwan in the event of a cross-strait conflict displays a clear lack of discussion of contingency options. Earthquakes and climate change–driven weather events also threaten the supply chain, but it is unclear how the prospective Chip 4 would cooperate to come up with flexible response options as their respective semiconductor industries continue to compete.
The picture also remains unclear for US-South Korea-Japan cooperation on strategic stability. The South Korean public so far appears unmoved in its disapproval for Yoon's overtures to Japan, and it does not appear that Kishida will expend political capital to match Yoon's effort. Meanwhile, amid international concerns the United States is becoming even more protectionist, the US public remains predominantly concerned with the economy, making it difficult for either Republicans or Democrats to shift from an increasingly "America First" approach. But perhaps the biggest hurdle for this group is how to balance the need to cooperate among each other on Chinese threats against the need to maintain an off-ramp from tensions to cooperate with China as well.
—Jessica Taylor is a nonresident fellow in the Indo-Pacific Security Initiative, a logistics officer in the US Air Force Reserve, and a Ph.D. candidate in Princeton's School of Public and International Affairs Security Studies Program. She served in South Korea from 2019 to 2021 as an international relations strategist for the headquarters command staffs of United Nations Command, ROK/US Combined Forces Command, and US Forces Korea.
Biden skipping Papua New Guinea was a missed opportunity
First, let's acknowledge the things that the United States has gotten right as it's stepped up its engagement in the Pacific Islands over the past year. It is following through on promises to expand its diplomatic footprint, opening new embassies in the Solomon Islands and Tonga and reestablishing the US Agency for International Development's regional mission in Fiji. Senior officials have lavished attention on the region with high-level visits, and last September's United States-Pacific Islands Country Summit was the first ever hosted in Washington. Crucially, compacts of Free Association with the Federated States of Micronesia and Palau are also being finalized.
US President Joe Biden's now-scrapped visit to Papua New Guinea (PNG) was meant to be a culmination of these efforts and send a powerful signal to Pacific Islanders about the US commitment to the region. Instead, it underlines skepticism about the United States' ability to follow through on the promises it has made and its staying power. The concurrent cancellation of Biden's visit to Australia for the Quad summit only reinforces this; as a headline in the Sydney Morning Herald put it, "Biden's 11th hour Quad snub a disappointment, a mess, and a gift to Beijing."
Will this do long-term damage to US efforts in the Pacific? Perhaps not. But, in the immediate term, the optics are dreadful. After the visit to PNG was canceled, National Security Adviser Jake Sullivan said Biden plans to host a major summit with leaders of the Pacific Islands "within this calendar year." It is important to follow through on that promise. In addition, Secretary of State Antony Blinken announced a visit to Port Moresby on May 22.
This episode showcases a key challenge bedeviling the United States on the world stage—that of internal political dysfunction hindering its conduct of a consistent foreign policy and projecting an unappealing image across the world. If the United States is going to succeed in the Pacific—and elsewhere, for that matter—it not only needs to deliver on its assurances, but also get its domestic house in order.
—Parker Novak is a nonresident fellow with the Atlantic Council's Global China Hub.
---
Further reading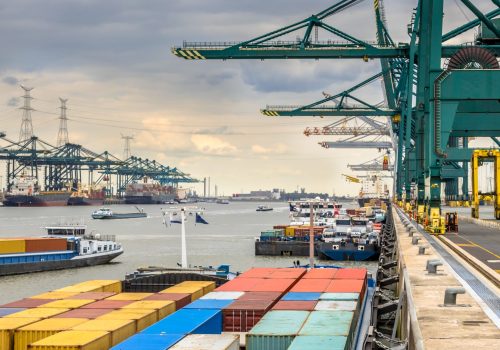 Wed, May 10, 2023
Econographics By Niels Graham
One year into the Russia's invasion G7 nations continue to export nearly $5B a month to Moscow. A new proposal by the US at the G7 could greatly reduce this.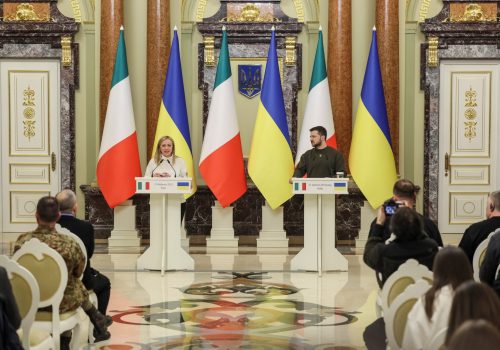 Fri, May 12, 2023
UkraineAlert By Andriy Yermak
Italian Prime Minister Giorgia Meloni is right to say that helping Ukraine defend itself against Russian invasion is about freedom, justice, and common values, writes the head of Ukraine's Office of the President, Andriy Yermak.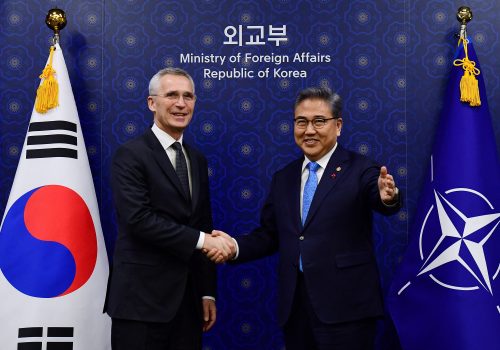 Mon, Feb 6, 2023
New Atlanticist By Sara Bjerg Moller
NATO Secretary General Jens Stoltenberg's visit to Japan and South Korea trip was striking both for its timing and for its messaging shift on China.