Watch the full event
The people of Iran have faced unprecedented violence from their own government in the eight months since protests arose after the death of a twenty-two-year-old Kurdish-Iranian woman at the hands of the so-called "morality police."
But rather than let injustices ranging from beatings to executions quiet them, the Iranian people continue to showcase their bravery while speaking out against these abuses and others, with Iranian women and girls exhibiting particular courage.
As they do, Iranian women and girls not only tap into a more than century-old history of protest in Iran, but also show new resilience and creativity in their fight for change.
"This is full of energy. This is full of anger. This is different, but with some of what had been before," Mehrangiz Kar, an Iranian women's rights lawyer and writer, said at an Atlantic Council Front Page event on Thursday.
She, along with Iranian women's rights advocate Azam Jangravi and Iranian actress/writer/activist Nazanin Nour, gathered in Washington to accept the Atlantic Council's 2023 Distinguished Humanitarian Leadership Award on behalf of the women and girls of Iran who are fighting for freedom and equality. 
Read on for more highlights of the discussion with Kar, Jangravi, and Nour, moderated by PBS NewsHour correspondent Ali Rogin, about the reality from the ground and how the world can support the Iranian people.
The ingenuity, and bravery, of protest
Amid the poisoning of thousands of schoolgirls and other threats of violence, Iran's girls have made an undeniable mark while engaging in creative dissent, including recording themselves tearing and burning photos of Iran's supreme leader—which typically mark the beginnings of their textbooks and the walls of their classrooms. "Gen Z is very adept at using TikTok and Instagram, and figuring out how to make things trend and go viral," Jangravi said.
On International Women's Day, five Iranian girls danced unveiled while participating in the "Calm Down" challenge that riffs on the hit song by Nigerian singer Rema and American artist Selena Gomez. The forty-second video gained global attention from mainstream outlets and garnered millions of views online. "We have never seen that level of social media activity to move a movement forward when it comes to Iran," said Nour, who has used her own platform as an actress and writer to speak out about what's happening in the country.
Taking their protest online has also underscored the risks Iranian women face as they speak out. In the case of the "Calm Down" video, the girls were later detained and made to give a forced apology. Many Iranians believe the schoolgirl poisonings have been at the very least tolerated by the Iranian government as punishment for their activism. "It's very difficult for anybody to believe that a regime that uses facial recognition technology to send tickets to women who aren't wearing their hijab properly cannot find out who is behind these poisonings," Nour said.
It's a reminder that, since the Iranian Revolution in 1979, the women of Iran have put their lives on the line while seeking gender equality and basic human rights. "Women have used activist campaigns, NGOs, to protest the violation of their rights and demand justice and equality. However, they have paid a heavy price for their activism, including suppression, threats, imprisonment, and mental and physical torture," Jangravi said.
Searching for new solidarity
All three women said more attention is necessary from the international community to force change from the Islamic Republic and Supreme Leader Ayatollah Ali Khamenei. "Now [the world] can understand that it's not enough that human rights institutions work to remove gender discrimination in Iran. We can understand that all Western governments should work with human rights institutions," Kar said.
Some four million Iranians now live abroad, and that diaspora has grown its economic, political, and social clout. "Now we have seen the diaspora rally around the people of Iran. I had never seen that level of unity," said Nour, who is herself the daughter of Iranian immigrants and was born and lives in the United States.

Even the "smallest action," such as female officials refusing to wear headscarves while meeting with Islamic Republic officials, helps. "Overall, the global community needs to condemn the actions of the Islamic Republic, not legitimize them," Nour said, criticizing how the United Nations (UN) gave Iran a leadership role on at the UN Human Rights Council 2023 Social Forum on Wednesday: "It's an absolute slap in the face to Iranians."

That decision came just days after two men, including a dual Swedish-Iranian citizen, were executed for running a Telegram group criticizing Islam. "The government is trying to create real fear among the people through execution," Jangravi said. The actions of those two men, and a number of Iranian women who have joined the protests, including choosing to wear shorts as a form of civil disobedience, showcases how people "from all levels of society" have come together to create change.
---
Nick Fouriezos is a writer with more than a decade of experience reporting around the globe.
Further reading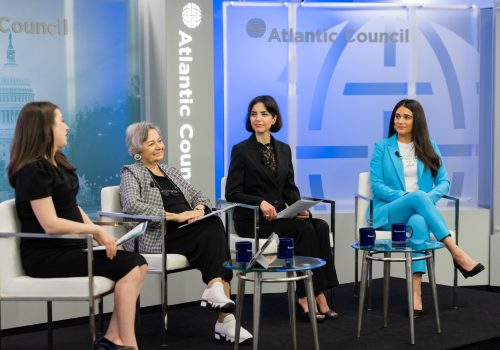 Thu, May 11, 2023
Transcript By Atlantic Council
Three recipients of the Atlantic Council's Distinguished Humanitarian Leadership Award examined the antigovernment protests in Iran and the decades-long fight for gender equality and social justice in the country.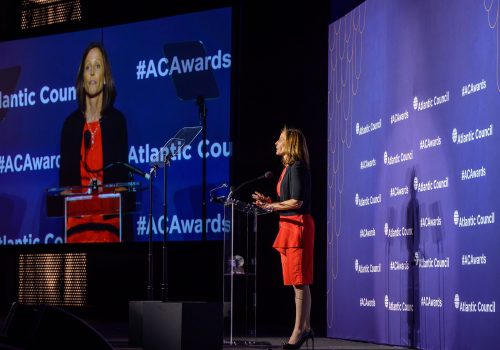 Thu, May 11, 2023
New Atlanticist By Katherine Walla, Daniel Malloy
Women play a leading role in problem solving, making a historic difference on battlefields, in protests, and in boardrooms. Our annual awards honored awardees embodying this role.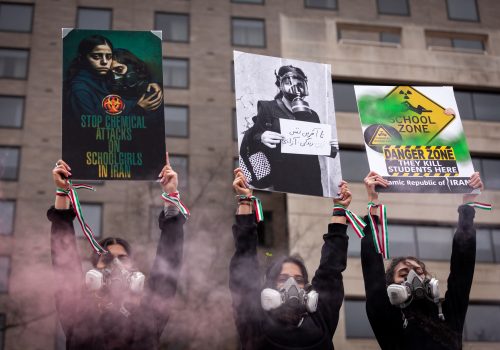 Tue, May 2, 2023
IranSource By Mahnaz Vahdati
The international community must take decisive and expeditious measures to ensure accountability and safeguard the human rights of Iranian citizens, especially women and girls.