From Russia's all-out invasion of Ukraine and gender oppression in Iran to widespread energy and food crises, the past year has been one of global upheaval. And the pivotal problem-solvers in these crises are often women—who are making a historic difference on battlefields, in protests, and in boardrooms.
In recognition of this reality, the Atlantic Council's Distinguished Leadership Awards in Washington, DC on Thursday evening honored an all-female slate of awardees who embody "the rising role of women's leadership in shaping a better world," as Atlantic Council Chairman John F.W. Rogers put it.
World Trade Organization (WTO) Director-General Ngozi Okonjo-Iweala is the first woman to serve in her role, leading the trade body as it has navigated unprecedented challenges caused by the COVID-19 pandemic and global instability. US Director of National Intelligence Avril Haines is also a path-paver. As the first woman to oversee the US Intelligence Community, she has steered its work to address escalating global threats.
Nasdaq Chair and CEO Adena T. Friedman, the first woman to lead a major US stock exchange operator, has focused her tenure on modernizing and diversifying Nasdaq. And General Laura J. Richardson, commander of US Southern Command, has used her passion for global security to promote the rule of law, human rights, and democracy in Latin America and the Caribbean.
Rounding out the roster are the brave Iranian women and girls who have stood up, despite enormous risks, to fight the Iranian Republic's discriminatory laws, drawing support and attention from across the world.
"This group is a representation of how far we have come," Richardson said as she accepted her award, "but also a reminder of how much work there is to be done."
Below are more highlights from the gala.
Laura Richardson: "A solution to these complex challenges… starts with the United States"
The four-star general issued a call to action for Latin America and the Caribbean: "Our partners are struggling to deliver for their people," she warned.
The region, Richardson explained, is getting hit by the effects of poverty, crime, climate change, and the COVID-19 pandemic. "This desperate situation allows the Chinese Communist Party to step in," she said, adding that China presents its Belt and Road Initiative to Latin American countries under the guise of wanting to invest. But it's "really to extract countries' critical infrastructure," she explained, with China providing "its debt traps of loans, shoddy work, cost overruns, and bribery of senior officials."
In addition to that, Russia's "prolific disinformation campaign"—delivered through media companies with audiences in the tens of millions in Latin America—"only further exacerbates" the difficulties these countries face, said Richardson.
Solutions for Latin America and the Caribbean's challenges start with the United States, Richardson argued. "Team USA is committed to democracies across the globe," she said, explaining that the United States is bringing together all elements of national power to help: diplomatic, economic, military, and informational. "This region is our shared neighborhood, and good neighbors take care of each other," she said.
Richardson noted that women, peace, and security—a policy framework that calls for the participation of women in peacebuilding and conflict resolution—is "a critical component of successful democracies." Shaping the global future together will take a community, she explained. So "we must be intentional about recruitment, retention, training, and [the] advancement of women," she said, "because if we take our eye off the ball, we risk losing an entire generation."
Ngozi Okonjo-Iweala: "Support strategic interdependence, not overdependence"  
Okonjo-Iweala spoke of trying to find the positives in "a world of doom and gloom." And one place to do that is multilateral organizations such as her own. "We need places where nations can come together," the WTO head said. "And truly interact even when they disagree—in fact, especially when they disagree."
Okonjo-Iweala pointed out that at the WTO, geopolitical rivals such as the United States and China can sit down and talk trade to the benefit of their citizens. "We need to shore up the multilateral institutions we have instead of taking for granted the services they provide," she said.
Okonjo-Iweala nodded to the many criticisms of the WTO and acknowledged that multilateral institutions "need to be reformed to be fit for purpose for the twenty-first century." While there were job losses in recent decades, she added, not all were due to trade—technology and other factors played a role. 
Meanwhile, Okonjo-Iweala added, "our biggest successes go almost unnoticed." One she called out was the Information Technology Agreement, a 1996 agreement that has grown to eliminate tariffs on what Okonjo-Iweala said was nearly three trillion dollars in trade in 2021. 
"So if we let multilateral fora wither, if we fail to preserve what they are doing well and improve what needs improving, the costs will be high," Okonjo-Iweala said. "Support strategic interdependence, not overdependence." 
Avril Haines: "Success of our mission depends on our ability to work with others"
In accepting her award, the director of national intelligence recalled how in its annual threat assessment—published in February—the US Intelligence Community identified two strategic challenges to national security: competition among great powers, rising regional powers, and nonstate actors for influence over the international system; and challenges that transcend borders such as climate change, health, and security.
"The intersection of these challenges [underscores] the importance of working together with partners and allies, private industry, and organizations like the Atlantic Council," explained Haines, "which bring us together and raise the standard of our work… with the belief that through civil discourse, we can advance our common cause."
That underlying common conviction, according to Haines, is "that a healthy transatlantic relationship is fundamental to the strength and quality of an international system that is capable of addressing today's challenges."
In guiding policymakers with valuable intelligence, the Intelligence Community must interact with people outside of the community who can test hypotheses, provide alternative perspectives, and challenge biases and underlying assumptions, Haines explained. "The success of our mission depends on our ability to work with others across a range of fields and disciplines," Haines said, "and it requires us to engage with diverse voices and perspectives from all backgrounds and walks of life."
Nazanin Nour: "Stay the course on equal rights for all"
Iranian-American actress and activist Nazanin Nour joined Iranian women's rights lawyer Mehrangiz Kar and Iranian women's rights advocate Azam Jangravi on stage to receive the Distinguished Humanitarian Leadership Award on behalf of the women and girls of Iran. (Mahnaz Afkhami, CEO of the Women's Learning Partnership, received the award in absentia.) Despite "great personal risk," Nour said, the women and girls of Iran "are pressing for a brighter future." 
Nour explained how after the 1979 revolution, new leader Ayatollah Ruhollah Khomeini banned women from holding jobs, obtaining an education, accessing contraceptives, and more. "To this day, the clerical leadership of the Islamic Republic has hinged on the repression of women," Nour argued. "Time and again, the regime's response to women's calls for greater freedom has been swift and brutal. But the extraordinary women of Iran have persevered."
Those women have not only persevered, Nour added, but they have also "been in the vanguard demanding change" and learning from the rest of the world about how to secure rights and freedoms. She pointed to the Woman, Life, Freedom movement, which surged following the death of Mahsa Amini in 2022. "Today, women and men are marching side-by-side in support of a revolution that was launched by women and girls," Nour noted.
Nour described the movement as "modern… in its language, slogans, and approach," as women and girls have disseminated their message worldwide by using social media. That, Nour said, has helped create "a truly global movement which, at this moment, is in dire need of collective action; and we can all agree on that."
Nour encouraged the audience to "publicly condemn" the United Nations Human Rights Council's decision to appoint the Islamic Republic of Iran as chair of its Social Forum. "The Islamic Republic and human rights is an oxymoron, and it's a slap in the face to the people of Iran that have been brutalized, oppressed, and tortured."
"It is easy for the sacrifices of the protestors to disappear from the headlines," Nour noted. "I implore you to continue your solidarity. I implore you to support democracy. I implore you to stay the course on equal rights for all."
Adena T. Friedman: "When faced with global challenges, we must find global solutions"
In line with the Atlantic Council's mission to advance global prosperity, Friedman noted that "markets are foundational to strong economies and to vibrant entrepreneurial ecosystems."
"When faced with global challenges, we must find global solutions," Friedman said. Nasdaq, she explained, aims to use its expertise and technology to "help build trusted market infrastructure all over the world."
Nasdaq has a role to play not only in established markets, but in emerging markets as well, Friedman said. "We can support their efforts to bring in more foreign investment through well-functioning, high-integrity, and vibrant capital markets," she explained.
The global fight for freedom
Almar Latour, the CEO of Dow Jones and publisher of the Wall Street Journal, implored attendees in a special address to cast their thoughts to a Russian prison, where Wall Street Journal reporter Evan Gershkovich remains detained six weeks after he "was unjustly arrested," Latour said, "on false charges of espionage." 
But while Gershkovich is the highest-profile journalist persecuted for doing his job of late, he's not the only one. Latour noted the kidnapping of journalist Austin Tice in Syria, the arrest of publisher Jimmy Lai in Hong Kong, and the arrest just last week of Nicaraguan journalist Hazel Zamora. "Dictators around the world are determined to stamp out independent reporting," Latour said. "And we cannot allow them to succeed… The world is watching. It's watching how the US and democracies around the world respond to this assault on the press. The world is watching how we in this room are responding." 
Russia's war in Ukraine is "a historic inflection point of breathtaking significance," said Atlantic Council CEO Frederick Kempe.  "Some people say we have to separate the war in Ukraine from China and China's challenge. I think the challenges are inseparable. This is not a time for half measures. The future of the global order is at stake. Its institutions, its principles, its values, as imperfect as they are, are worth defending. And that is what motivates the Atlantic Council." 
---
Katherine Walla is the associate director of editorial at the Atlantic Council.
Daniel Malloy is the deputy managing editor at the Atlantic Council.
Watch the full event
Further reading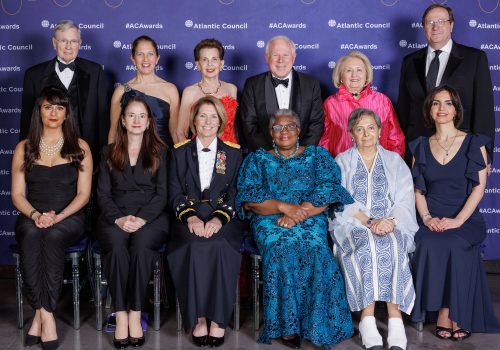 Thu, May 11, 2023
Transcript By Atlantic Council
The Atlantic Council celebrated its first all-female honoree slate, inspired by the past year of remarkable accomplishments by women around the world.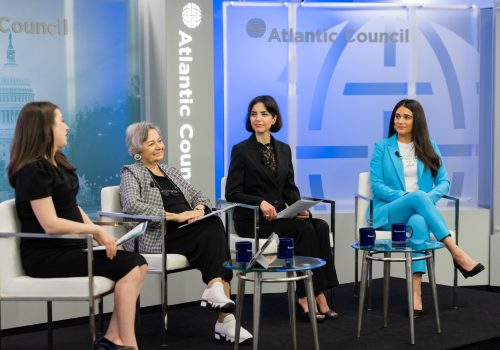 Thu, May 11, 2023
Transcript By Atlantic Council
Three recipients of the Atlantic Council's Distinguished Humanitarian Leadership Award examined the antigovernment protests in Iran and the decades-long fight for gender equality and social justice in the country.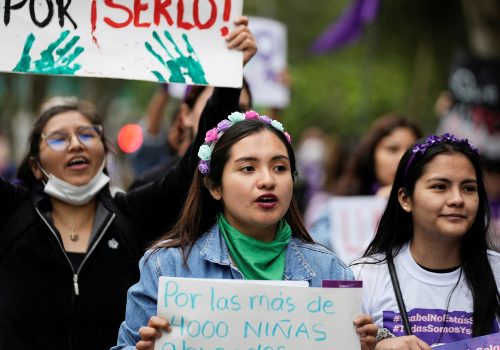 Thu, Apr 20, 2023
New Atlanticist By Willow Fortunoff and Diana Paz García
Partnerships are a crucial part of advancing the United States' women, peace, and security agenda. Mayors and governors are already forming these important partnerships.