Experts react: Zelenskyy faces down Washington roadblocks
Ukraine is winning. That was the message Ukrainian President Volodymyr Zelenskyy brought to Washington, DC, today, first to Congress, then later to the White House where he sat down with US President Joe Biden. But he was also asking for help to finish the job. While the White House and many members of Congress from both parties continue to back US assistance to help Ukraine defend itself against Russian aggression, a growing campaign by some lawmakers against additional Ukraine aid has complicated efforts to boost funding as a government shutdown hangs in the balance. Meanwhile, the White House is declining—for now—to provide Ukraine with the long-range missiles it seeks.
Below, Atlantic Council experts share their insight on today's visit and what's next.
Click to jump to an expert analysis:
Rachel Rizzo: Zelenskyy's visit was a stark contrast from nine months ago
Andrew D'Anieri: Washington is locked in a worrying pattern of stalling and indecision
Andrew A. Michta: A pivotal moment for Washington—and Zelenskyy's own domestic politics
Doug Klain: The Pentagon takes a helpful step, but White House flip-flopping is a problem
Yevgeniya Gaber: Failing to fully back Ukraine now would send a troubling message to friends and foes alike
---
Zelenskyy's visit was a stark contrast from nine months ago
The message from the Biden administration and from a majority of bipartisan lawmakers is that US support for Ukraine remains strong, but it's impossible to ignore a growing chorus on Capitol Hill that may suggest otherwise. Zelenskyy's visit to Congress today was a stark contrast to his visit in December. Nine months ago, his speech to a joint session of Congress was met with a standing ovation; Today, House Speaker Kevin McCarthy denied the Ukrainian president's request for another speech. Instead, Zelenskyy met one-on-one with McCarthy, some members of the House, and a bipartisan group of senators. Nine months ago, members of Congress donned blue and yellow and waved Ukrainian flags, proclaiming that US support for the war effort would not falter. Today, some lawmakers on the Hill didn't even want to be photographed with Zelenskyy for fear of what it would mean for their political futures.
Today, both houses of Congress are held hostage by a small but loud group of Ukraine skeptics who say the United States shouldn't send more weapons and money, that the counteroffensive hasn't delivered as promised, that it distracts the United States from China, and that the United States can't afford to support Ukraine in the long run. Republican infighting is on full display: Just last week, a group of four Republican lawmakers penned a letter to Biden urging him to "provide Ukraine with the missiles it needs to win," mainly Army Tactical Missile Systems, or ATACMS. Only days later, a group of Republicans from both chambers sent a letter to the head of the Office of Management and Budget, opposing additional money and weapons to Ukraine. The Biden administration's recent request for another $24 billion from Congress in supplemental funding for Ukraine hangs in the balance. Watch this space closely over the coming weeks.
—Rachel Rizzo is a nonresident senior fellow at the Atlantic Council's Europe Center.
---
Washington is locked in a worrying pattern of stalling and indecision
The timing of Zelenskyy's New York-Washington two-step tour is the most important element of his visit to the United States. His visit was nominally for the United Nations (UN) General Assembly, where he gave another impassioned speech on why world leaders cannot sit back and grumble about Russia's continuing war of aggression. Zelenskyy made the case for Ukraine's peace formula, while emphasizing that Russia's war is driving up world food prices, just when fall grain harvests often start to ease pressure on global markets. His remarks focused on how the war is negatively impacting other countries, correctly recognizing that nineteen months after Russia's full-scale invasion, many countries in the West and the Global South may be more tempted to look out for themselves than they were in 2022.
In Washington, Zelenskyy's chief goal was to move the needle in Congress and help get Biden's requested $24 billion Ukraine aid package approved. With cheap narratives about a decline in US public support for Ukraine festering in the media, meeting with Democratic and Republican leadership—including some more Ukraine-skeptical representatives—is a smart move. The truth is that Americans' support for Ukraine has remained remarkably durable over the last nineteen months; poll after poll suggest that Americans want to see Ukraine win, and many want Congress and the Biden administration to send more aid, not less. But that hasn't stopped a few loud voices in the House of Representatives from attempting to cast doubt over continued financial and military support for Ukraine as they tilt Congress toward a government shutdown. Zelenskyy's visit to Congress quieted that noise and refocused the media cycle—something that can be difficult for US lawmakers, and even presidents, to do these days.
The biggest disappointment was National Security Advisor Jake Sullivan's confirmation that the Biden administration would not approve ATACMS long-range rocket systems to Ukraine after dangling them just two weeks ago, following Secretary of State Antony Blinken's visit to Kyiv. White House officials' will-they won't-they game is doing them no favors. Kyiv has been crying out for ATACMS to more credibly threaten Russian operations in occupied Crimea. Americans want to hear a clear plan for how the White House will help Ukraine win, but instead hear only "as long as it takes" and read about delayed promises. It's possible that holding on to the provision of ATACMS is part of a long game to pass the new aid bill in Congress and send the rockets later this fall, yet the announcement fits into a worrying pattern of stalling and indecision on Pennsylvania Avenue.
—Andrew D'Anieri is a resident fellow at the Atlantic Council's Eurasia Center.
---
A pivotal moment for Washington—and Zelenskyy's own domestic politics
Zelenskyy's visit to New York to address the UN General Assembly and his subsequent visit to Washington come at a critical time for the future of continued Western support for Ukraine. Although relatively brief, his DC trip to urge lawmakers to approve additional assistance for Ukraine was key. Such assistance is now entangled in the frantic effort both to avert a government shutdown and to counter the deepening partisan divisions on the Hill on congressional support for Kyiv. The visit coincided with the recently concluded meeting of the Ukraine Defense Contact Group at Ramstein Air Base in Germany, where Secretary of Defense Lloyd Austin urged the allies to focus on providing more air- and missile-defense systems and munitions as the country heads into another winter campaign.
Zelenskyy's trip was also intended to reassure both Congress and the Biden administration that he is moving fast to root out corruption, as evidenced by his recent decision to replace Oleksii Reznikov with Rustem Umerov as the country's new defense minister, and his move to fire all the heads of the country's military draft boards. Finally, the visit has a domestic policy dimension, as Ukraine's next presidential election is only some six months away, with a decision still pending on whether martial law will remain in place and the election postponed.
—Andrew A. Michta is director of the Scowcroft Strategy Initiative and senior fellow at the Atlantic Council.
---
The Pentagon takes a helpful step, but White House flip-flopping is a problem
Dysfunction in Washington—and not just in Congress—is keeping Ukraine guessing as Zelenskyy seeks to shore up support. Support for Ukraine remains popular in the United States, with a recent poll showing 63 percent of Americans support continuing military support in next year's federal budget and less than 20 percent want Ukraine to surrender territory in exchange for ending the war now. But even so, US officials seem to be letting domestic squabbles delay crucial aid.
Republican infighting in the House of Representatives risks a government shutdown, which could have troubling long-term consequences. But not long after Zelenskyy visited the Pentagon, the Department of Defense headed off a short-term disaster by announcing that operations to train Ukrainian forces, including F-16 fighter jet pilots, as well as transfers of military aid would continue even in the event of a shutdown.*
More confounding though is the White House's continued flip-flopping on sending long-range missiles known as ATACMS. After leaking that the missiles were likely, at long last, set to be announced during Zelenskyy's visit to Washington, the administration reversed course. Major objections to sending the missiles have been addressed, such as the fear of escalation with Russia—Ukraine is already using British and French long-range missiles to devastating effect, and Russia's threats have proved hollow. These missiles should have been sent long ago, and the White House continues to waste precious time.
Americans are clear in their continued support for Ukrainian victory. Let's hope a personal visit from Zelenskyy helps US officials come to their senses.
—Doug Klain is a nonresident fellow at the Eurasia Center.
This reaction was updated after the Pentagon's announcement that it would exempt Ukraine operations from a potential government shutdown.
---
Failing to fully back Ukraine now would send a troubling message to friends and foes alike
Zelenskyy's visit to the United States comes at a critical time, as the Ukrainian counteroffensive is struggling for a decisive breakthrough, Russia is preparing a new wave of massive attacks on Ukrainian energy infrastructure, and Kyiv's key allies on both sides of the Atlantic are heading for elections. His meetings in Washington were aimed to show these are substantial reasons to step up military assistance to Ukraine, not to scale it down.
The current slow pace of Ukrainian advances on the battlefield has come as a result of the calibrated Western support in the past. Ukraine's war effort could have been a much easier and less costly one, had it been equipped with everything it needs to defend itself—and Europe—from Russian imperial ambitions in the early days of invasion. Now Russia continues fighting not for the belief that its victory is within grasp but for the hope that Ukraine will lack sustainable support to achieve its own.
Zelenskyy's call to provide Ukraine with ATACMS and F-16 fighter jets as part of a new aid package was a clear signal that the United States should not shy away from taking decisive steps to help Ukraine win this war, not merely manage it. On the contrary, the decision to cut down its aid would send the wrong messages to Washington's friends and foes across the globe, complicating burden-sharing with European capitals and inviting further cooperation between Russia, China, Iran, and North Korea.
Even though the cost of Ukrainian success may be high, the possibility of Ukraine losing this war would come at a much higher price, signaling a strategic failure of the United States, continuing the Russian threat to Europe, and increasing China's gains in the global great-power competition.
—Yevgeniya Gaber is a nonresident senior fellow at the Atlantic Council IN TURKEY and a former foreign-policy adviser to the Ukrainian prime minister.
Further reading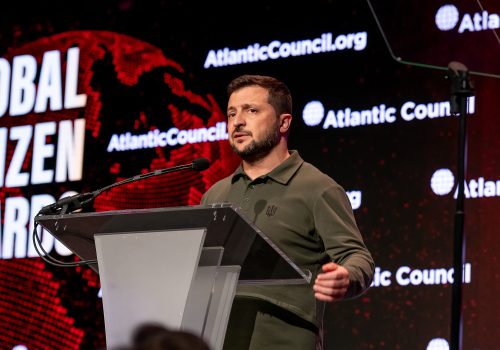 Wed, Sep 20, 2023
New Atlanticist By Atlantic Council
The Ukrainian president dedicated his award to the men and women on the frontlines of the war, the teachers and doctors who kept working despite the threat of missiles, and the children who have been killed.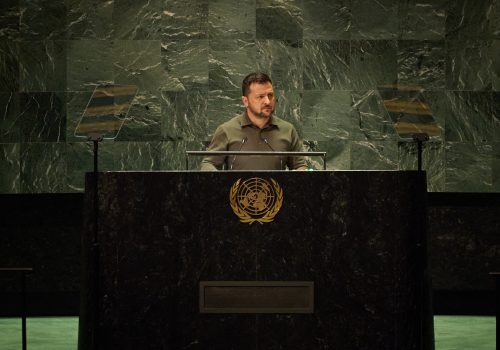 Wed, Sep 20, 2023
New Atlanticist By John E. Herbst
The White House is worried about the counteroffensive, but it has held off on supplying Ukraine the missiles that would help make a breakthrough.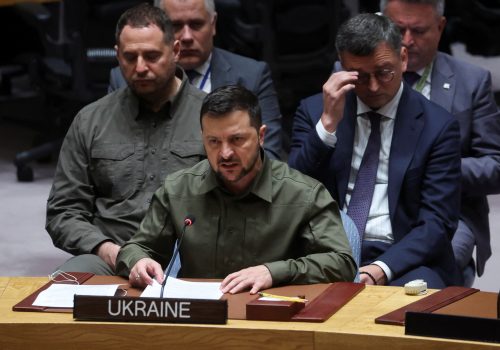 Thu, Sep 21, 2023
New Atlanticist By Digital Forensic Research Lab
Zelenskyy expresses frustration at the UN, Russia seems unlikely to block YouTube, and the US drops new sanctions.