For international criminal lawyers, the global response to Russia's full-scale invasion of Ukraine has been a welcome anomaly. Experts have pointed to not just the unprecedented number of investigations and accountability efforts, but also improved ways of collaborating between jurisdictions and the ways that factors such as political will are overcoming expected obstacles to secure accountability. With this progress comes the opportunity to litigate legal issues (such as cyber operations) that, while not necessarily new to warfare, have not yet been tried in court—pushing international law further into the twenty-first century. However, these successes around the war in Ukraine also highlight just how unequal access to justice is for victims of international crimes.
The below efforts are undeniably victories for justice—and they demonstrate how much more must be done to ensure accountability for Ukraine and to respond to all other international atrocities.
Criminal prosecutions
The Ukrainian criminal code includes provisions on acts of aggression, violations of the rules of warfare, and genocide. As of February 17, the Prosecutor General's Office of Ukraine had registered 70,180 war crimes and crimes of aggression and 16,882 crimes against national security, with eighty-six reported indictments and twenty-five convictions. While the Ukrainian Prosecutor General's Office has faced staff shakeups stemming from allegations of treason, it is working with organizations such as the International Bar Association and the Council of Europe to strengthen its capacity.
However, with the office's success and dedication, the international community has voiced some concerns about proceedings. These concerns primarily regard trials held in absentia—a somewhat controversial option that requires particular attention to fair trial rights for the accused under the European Convention on Human Rights—and the lack of an investigation into Ukrainian troops despite evidence that suggests possible violations (albeit on a significantly lower level). While Russia has launched domestic trials against Ukrainian soldiers, these trials "brazenly [undermine] fair trial rights" that are guaranteed for prisoners of war under the Third Geneva Convention, according to Amnesty International.
States not currently directly involved in the conflict have also opened investigations into international crimes under universal jurisdiction provisions. In Germany, the federal prosecutor launched a structural investigation, a tool allowing the office to gather evidence broadly without focusing on a particular suspect. Lithuania, Poland, Estonia, Latvia, Slovakia, and Romania have further joined with Ukraine to form a joint investigation team. The US Department of Justice issued indictments related to Russia's invasion, while Congress amended US war crime provisions to facilitate cases against Russian perpetrators.
The International Criminal Court (ICC) has jurisdiction over war crimes, crimes against humanity, and genocide when a crime is committed by a national of or on the territory of a State Party to the Rome Statute of the ICC or if the United Nations Security Council (UNSC) refers a matter to the ICC. Neither Russia nor Ukraine is a State Party, and Russia would almost certainly use its veto to block a UNSC referral. However, Ukraine submitted declarations in 2014 and 2015 accepting the ICC's jurisdiction over alleged crimes committed on its territory from November 21, 2013 onwards. On March 2, 2022 the ICC prosecutor, Karim Ahmad Khan, announced that he had opened an investigation into the situation in Ukraine based on what ultimately totaled forty-three states' referrals. By April 25, Khan's office had joined as a participant in the joint investigation team, and by June 17, Khan had visited Ukraine three times and announced plans to open a field office there. The ICC is a "court of last resort," and Ukraine's prosecutor general has indicated that his plan is to try "the overwhelming majority" of cases domestically, leaving the ICC to fill in the blanks. These blanks are likely to be cases against senior leaders who would be protected by personal immunities in domestic trials, as such immunities are generally considered inapplicable at international courts.
The ICC also has jurisdiction over the crime of aggression—the use of armed force by one state against another in violation of the United Nations Charter. However, it can only exercise that jurisdiction if both the aggressor state and the victim state have signed onto the Kampala Amendments, which added the crime of aggression to the Rome Statute, or if the UNSC referred the matter. Neither Russia nor Ukraine has signed these amendments, and it can again be assumed that Russia would veto a referral. Furthermore, because the criminalized acts under most definitions of aggression typically involve senior-level leaders, an international court is again needed to overcome personal immunities. As such, Ukraine has proposed the creation of a Special Tribunal for the Crime of Aggression focused on Russia's invasion of Ukraine. This option continues to face considerable scrutiny—on principle, as it highlights double standards for Western countries (many of which have evaded responsibility for their own acts of aggression and bear responsibility for the difficulties in prosecuting the crime at the ICC), and pragmatically, given concerns about support and the feasibility of the proposed structure because of personal immunity concerns. Still, the special tribunal proposal seems to be gaining support.
Civil cases, sanctions, and more
The International Court of Justice (ICJ) allows states to bring complaints against other states for violations of various treaties. In February 2022, Ukraine filed an application against Russia under the Convention on the Prevention and Punishment of the Crime of Genocide, alleging both that Russia was erroneously accusing Ukraine of genocide and also that Russia was itself planning acts of genocide. A record number of third parties—over forty-one states and the European Union (EU)—filed declarations of intervention on the construction of the provisions. Even the United States filed a declaration of intervention, likely the first time it has ever done so before the ICJ. With the conflict in Ukraine as a backdrop, senior officials stressed at a recent UNSC debate that increased state consent to the ICJ's jurisdiction as well as compliance with its decisions could strengthen the rule of law.
While there are not yet cases related to Russia's 2022 invasion before the European Court of Human Rights, there are several cases against Russia relating to the 2014 invasion of Ukraine. At the court, cases regarding violations of the European Convention on Human Rights by states that have ratified it can be brought by individuals, companies, nongovernmental organizations, or other States Party. In a decision released on January 25, the court held both that states still must respect human-rights obligations under the Convention during armed conflicts and that Russia controlled the separatist regions in Eastern Ukraine from the outset of the 2014 invasion. This opens the way for cases related to human-rights violations, such as acts of torture and ill-treatment, committed last year between February and September 16, the day that Russia ceased to be a party to the Convention.  
One of the most immediate and prolific quasi-judicial tools has been the use of targeted human-rights sanctions. Broadly speaking, these sanctions freeze assets of and deny visas to the designated person or entity. These gained popularity once it became clear that Kremlin-connected oligarchs were storing assets in the West. While the United States, the United Kingdom, the EU, Canada, and Australia are among the main jurisdictions with permanent sanctions regimes, many additional states designated Russians in the past year.
Because these sanctions only froze assets, additional efforts then went toward finding avenues to seize and repurpose these assets to support Ukraine. The United States and the EU set up Task Force KleptoCapture and the "Freeze and Seize" Taskforce, respectively, and Canada amended its targeted sanctions legislation to allow the seizing of assets in certain circumstances. In November 2022, the United Nations General Assembly passed a resolution recommending that member states work with Ukraine to create a "register of damage," recording evidence and claims related to damages, loss, or injury caused by Russia's wrongful acts. Then, a compensation mechanism would help pay out these claims with confiscated Russian assets.
Novel legal issues
The changing nature of conflict is particularly evident in this war, as the sides have engaged in significant cyber operations. Of particular concern are cyberattacks, in conjunction with kinetic attacks, against critical infrastructure and civilian targets. Targeting civilians and civilian objects in conflict is prohibited under international humanitarian law. Additionally, attacks against military objects are prohibited when they can be expected to result in excessive harm to civilians and/or civilian objects as compared to the anticipated military advantage. Furthermore, parties to the conflict are expected to take all feasible precautions when choosing their means and methods of warfare so as to avoid or minimize harm to civilians and civilian objects. Due to their novelty, however, cyberattacks are not included in the Geneva Conventions or even the Rome Statute. The recent request from Ukrainian officials to the ICC to investigate whether certain Russian cyberattacks constitute war crimes marks the first time a sovereign government has asked this of the court. A prior request was submitted by human-rights lawyers and investigators in March 2022 for the ICC to consider war crimes prosecutions for cyberattacks against Ukraine dating back to Russia's 2014 invasion.
The participation of civilians in cyber operations, or cyber "hacktivism," in support of both Russia and Ukraine raises important questions about rules and protections under international humanitarian law. On February 24 last year, for example, the hacker collective Anonymous announced it would engage in a cyberwar with Russia in retaliation for Russian cyberattacks against Ukraine. Two days later, Mykhailo Fedorov, minister of digital transformation of Ukraine, announced in a tweet the creation of a volunteer "IT army." The tweet included a link to a Telegram channel with instructions for attacking Russian websites. As of March 2022, the Telegram channel had up to four hundred thousand members. With respect to Russia, reports suggest that pro-Russian hacktivists have been coordinating their actions with the GRU, Russia's military intelligence agency. While civilians are protected from attack under international humanitarian law, this protection is lost "for such time as they take a direct part in hostilities." The determination of whether someone is a combatant or a civilian is crucial in assessing whether an attack directed against that person is a war crime or legally permissible.
What Ukraine's example means for atrocities worldwide
There are several reasons why so many avenues are open to Ukraine and why it has pushed forward international law so quickly. Ukraine had already accepted the ICC's jurisdiction and criminalized the relevant acts. Furthermore, the nature of the conflict—in which one state is clearly the aggressor—has given Ukraine an incentive to cooperate with all available authorities and to use its own. However, another factor appears to be in play: While not in the least a reflection on Ukraine, much of the Western news coverage, especially early on, expressed heightened horror at seeing atrocities in Europe, a striking contrast from the media's approach to atrocities in other regions of the world—and one that was distinctly racist.
Other atrocities also face distinct practical hurdles. For example, repeated attempts to open a case on Syria at the ICC have so far remained fruitless, and Iran's judiciary is currently being utilized as an instrument of repression against its own people. However, justice efforts for Ukraine have opened new avenues—fixing legislative gaps, establishing new task forces, and developing needed case law on modern issues—and have shown what political will and public support can accomplish when galvanized. As the one-year mark of Russia's full-scale invasion arrives, this progress toward justice should be commended, but it should also be recognized as the standard that victims of all atrocities deserve.
---
Celeste Kmiotek is a staff lawyer for the Strategic Litigation Project at the Atlantic Council.
Lisandra Novo is a staff lawyer for the Strategic Litigation Project at the Atlantic Council.
Further reading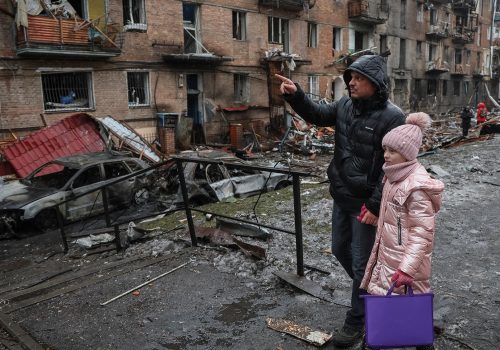 Tue, Dec 6, 2022
New Atlanticist By Celeste Kmiotek
A special tribunal on Russian aggression would raise questions around jurisdiction, legal details, and the role of the US. Here's how they can be addressed.
Fri, Dec 9, 2022
UkraineAlert By Peter Dickinson
Ukrainian President Volodymyr Zelenskyy is urging the international community to establish a special tribunal for the crime of aggression in order to prosecute Russia's political and military leadership.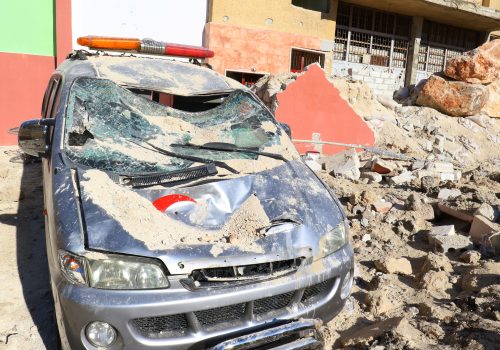 Tue, Jun 14, 2022
Issue Brief By Elise Baker, Gissou Nia
When Russia invaded Ukraine on February 24, 2022, it soon began implementing one of its frequent—and criminal—tactics that it had already been using in its military intervention in Syria: bombing healthcare and medical facilities.