Human trafficking victims suffer because governments lag behind. On Thursday, the US Department of State published its annual Trafficking in Persons Report (TIP report), and the facts should shock us all. Traffickers operate with impunity, forced labor sustains global supply chains, predators rent children for commercial sex, and governments fail to implement strong enough action plans, laws, and treaties to stop them.
One of the most glaring examples of governments' poor performance is the egregiously low number of victims governments identify—a problem I routinely faced over the last two decades working on this issue as a federal prosecutor, nongovernmental organization leader, and US ambassador. The United Nations (UN) Protocol to Combat Trafficking in Persons is one of the most widely subscribed instruments of international law, under which governments commit to identifying the people whom traffickers exploit. According to the latest TIP report, however, governments around the world reported identifying only 115,324 human trafficking victims in the last year. This number comes from data governments provide to the US State Department about the number of victims whom law enforcement or nongovernmental organizations identify and who receive protection services. Although this number is higher than last year's number, it is slightly lower than the high of 118,932 victims identified in 2019.
The UN estimates that traffickers are compelling 27.6 million people into forced labor or sex trafficking.
Meanwhile, the estimated number of human trafficking victims is increasing. Compare the number of victims that governments reported identifying with the UN estimate based on surveys and data modeling. The UN estimates that traffickers are compelling 27.6 million people into forced labor or sex trafficking.
If 27.6 million victims exist and governments are only identifying 115,324 victims, then the world only identifies less than half of 1 percent of the estimated victims (0.4 percent). This means that 99.6 percent of victims remain trapped by their traffickers, unable to decide where they work or who touches their bodies.
Sex trafficking dominates the discussion of governments' lackluster victim identification efforts. Forced labor has received less attention, but in this year's TIP report governments identified a higher number of forced labor victims than in any prior year: 24,340. This improvement, along with governments prosecuting the largest number of labor traffickers, is encouraging. However, when the victim identification statistics are isolated for just forced labor, governments are only identifying 0.1 percent of the total estimated forced labor victims.
Victim identification is made even more difficult due to state-sanctioned human trafficking. The TIP report found that in eleven countries, the governments themselves trafficked people. These offenders include Cuba, North Korea, Eritrea, and China, where millions of Uyghurs are forced to work in Xinjiang reeducation camps. It is especially odious when the government charged with identifying victims is, in fact, the perpetrator.
Without effective victim identification, governments cannot hold traffickers accountable, and people of goodwill cannot offer tailored, trauma-informed services to trafficking survivors. Society cannot address what it cannot identify. Victim identification is the prerequisite to successful prosecution and prevention of this crime. Yet, governments' rate of victim identification is appallingly low.
It is time for governments to match their rhetoric with their resources and dramatically increase funding for prevention efforts, investigators, prosecutors, service providers, and trauma-informed care. Specialized investigative units should no longer be paper tigers. Survivor leadership should no longer be an ornamental add-on. Holding companies and individuals accountable for committing human trafficking crimes should no longer be elective. Human trafficking victims should no longer be prosecuted for the unlawful acts their traffickers compel them to commit.
Improvement and success must begin with increased victim identification. There are several practical steps that concerned citizens should ask their governments to take:
Mandate that educators and health care providers become mandatory reporters.
Invest in specialized investigative units and prosecutors focused on stopping traffickers.
Create pathways for survivors to rid themselves of criminal records caused by their traffickers.
Ensure companies are not using forced laborers to produce solar panels, electric vehicles, apparel, tomatoes, and batteries.
Fund trauma-informed services for survivors.
Elevate and center survivors in the fight to put traffickers out of business.
Traffickers thrive in an ecosystem where mere intentions and underfunded public justice systems are their only challenges. It is time for leaders to arise and become champions for freedom. Millions of victims count on governments, civil society, and faith communities to do more than merely care about their plight, designate awareness days, and think good thoughts. Survivors need the world to accelerate its strategic investment and meaningful action to increase victim identification.
---
John Cotton Richmond is a nonresident senior fellow at the Atlantic Council, chief impact officer at Atlas Free, president of the Libertas Council, and former US ambassador-at-large to monitor and combat trafficking in persons.
Further reading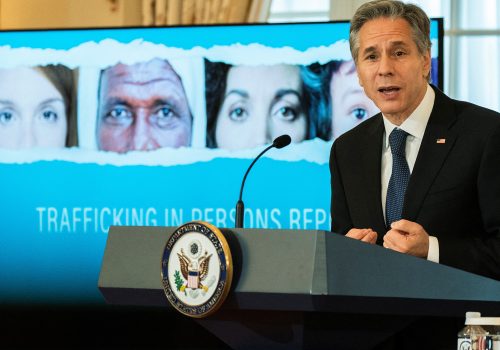 Wed, Jul 20, 2022
New Atlanticist By John Cotton Richmond
A former US ambassador dedicated to combating human trafficking breaks down seven key takeaways from the report and what they mean for the fight against this crime.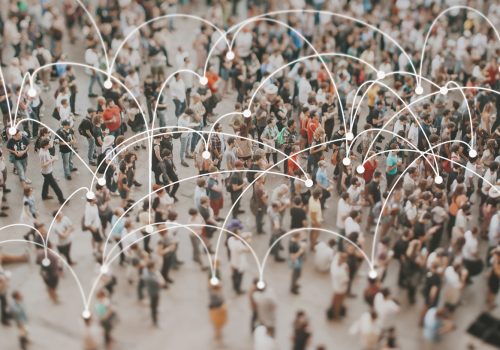 Wed, Jun 7, 2023
360/OS By Digital Forensic Research Lab
Our Digital Forensic Research Lab is convening top tech thinkers and human-rights defenders at RightsCon to collaborate on an agenda for advancing rights globally.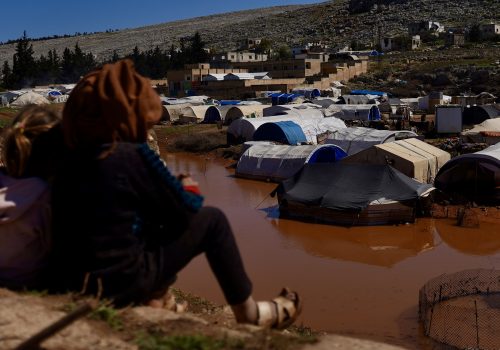 Wed, May 3, 2023
New Atlanticist By Arwa Damon
The Atlantic Council's Arwa Damon shares insights from a recent visit to Idlib province in northwestern Syria, where the humanitarian situation remains dire.