US Secretary of State Antony Blinken's visit to Israel at the end of January was planned in one context, took place in another, and managed to move the ball on yet a third. The US-Israel agenda is broad these days, covering a range of crises, challenges, and opportunities. On this visit, some issues made headlines. Others, such as Israeli-Arab normalization, made progress behind the scenes.
Normalization did feature in the initial planing for the trip. As is traditional when a new Israeli prime minister takes office, preparations are underway for Prime Minister Benjamin Netanyahu to visit Washington in the coming weeks to meet with US President Joe Biden. National Security Adviser Jake Sullivan and CIA Director Bill Burns both vistited Israel in the days before Blinken arrived, also to help prepare for the Washington visit. The need to coordinate US and Israeli approaches on Iran and opportunities to expand the Abraham Accords were certainly on the agenda, along with Ukraine, China, and other matters.
But by the time Blinken's plane touched down at Ben Gurion Airport on January 30, events had shifted the focus. First, Israel is in turmoil over its new governing coalition's proposals to dramatically reshape the role of the judiciary in the Israeli government. Justice Minister Yariv Levin proposes to allow the Knesset to override Supreme Court decisions on a bare majority vote and further restrict the court's ability to strike down laws. Opponents, including tens of thousands of protesters who have taken to the streets, charge that Levin's plan would remove all checks and balances in the Israeli system, allowing a prime minister and his coalition to rule with no limits and, they claim, giving Netanyahu the ability to wriggle out of the corruption charges for which he is indicted and on trial.
The Israeli-Palestinian arena also heated up just ahead of Blinken's arrival. On January 26, an Israel Defense Forces raid against Palestinian militants in the Jenin refugee camp left nine Palestinians dead, including at least one civilian. The Palestinian Authority promptly announced a cessation to its security coordination with Israel. Then on the evening of January 27, a Palestinian terrorist killed seven Israelis outside a Jerusalem synagogue, followed by a second attack the next day that wounded two more Israelis.
Crisis management is part of a secretary of state's portfolio, particularly in the Middle East. With tempers high, and far-right members of Netanyahu's cabinet calling for extreme measures against Palestinians and for the expansion of West Bank settlements in response to the attacks, Blinken sought to restore calm. He expressed sympathy for Israelis victimized by terrorist attacks and total support for Israel's right of self-defense. He coaxed Palestinian Authority President Mahmoud Abbas to ensure that at least some security cooperation continues. And he reminded both sides of the United States' ongoing belief that only a two-state solution can end the conflict in a way the keeps Israel Jewish and democratic and meets Palestinians' needs, warning against any unilateral steps that could bury that prospect.
On the domestic Israeli debate, Blinken treaded carefully but spoke clearly. While respecting internal Israeli affairs, he reminded Netanyahu of the common democratic values that have always formed the core of the US-Israel relationship. Blinken's message was unmistakeable: The Israeli government should seek broad consensus for any far-reaching structural reforms to its democracy. Checks and balances and the protection of all citizens' rights remain a crucial feature of democratic systems. And the United States has a stake in the outcome of these debates in Israel. As he frequently does, Blinken made time to meet civil society activists on both the Israeli and Palestinian sides, underscoring the importance of citizen involvement in public affairs.
While attention to these matters overshadowed other aspects of the visit, Blinken did not ignore the normalization agenda. For example, he emphasized the importance of the Negev Forum, made up of the United States, Israel, the United Arab Emirates (UAE), Egypt, Bahrain, and Morocco. Blinken even noted that the forum's working groups, which met three weeks ago in Abu Dhabi, represented the largest assemblage of Israeli and Arab officials since the Madrid peace conference over thirty years ago. He also pressed the need and opportunity for expanding and deepening the new relationships and the process of regional integration represented by the Abraham Accords and the Negev Forum, and for ensuring that these relationships bring benefits to the citizens of the countries involved.
Notably, Blinken's first phone call upon leaving Israel was to Moroccan Foreign Minister Nasser Bourita. It strongly suggests that, while working to dampen tensions between Israelis and Palestinians, he is also working to prevent them from impeding regional progress. He likely raised with Bourita the importance of scheduling the second annual Negev Summit meeting of foreign ministers on time in Morocco in March.
One important trend to watch: a gap may exist between US perceptions of how normalization can positively influence the Israeli-Palestinian arena, and how any of the regional parties do. From the US perspective, inclusion of Palestinians in regional gatherings such as the Negev Forum would be a natural way to try to break down Palestinian rejectionism on normalization and ensure Palestinians benefit from regional integration. It might also, from the US perspective, bring Arab states into a role of trying to assist Israelis and Palestinians in lowering tensions between them and resuming a path toward a resolution of their conflict.
But there has been little change so far in Palestinian leaders' negativity on the normalization agreements, which they have described as a "betrayal." Israeli leaders, while perhaps willing to invite Palestinians to attend some gatherings, tend to prefer to keep their new, warm relations with the UAE, Bahrain, and Morocco unencumbered by fraught Israeli-Palestinian affairs, which may still resonate with the public in those Arab states. And Arab leaders have shown little enthusiasm for injecting themselves into this no-win arena.
So Blinken may yet have a big task ahead of him. Advancing regional integration and Israeli-Arab ties benefits US interests. Preserving prospects for a two-state solution that ends the Israeli-Palestinian conflict does, too. Can Blinken stitch these two areas into a mutually reinforcing whole?
---
Daniel B. Shapiro is a distinguished fellow at the Atlantic Council's Middle East Programs, director of the Atlantic Council's N7 Initiative, and a former US ambassador to Israel.


The N7 Initiative, a partnership between the Atlantic Council and Jeffrey M. Talpins Foundation, seeks to broaden and deepen normalization between Israel and Arab and Muslim countries. It works with governments to produce actionable recommendations to deliver tangible benefits to their peoples.
Further reading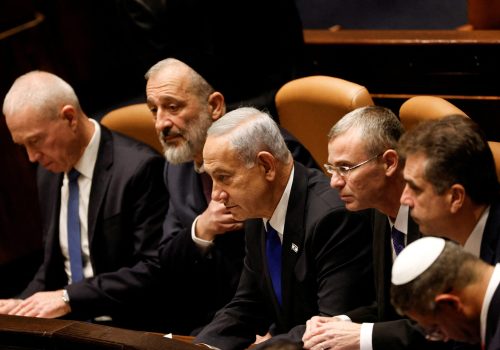 Wed, Feb 1, 2023
Issue Brief By Shalom Lipner
Competing agendas between the members of Israel's incoming government portend another unsustainable partnership.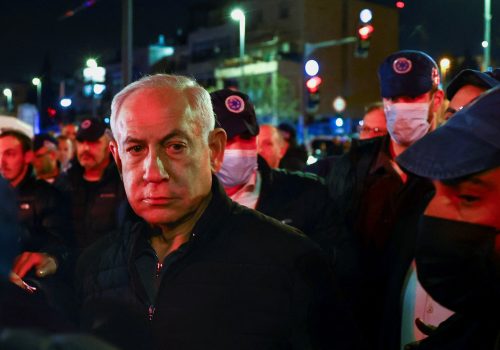 Tue, Jan 31, 2023
New Atlanticist By Alissa Pavia
If Israel's prime minister wants to normalize relations with Saudi Arabia and other Arab nations, he will have to find a way to end the bloodshed—and keep a lid on his far-right ministers.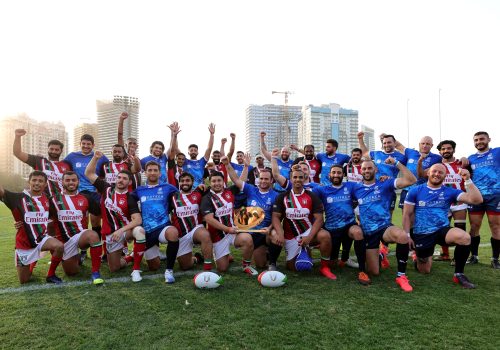 Thu, Jan 26, 2023
MENASource By Richard LeBaron
This piece identifies some of the issues involved in creating a strong framework for a vital "Abraham Exchanges" program and proposes a few ideas on how to get it off the ground.